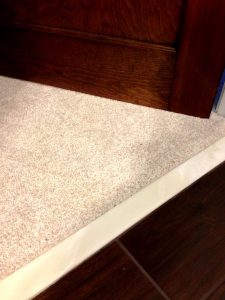 Marble thresholds or saddles are marble strips that are installed to separate the flooring of adjoining rooms or areas. These attractive and practical stone transitions, or transition thresholds, are ideal for separating bathrooms, kitchens, laundry areas or mudrooms from other rooms in a home. First of all, each transition strip acts as a water barrier to prevent any water flow or spillage onto adjoining floors to avoid damaging the wood. These thresholds are typically 1/2 an inch to 3/4 of an inch higher than the wood flooring to prevent water damage to living room wood finishes and to keep wood flooring from warping. Five top threshold recommendations from Stonexchange experts for wood floor transitioning today include the following lustrous stone choices for an excellent, smooth transition:
1- Travertine Thresholds for Stylish and Cost-Effective Floor Transition Ideas
This type of limestone forms around deposits in mineral springs. It is popular as a material for sills, thresholds, floor cover accessories and decorative elements in building interiors. This stone's wide variety of earth tone hues include multiple shades of beige, rust, brown, tan and sand. These color variances make this natural stone very compatible for use in making thresholds to pair with virtually any type of hardwood flooring.   
2- Crema Marfil Sahara in Soft Creamy Beige and Gold for Wood to Threshold Transition
The soft, warm luster of this creamy beige stone marbled with subtle veins of cinnamon, cream, white and gold-tinged ivory from quarries in the province of Alicante, Spain, has an exquisite charm of its own. It lends a gentle yet engaging ambiance to attractive hardwood flooring and any other type of floor. Whether paired with wood flooring of naturally dark or stained black walnut wood or with soft light hues of oak or ash, this highly appealing marble saddle will assure a charming and pleasing wood floor transition.   
3- White Carrara Marble for Fashionable Charm in Threshold Transition Choices
This stylish stone variety of stunning white or light bluish-gray marble is found in the quarries of the city of Carrara in the most northern part of Tuscany, Italy. It is in high demand throughout the building industry for use in producing ornate or simplistic, sculpted decorative effects and interior decor. Its refined elegance and light surfaces can offset dark cherry wood or a hickory wooden floor beautifully when used for making marble saddles for hardwood transitioning.
4- Absolute Black Granite for Handsome Style in Wood Floor Saddle Material
This sleek solid black granite offers consistent texture and depth of color. Found in quarries in southern India, this grand stone is often called Nero Absolute Granite or Jet Black Granite. One of the most popular types of marble for use in structural design and decorative building and design accessories, this deep black stone will blend or contrast pleasingly with both traditional classic and stark modern styles of decor when used as handsome threshold material.
5- Pure White Thazoz for Pristine Elegance in Wood Floor Transition to Threshold
Pure white Thazoz marble comes from Greece and has a sparkling color similar to that of refined sugar. It offers a fresh, ageless quality when used for thresholds that are suitable for use with many types of hardwood flooring and room decor. It brings a sense of creative and artistic airiness to both classic and contemporary interior design and flooring material.  
Stonexchange Expertise for Finest Natural Stone Thresholds 
As a highly successful natural stone flooring and accessories company centered in Miami, Florida, Stonexchange specializes in wholesale distribution of marble window sills and marble thresholds in the U.S. Stonexchange offers pre-fabricated thresholds as well as customized natural stone designs to accommodate each client's specific preferences and needs. These fine marble threshold experts will work closely with you to ensure that you select the ideal beautiful and practical natural stone for all of your floor transition needs. 
Contact the fine marble floor accessories experts today at Stonexchange in Miami, FL, by phone, by email or on the company website for top quality information, advice and a wide selection of marble thresholds and floor transition ideas as well as customized threshold designs.