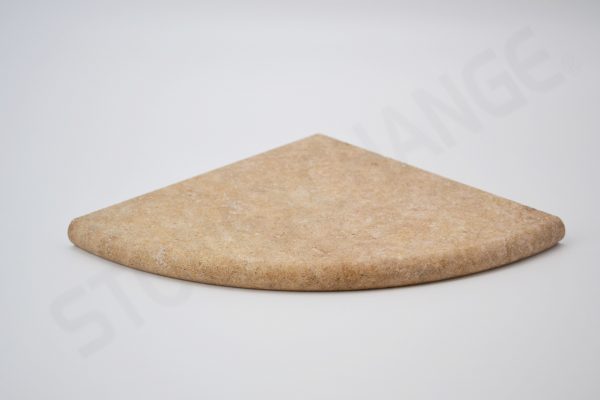 Noce Walnut Travertine Corner Shelf Shower Caddy
Marble corner shelves for bathroom renovations are a great idea to make your decor luxurious. Invest in a beautiful stone that can hold your bathroom accessories. 
Why Consider Marble Shelves In A Shower, Bath, Or Other Wash Areas
So many modern showers come with corner shelves made from flimsy plastic. These will only last when the end property owner moves in, necessitating later renovations. To make matters worse, some people install these as part of a renovation project, which is strange because they're generally the problem in the first place. People need something substantial like marble to hold up to the kind of genuine use that you see in an actual shower stall.
Commercial and residential property managers appreciate these unique products. Retailers looking for a wholesale stone to part out with other interests will also want to take a look since there's a good possibility that they'll end up working with hoteliers needing something of this caliber.
Completing Shower Renovations With Marble Corner Shelves
After lying in a shower, you want to consider how the ultimate property owner will use their space. They will likely want someplace to put down soap, shampoo, and all the other self-care products they need daily. Putting these on the shower floor is inconvenient and might even be a safety hazard since you could trip over them.
Interior designers are going to appreciate the space as well, however. As soon as you get these off the floor, you're not just improving safety. You're also giving your team another place to make significant decisions about the look and feel of the space. For instance, you could choose the bold look of Absolute Black Granite shower shelves. Those dealing with an existing project might even want to substitute one type of stone for another.
Carrara is a natural marble, which is why it works so well as a substitute in various use cases. Do you have a project that specified Alabama or Georgia White marble? How about Cherokee or Vermont marble? Carbonia and Oriental marble are also popular choices. 
You can swap these out for White Carrara; nobody would know the difference. That's what makes it such an attractive choice in so many situations.
4 Reasons Why You Should Install Marble Soap Shelves in Showers
1.It Looks Good!
Well, let's be vain about this product! The marble looks good. Almost everybody wants it in their home because of its timeless beauty. Anywhere you can place a marble in a house will bring that space's quality to another level of sophistication. So it only makes sense to put it in your shower stalls, especially if you already have incorporated marble stone as a wall and floor feature. The marble soap shelves offered by Stonexchange are provided in various color veining variations that will compliment any bathroom décor. Mined from the finest quarries and shipped overseas directly to our warehouse in Miami, you'll never have to worry about running out of stock for your fleet of residential luxury homes. Your builds will have quality consistency that buyers can depend on and won't corrode.
We all know how messy porcelain soap shelves can get. The hard water and soap build-up can make for a day of serious cleaning, scrubbing all of that soap scum away. And should a homeowner choose to prolong that task, mildew, and corrosion will eventually fester into the cracks and crevices. That's not the case with marble soap shelves. Because it's a stone, you don't have to worry about the material breaking down and needing to replace it. Marble is waterproof, which is why it is so prevalent in bathrooms. So installing a marble soap shelf would be the natural thing to install! Stonexchange marble soap shelves are designed with a slight incline so that water will drain properly. Water will not pool, and soap bars will last longer!
2. Marble Soap Shelves Are More Durable Than Regular Shower Caddies.
While most buyers are OK with just shopping at their favorite home goods store to buy a fancy shower caddy, you can give buyers the option to avoid that trip altogether. Whether your buyers select a shower caddy that hangs over the shower head or stands from floor to ceiling, eventually, it will rust and need replacing. The other thing about shower caddies is that they tend to become a place for clutter. Shower caddies are made up of plastic or wire that can snap and bend over some time, especially in an environment with ample heat and steam. As modern bathrooms are designed with the ''less is more'' factor, the use of a shower caddy is becoming less of a need and more of an eyesore.
3. You Can Store More With Marble Soap Shelves.
Storage is essential, even in the shower stall. Often, many contractors invest in building luxury bathrooms and leaving it up to the owner to think about the storage needed in the shower stall. And this is usually acceptable. But think about it, little things like built-in storage space—even in a shower stall goes a long way and will most likely be the feature most potential buyers remember when considering their choices.
4. Soap Shelves Add Value To A Home.
Kitchen and bathrooms are the top two rooms that will give you a generous return on investment, so it's common for contractors to invest a lot of resources there. You may not think that soap shelves can add value to a home, but when they're marbled shelves, it brings another level of sophistication to any space, even a shower stall! Remember to underestimate the power of marble stone! Next to gold, it's the most precious stone for building contractors!
You can be more creative with soap shelves. Refrain from confine yourself to just the shower stall when incorporating marble shelving into your bath. Be generous. Install one for every corner. While you're at it, why not two or three? Consider what kind of bathroom you're building. How many people within the household is the bath expected to accommodate? Is this stall for public use? If so, consider how many shelves per shower stall would be sufficient, especially if you have been contracted to build a fleet of them.
Marble soap shelves compliment any bathroom décor—Here's where you can get creative. Stonexchange supplies a variety of marble soap shelves that are in high demand. Whether you're looking to accentuate the design of your bathroom with a highlighted stand or bring about a dramatic contrast to the look and feel of a space, Stonexchange has an unlimited supply of what you need.
Adding Marble Shelves During A Bathroom Renovation For Other Reasons
Here are the marble soap shelves that we stock:
Carrara
Crema Marfil
Pure White
Absolute Black
 
Travertine Soap Shelves
We realize that some builders prefer to use travertine stone for wet rooms. If that is the case for your contracting company, we also stock travertine soap shelves.
Travertine stone tends to have a more textured surface because it has more porosity than marble. The textured surface is the preferred stone for builders who want to create a more rustic look in a space. It's waterproof as long as it is treated well with an annual sealant.
A Varied Selection Of Travertine
What travertine marble can you find for your shower, walls, or more? We carry the following color selections:
Ivory Travertine
Walnut Travertine
Color Selections Of Corner Shelves
A better idea is to invest in marble soap shelves, which can be placed in both the corners of a shower stall to give bathers additional space to put all these accouterments. These shelves should be durable regardless of the class of surfactants used by the end property owners. Interior designers and architects have often specified different colors, which is why everything from Crema Marfil to Absolute Black Granite is available.
Countless other choices are on the market as well. Take Travertine, for instance. Travertine is a type of limestone with a unique fibrous look that interior designers love. It would help if you went with 9-inch Ivory or Walnut Travertine soap shelf shower caddies or an 18-inch Travertine shower seat. 
The two don't look the same, but they complement many different types of design, so you're going to go right with either form of Travertine. Walnut-colored stones will add a darker accent, while ivory ones are relatively neutral. This gives designers some flexibility, so you'll want to keep more than one style.
Durability Of Marble Corner Shelves
Showers redone in marble or other stone sheets will look especially attractive with these soap shelves, which can be cemented for a firm hold. Once they've set up, they generally prove resilient against humidity even when people take hotter showers. 
The finish on them is conducive to cleaning, which is vital because of the future risk of soap scum. Other materials might start to lose their sheen, but these won't, so they can help people hold onto the value of their bathroom over time.
Those working on the kinds of higher-end projects common in the hospitality industry will undoubtedly want to consider how much better these look than the little wire racks you see in so many other situations.
Get Rid Of Wire Soap Racks
Almost every bathroom has that shower caddy hanging from its showerhead. You almost expect to see it in every bathroom. Where else would your buyers keep their fancy creams and lotions? 
Sure, there are plenty of options: the ledge of the bathtub is usually the default shelf. But where do you put your shampoos and body soap if you have a claw foot tub? They come in various styles and materials: nickel-finish, a plastic-coated white, and steel—all of which will rust over an extended period. We'd have to go back to the shower caddy. 
The next thing you know, you're replacing your shower caddy with another disposable one. And in 6 months, repeat!
Instead, start considering natural stone shower shelves. These won't corrode in the same way that other substances will. Technically, even though plastic pieces won't rust, they'll eventually break down too. 
Why Consider A Marble Corner Shower Shelf
Polished marble can be periodically cleaned to ensure that it features the same high-quality luster it had. Water or several very mild cleaning agents will also work. Over time, you may discover unusual uses for these shelves that become evident the longer you use them. For instance, you can use them to store dry materials just as well as wet ones.
Adding Marble Shelves During A Renovation For Other Reasons
Suppose you either represent a contractor or, perhaps, a distributor. You'd want to add hotel bathroom corner shelves for several other reasons. 
Adding hotel bathroom corner shelves is a great idea. The installation of hotel bathroom corner shelves is generally only done to add a place for clients to put soap, which is used for a brief period, considering that an overwhelming majority of hotel guests are only there temporarily. Think twice if this is the case because of countless other reasons.
For instance, you can offer one to your guests as a luxurious place to hold their towels. It looks better than a simple rod hung inside a shower stall and will be much safer. Best of all, you can get one made from the same kind of stone as your thresholds, and everything will match.
How A Marble Shower Corner Shelf Can Hold Your Towels
Depending on your shower size, you can install a marble shower caddy towards the back of the shower where water can barely reach. If you have the kind of bathroom with multiple shower heads, that's a different situation. 
At any rate, if you get a big enough marble corner shelf, you won't need to worry about tip-toeing across your bathroom floor, dampening everything in your path to grab your towel, or worse, using your toilet bowl as a towel holder!
Some contractors have even suggested their use as a replacement for a medicine cabinet, which looks like gauche in many higher-end hotels. This is also an excellent option for unique arrangements in residential homes. Those who provide single pieces of stone to other organizations will want to keep that in mind.
Not all bathrooms have medicine cabinets. So, where would you keep such items? In cases like this, you have to use your creativity. This is where marble corner shelves can make a significant impact. For instance, if your sink is up against a corner, you can easily install a few marble corner shelves. Of course, this will have everything to do with how your bathroom's footprint is laid out. 
However, not all bathrooms are built the same. Many vanities are up against a flat wall. You'll install it in the next accessible corner that makes sense and looks good! Those who want to add a little space can also position a shelf above a toilet if needed.
Using Marble Shelves Above Toilets & Fixtures
Let's face it; some things must be close to the toilet bowl! Why not install a decorative marble corner shelf above the toilet? You can eliminate that makeshift bathroom caddy standing over the toilet bowl. It's fashionable and opens up space in an already cramped room.
Marble Shelves In Shower Options: A Varied Selection
Quite a few people find that they're cramped for space once they move into a new home. Even spacious homes sometimes run short, mainly because the designers needed future property owners to put all the sundries they need to manage their daily lives. For instance, you could have a massive bathroom that lacks shelving space altogether, which makes it hard for people to find a position for things they require to live there.
End-users of a property usually expect them to be large enough and strong enough to hold all the things they need to get cleaned up. Providing them with this extra opportunity makes it much easier for people to move in and enjoy using their new property. Many homeowners will find creative uses for a shelf placed here to add value to a property. These are highly versatile pieces of hardware. 
While they're sometimes called soap shelves, many interior designers have called them corner caddies because they hold different types of material besides soap. Consider installing soap shelves made of several other materials depending on your particular preferences.
Decorative Uses For Hotel Bathroom Corner Shelves
Hotel managers often consider the aesthetics of every decision, whether primarily an engineering or business one. That means they'll more than likely want to consider whether or not a particular installation can be decorative. 
You could use these in the corners of a bathroom well outside the shower stall to hold other things, far outside the original intention of using them for soap and other objects inside one. The same thing goes through real estate agents' minds when they plan for a home with plenty of shelves. Here's their thought process, which could just as easily apply to installing hotel bathroom corner shelves.
The purchasing family is smaller in numbers, after all. Now, they have all of these marble corner shelves with more room in their shower than they know what to use. In that case, use some of that extra space to place some beautiful ferns there. 
Stage your bathrooms to make your buyers feel like they're purchasing an oasis! Professional staging company staffers will especially love these shelves. 
Interior designers complain that some spaces are hard to decorate for various reasons. They might say that someplace lacks any chance to decorate or doesn't have any ornamentation. The marble corner shelf being installed there alone is a good idea since it's a focal point that would be hard to miss. The fact that it could hold something after renovations are finished helps drive home how useful these can be.
Distributor Of Natural Stone Corner Shower Shelves For Condos In South Florida
Contractors sometimes start a project and only realize how much material they need once they're already working on it. At that point, they might figure out that they need more shelves in a few orders of magnitude and therefore attempt to place an order only to find that the kind they need is sold out.
Acquire Sufficient Supplies Of Marble Shower Shelves At StoneXChange
At StoneXchange, you can find a selection of different types of marble corner shelves that you might not be able to find anywhere else. Those trying to get various hotel bathroom corner shelves installed, for instance, will be fine with whether or not they have enough. Best of all, they come in bulk packages, so you can have enough to finish multiple renovation projects.
Instead of dealing with supply-related issues, contact us online and learn more about what's in stock. We keep 9″ Carrara soap shelves on hand in 100-piece crates and Walnut Travertine shelves in the exact sizes and measurements. You can even get 50-piece bins of Travertine shower seats, which are an excellent addition to a set of corner shelves.