Miami Wholesale Marble Window Sills 
STONEXCHANGE is a natural stone flooring and accessories company specializing in Marble Window Sills and Marble Thresholds (aka marble saddles) in the United States. STONEXCHANGE Distribution Center is strategically located in Miami, Florida to serve the US market for sills and thresholds for immediate shipments.
STONEXCHANGEe manufactures, imports and stocks marble window sills and thresholds. We load and distribute them by individual crates or full containers each month. STONEXCHANGE does not sell its products by the pieces. STONEXCHANGE works nationwide with tile distributors, flooring companies, home improvement stores, flooring contractors, and builders. STONEXCHANGE as a windowsills distributor does not work with homeowners directly.
Types of Stone We Use:
Five stones/colors are selected based on years of experience and market demand for window and door inventory. STONEXCHANGE Miami Distribution Center carries these products in multiple sizes and finishes in container quantities for immediate shipment to it dealers (For all the sizes and designs click here )
Travertine Window Sills / Travertine Thresholds (Work for projects with Roman Travertine, Turkish Travertine, Iroc and Durango Travertine)
Nuevo White Carrara Window Sills / Nuevo White Carrara Thresholds (Works for projects with Alabama White Marble, Georgia White Marble, Cherokee Marble, Vermont White Marble, Bianco Carrara Marble, and Carbonia Marble )
Crema Sahara Marfil Window Sills / Crema Marfil Thresholds (Works for projects with Crema Marfil, Botticino and Bursa Beige Marble)
Absolute Black Granite Window Sills /Absolute Black Granite Thresholds (Works for projects with China Black and Black Galaxy Granite)
Pure White Engineered Stone Window Sills / Perfect White Engineered Stone Thresholds (Works for projects with Thassos Marble, Quartz, Cultured Marble and Perfect White )
Window sills and thresholds inventory of STONEXCHANGE in Miami Distribution Center (an 18,000SF warehouse) is sufficient enough for dealer stock requests. We can also make immediate deliveries to multiple multifamily projects, hotel projects and track homes projects at the same time. Average STONEXCHANGE inventory is approximately 40 containers in marble windowsills plus minimum 50,000 pieces of door thresholds at any given time.
Ordering Crates:
Are you a small, mid-size tile store, builders, contractors with new or renovation hotel projects? Do you install or sell more than 50-100 pieces and less than 1000 pieces a month? Our customers usually fall into this category. Do you need a couple of crates a month either for installation or individual sales? Or do you simply need windowsills or thresholds for a contract, and you can not afford to import directly? STONEXCHANGE as a supplier of windowsills will serve you as your inventory. Order as your inventory goes low or as much as your project requires. STONEXCHANGE will ship it on the same day. Tile Stores, Become a dealer today to receive a display!
Ordering Containers:
Large-size flooring contractors, tile distributors, home improvement stores that sell over 2000-3000 pcs of sills or more a month. Importing directly takes approximately 2-3 months to receive your order including production and ocean freight time. Additionally, the market demands change. There is never a guarantee that your next project will require the sizes you have ordered months before. STONEXCHANGE is here to save you the time and the hassle of ordering necessary dimensions for your upcoming project from overseas. On top of all, STONEXCHANGE fair container prices are extremely competitive and usually better than buying directly from an overseas factory. Are you a high traffic windowsill/marble saddle consumer? Tired of dealing with overseas factories? Would you like the benefit of contacts here in the United States? Contact us today! Your containers can directly be shipped to you or from our warehouse in Miami, Florida.
Ordering Individual Pieces:
STONEXCHANGE is a wholesale only business and works only with its Dealer Stores, Architects, Designers, and Contractors. STONEXCHANGE does not serve directly to the public. Homeowners, contact us via the online form under contact us tab, we will be glad to direct you to a dealer. Inquiries for a dealer over the phone, will not be granted.
Custom Orders:
STONEXCHANGE supplies prefabricated products and does not manufacture any of the products locally. Every product is imported directly from its quarry. However, STONEXCHANGE understands that projects require special sizes and custom stones that may not be in stock. Therefore, upon request, STONEXCHANGE will process your custom orders at its overseas factories if your project meets the minimum purchasing quantities.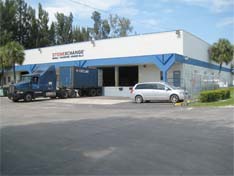 Natural Stone Tile in Miami, Florida
As well as a threshold and window sills supplier, STONEXCHANGE is a completely natural stone tile supplier. The STONEXCHANGE team is here to assist you with all the products for your upcoming project that requires natural stone flooring. With STONEXCHANGE expertise, we are able to successfully utilize natural stone quarries with affiliated stone factories and shipping companies. Make your signature natural stone project come true, all in a timely and professional manner. We will exchange a piece of a stone block from a mountain for beautiful pieces of tiles, pavers, slabs, mosaics, pool copings, thresholds (saddles), window sills, soap shelves, shower caddy, shower seats, and shower curbs. Our distribution facility in Miami, Florida also stocks a great inventory of Travertine Tiles, Marble Tiles, Travertine Pavers, Marble Mosaics, Travertine Mosaics, and accessories. All are ready to ship for your project. Check our stone tiles under current inventory now. If you are a flooring distributor, please contact us to request a brochure and become a dealer today. All information, photos, and drawings in this website are protected content and owned by STONEXCHANGE. Unauthorized use is strictly prohibited.