Window Sills 101
What is a Marble Window Sill?
A marble window sill is a flat piece of stone used at the bottom of a window frame, designed to hold water intrusion to drywall or the structure under the window.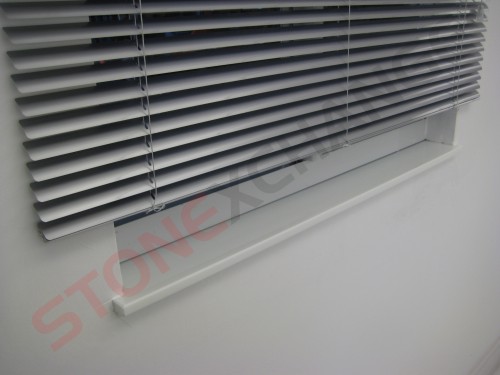 Click here to see complete list of Window Sill sizes and inventory
Marble Window Sills Dimensions
Every window has a different width and depth where the window sill would be placed. However, there are standard width and lengths of windows typically used in the market. The 3 standard lengths of marble window sills available are 74″, 56″ and 36″.
The thickness of the window sills are usually 5/8″ (16mm). However, if requested as special orders, we can produce 3/4″ thick (20mm) window sills. Please do not forget that every special order requires a minimum order quantity and 10 weeks lead-time.
The depth (width) is the dimension that varies the most in our window sills. Since the opening of the windows varies a lot, we need to keep stock of 3″ to 12″ wide window sills in increments of 1″ (3",4"x 4 ½",5",6",7",8",9",10",11",12"). These are standard sizes and we do not offer custom cuts locally. Please check our inventory to see the availability of all dimensions.
If your project meets our minimum purchase requirements, we will manufacture your order overseas and import them within an estimated delivery time frame of 8-10 weeks.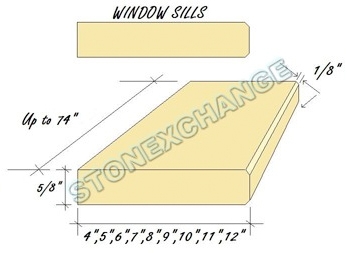 Are Window Sills Used for Interior or Exterior?
Both. However, the window sills that we stock are designed for interior use.
Do You Stock Marble Shower Curbs?
Our window sills in marble can also be used as wall caps for shower curbs. We also stock window sills that have 2 long sides polished and beveled that are specially designed for shower curbs.
Materials Used for Marble Window Sills
We have 5 standard stones that we use for window sills. These are Nuevo Carrara White, Travertine, Crema Sahara Marfil, Absolute Black Granite and Pure White Thazoz. Due to their natural and neutral looks, these are the preferred stones of interior designers, contractors and homeowners in order to best match existing or future flooring.
Click here to see complete list of Window Sill inventory
Do You Sell Direct to the Public?
No. Marble window sills are readily available at most specialty tile warehouses, flooring supply stores or building supply stores. Please fill in the form on the Contact Us page and we will direct you to a location or a website where you can order individual pieces.
How Are the Window Sills Being Shipped?
Window sills are very fragile. Special packing and handling is required. We use nationwide shipping companies to ship our crates. Our high volume allows us to negotiate very competitive rates for crates to your warehouse. Since we only sell full crates, an order must be at a minimum of 1 crate (50 or 100 pieces depending on merchandise packaging).
Click here to see complete list of Window Sill inventory
Window Sills Crates Packaging
Our window sills are packed in strong wood stackable crates which are suitable for nationwide shipping.