Product Showcase
This is an interactive photo of our showroom. Click on the desired display on the wall to view products in close up.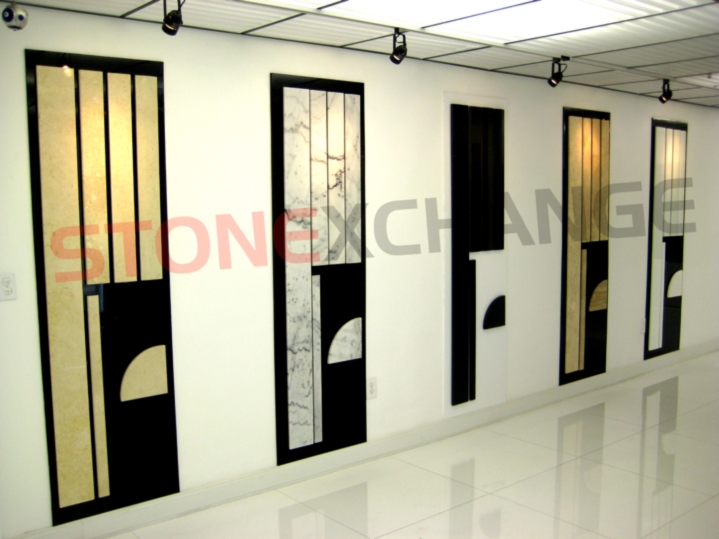 Engineered And Natural Stone Options 
Travertine
Travertine is very similar to marble in aesthetic and visual texture. You can use travertine material to make marble window sills or marble thresholds, either way, this engineered stone will look great at the home. Its versatile tonality matches a wide array of colors and various decor styles that you might have in your home.  
White Carrara
Carrara white is a beautiful stone and highly adaptable. You can have this stone in the bedroom, kitchen, and bathroom it is versatile and elegant looking. Easy to clean and won't absorb moisture like wood does, which may lead to rotting, so in a sense, this is a highly durable product and you will not have to invest in cleaning products that tend to have a lot of chemicals which is not safe for your family and pets. 
Crema Marfil
Cream and beige tones look great as double Hollywood thresholds. When you are switching floor materials from room to room, it is important to have a toned-down, neutral tone as a threshold to separate the two different flooring styles, this way people will process that they are crossing into a different room and also be attentive of not tripping over the threshold. 
Absolute Black Granite
This color looks beautiful as a kitchen countertop or as a marble sill. Highly durable, will remain unaffected when it comes into contact with grease or foods with strong pigments. Easy to maintain and clean. If you have a family with kids this could be a good option to consider so that you don't have to invest in cleaning and maintaining your stone. 
Euro Beige
The beauty of the marble showcase is that you can see the small details of the stone, such as this subtle Euro Beige stone. It might look simple from far away but when you look closely you can see the complex pattern and detailed design of this stone. 
Pure White Thazoz
The most versatile of all the stones. Goes with any room in the house and can be used as a windowsill or threshold. Loved by many, the Pure White Thazoz is a good option for those who prefer monochromatic colors for their home and have white walls or off white wallpaper. Rooms painted with white toned colors tend to make spaces seem more luminous and charged with light. If light is an important requirement that you want to have in your home, we recommend going for Pure White Thazoz for all your stone needs. 
Bardiglio Gray
Bardiglio Gray resembles a cosmic dust storm. It has a highly intricate design and looks fantastic in any shape or form. We especially love this material because it is easy to design around it and find furniture that easily matches the stone. So if you are building your home from scratch you can count on this stone and figure out the details of the decor later with no stress about whether the permanent elements of the home will match your future furniture. 
Emperador Brown
Very similar to Bradiglio Gray in its elaborate pattern and complexly arranged when you pay attention to the details of this stone. From afar this stone looks brown and Earth toned. A multipurpose (Good for window sills or thresholds) and flexible stone, will look stunning anywhere you place it in your home or business. 
Get Materials For Your Window Sills Or Thresholds At WindowSills
Windowsills has a wide variety of options for you to make your window sills or thresholds for the home. Our selection of different tonalities and style will go with any style of decor. 
Request a consultation or contacts us if you are looking for a dependable supplier for wholesale marble window sills and thresholds. If you have any questions or comments feel free to reach out, we will assist you right away!