Ivory Travertine Corner Shelf Shower Caddy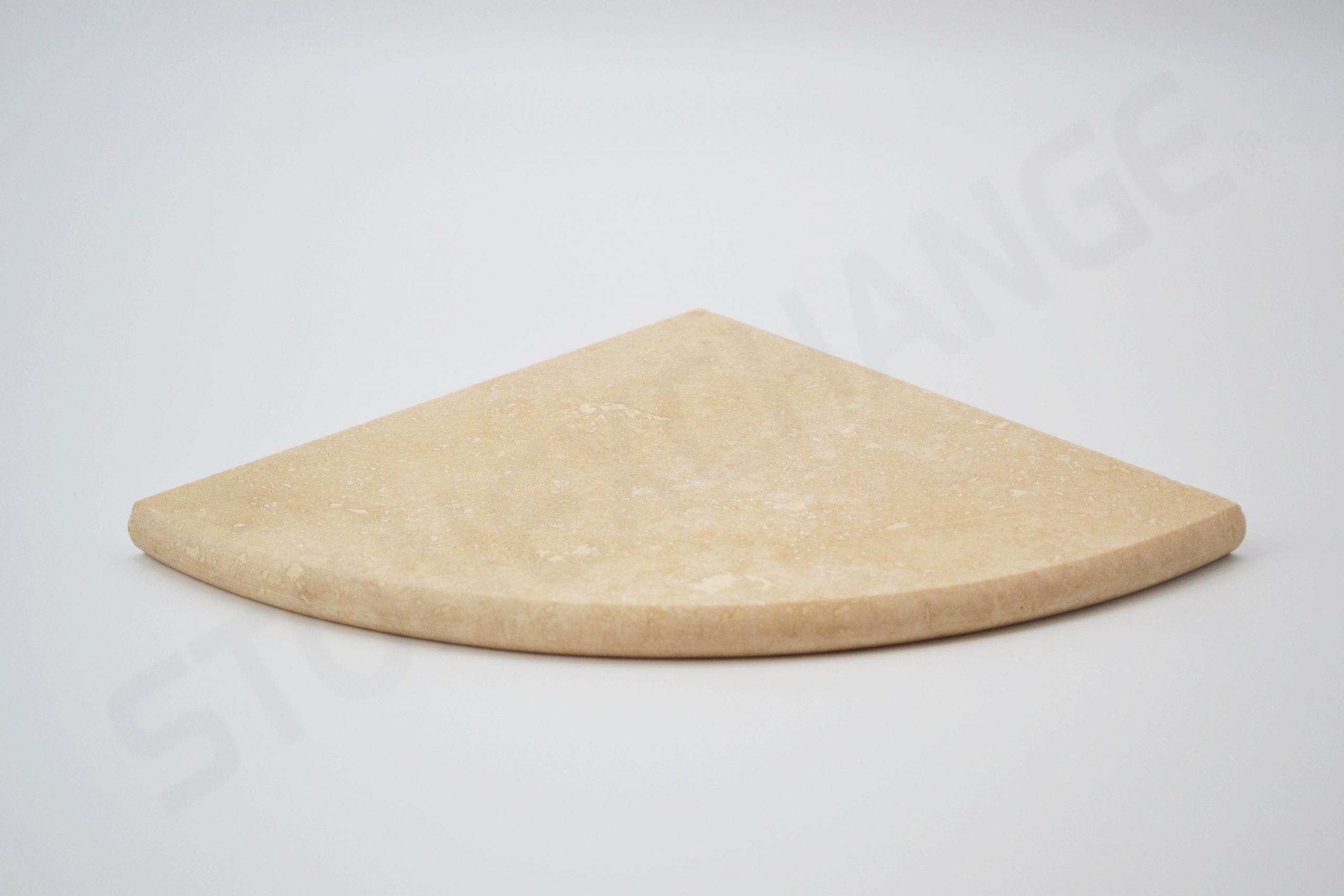 Ivory Travertine Corner Shelf Shower Caddy
By pairing up both functionality with an attractive look, Ivory Travertine corner shelves will add a degree of elegance to your next construction project. They come in 2″, 4″, 5″ and 6″ dimensions, so they should be able to fit into a majority of showers found in the residential market. This degree of flexibility has also helped to establish them as a choice option for those in the hospitality industry.
Corner shelves are all but mandatory in many shower installations, yet quite a few interior decorators don't give nearly as much thought to these pieces as they should. In fact, you might think that you could install the first one you find. Consider Ivory Travertine Corner Shelf Shower Caddies. 
Polished Ivory Travertine Shower Corner Shelves
When it comes time to pick out the shelves for your stall, you "'ll need little more than the dimensions you want the piece to fit. In addition, you will want the hue for the stone's desired finish. Having a trusted supplier can match you with the proper piece, and to determine which shower corner shelf is right for a particular bathroom. 
By finishing these off with a polished buffing, each of these corner shelves offers a professional look that should look every bit as good as they function. In many cases, end-users of the properties that these are installed in will be putting various types of cleaning instruments on them, which means that they might eventually start to get caked with soap or other materials. A similar situation has long impacted other soap shelves as well as shower curbs in general.
Color and hue are naturally going to be your top considerations when picking out a piece of stone to work with during a project. Having an aesthetically pleasing palette can improve a bathroom's qualities dramatically. The homeowners or residents will get more comfort out of it.  
Once you have settled color, you also want to ensure that it's the right finish. Polished pieces work best in showers like this because of the fact that they're easy to clean once this happens. The future property owners will simply be able to wipe them clean in a majority of cases.
Those who are trying to keep to a rather uniform look will want to look into the possibility of installing Travertine shower curbs as well. 
Pick Out the Right Cut For Your Shower Stall From StoneXChange
Are you hoping to add an aura of luxury to your next bathroom project? Instead of reaching for the first cut of stone you find, you'll want to give some serious consideration to these Ivory Travertine pieces from StoneXChange. All of our shower corner shelves and other natural stone options are designed for high quality. 
Those who want a little more information before they pick out the right corner shelf for even their largest of shower reclamation projects should feel free to contact our team online. The StoneXChange crew will answer all of your questions about which shower corner shelves or stone materials are right for your latest project.