Crema Marfil Window Sills
Crema Marfil Window Sills
Consider Crema Marfil Window Sills for your next installation product. Marfil Sahara is natural marble. It is used for projects that require beige or cream sills in a polished finish. Crema Marfil is a very common flooring tile. 
This product pairs with Crema Marfil floors just perfect. Additionally, due to its neutral color, it blends with all other beige tone surfaces. This product also works with Projects that are specified with Botticcino and Bursa Beige Marble.
Crema Sahara Marfil Windowsills
Depending on the specific circumstances regarding your latest project, you might want to opt for a polished or honed finished. With the way that these stones are shaped, you'd probably find that they work in either circumstance. Perhaps more importantly, they come in several sizes, which include both 60″ and 74″ lengths as well as a 37″ length that might be best for smaller windows. Most of these come in packages of 50 pieces, though 37″ cuts are offered in boxes of 100 windowsills.
Not only is this enough material for a majority of the kind of construction and reclamation projects that might require something like this, but it's also a great choice for those who manage home improvement stores and want to stock up on something that their clients are going to appreciate. 
Since Bursa Beige marble window sills can be difficult to come by, there's a high probability that many clients are going to come in and ask about the possibility of acquiring this kind of material. By investing in Crema Sahara Marfil pieces, you can be sure that a suitable substitute will be available whenever your clients come looking.
Best of all, you can pair them in either bright or dark surroundings for a great impact.
Matching Windowsills & Thresholds
Considering that Crema Marfil is used to make thresholds as well as window sills, you shouldn't have any difficulty working these pieces into rooms together. Assume that you were doing a remodeling project that involved adjusting multiple rooms that all had the same established beige sort of color scheme. 
In this case, you'd want something that matched to reduce the amount of duplicate work that you'd have to invest in the project. By picking these, you wouldn't have to go in and start changing other pieces of stone just to match. You might also want to consider some Botticino thresholds, which might also pair well under certain conditions.
Browse Other Natural Stones At StoneXChange
Take a moment to look at the windowsills in the development that you're working on or planning in the future. Chances are that they could use a pretty big facelift. If that's the case, then you'll want to seriously consider the benefits of Crema Marfil pieces from StoneXChange.
Managing larger development and reclamation projects like this can be a real challenge, but we're here to help. Please contact us online if you have any questions about the right pieces to use in your next construction gig. StoneXChange will answer all of your questions about a good fit for your project.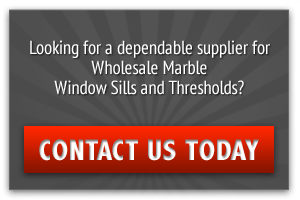 | | |
| --- | --- |
| Product: | Window Sills |
| Material Name: | Crema Marfil |
| Material Type: | Marble |
| Finish: | Polished or Honed |
| Color: | Cream / Beige |
| Notes: | *Also available in curbs (2 long sides finished double beveled in 6"x60" and 6"x74" Sizes |
| | Stock Dimension | Packing Quantity |
| --- | --- | --- |
| 74" Sills | | |
| | 74"x10"x5/8" Crema Marfil Sill | 50 |
| | 74"x7"x5/8" Crema Marfil Sill | 50 |
| | 74"x6"x5/8" Crema Marfil Sill | 50 |
| | 74"x6"x5/8" Crema Marfil Sill* | 50 |
| | 74"x5"x5/8" Crema Marfil Sill | 50 |
| 60" Sills | | |
| | 60"x6"x5/8" Crema Marfil Sill | 50 |
| | 60"x6"x5/8" Crema Marfil Curbs* | 50 |
| | 60"x5"x5/8" Crema Marfil Sill | 50 |
| | 60"x5"x5/8" Crema Marfil Curbs* | 50 |
| 37" Sills | | |
| | 37"x6"x5/8" Crema Marfil Sill | 100 |
| | 37"x5"x5/8" Crema Marfil Sill | 100 |