White Carrara Marble Window Sills
White Carrara Marble Window Sills
Nuevo White Carrara window sills offer the look of a classic piece of marble that you can't get from nearly any other kind of natural stone. When many people hear the word marble, they think of a white field with gray veins or lines running through it.
Because of that imagery, this stone has become so popular. While it's certainly neutral enough to fit into almost any kind of decor, it's also professional enough to fit into bathrooms, kitchens, or other areas that have been designed to accept it.
Some property developers will actually use the word marble to describe just this look. You'll want to keep that in mind while you're looking for windowsills.
Benefits Of White Carrara Marble
Whether you're a retailer who has to part out sills to individual consumers or you're developing a major project, you'll want to make sure that the stones you invest in actually fit the area that you're trying to go for.
Both 37″ and 56″ sills are available as are those that measure 74″ in length. That means you shouldn't have any real difficulty finding something that fits your needs irrespective of the size of the area in question. Many of these come in 100 count packages while the remainder come in 50 count ones.
Depending on the type of arrangement you're working with, you might want to ensure that you invest in pieces that match the other stones you're working on within a room. For this reason, you might want to purchase matching Carrara thresholds, which are offered in a double Hollywood bevel configuration for those who want to ensure that their properties are going to be accessible. These should look great with white Carrara window sills, though we of course invite you to examine all of our materials throughout the product showcase.
The fact that these stones are so varied in their sizes and can be cut to accomplish other chores than simply becoming windowsills has furthered help to encourage their popularity. Interested individuals are encouraged to check the dimensions of the plans that they're working with. Chances are that something should fit without any further cutting being necessary.
Fitting White Carrara Windowsills Into Your Latest Project
Our 74″ sills are provided in a variety of convenient ⅝" sizes, so you can easily install them in most existing windows. Those who are doing heavy reclamation work on existing properties will find this fact to be especially attractive.
It can be seriously problematic to size stones for an existing area otherwise. Simply check the dimensions of the window. Property managers who are looking at many rooms that are similar will probably want multiple crates in order to be sure that they have more than enough material for the job.
View White Marble Options At StoneXChange
At StoneXChange, we do our best to make sure that people have access to all of the stones that they need the most. Home improvement centers and hardware dealers might very well wish to stock up on this type of material in particular since it's bound to be quite popular.
They'll want to contact us online today or download our online catalog for more information about these. Consider Carrara white or other great stones that we have in our vast collection.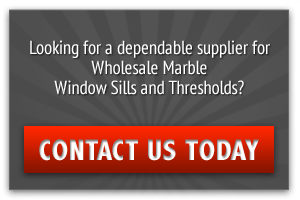 | | Stock Dimension | Packing Quantity |
| --- | --- | --- |
| 74" Sills | | |
| | 74"x18"x5/8" Marble Sill | 50 |
| | 74"x12"x5/8" Marble Sill | 50 |
| | 74"x11"x5/8" Marble Sill | 50 |
| | 74"x10"x5/8" Marble Sill | 50 |
| | 74"x9"x5/8" Marble Sill | 50 |
| | 74"x8"x5/8" Marble Sill | 50 |
| | 74"x7"x5/8" Marble Sill | 50 |
| | 74"x6"x5/8" Marble Sill | 100 |
| | 74"x5"x5/8" Marble Sill | 100 |
| | 74"x4 1/2"x5/8" Marble Sill | 100 |
| | 74"x4"x5/8" Marble Sill | 100 |
| | 74"x3"x5/8" Marble Sill | 100 |
| 56" Sills | | |
| | 56"x10"x5/8" Marble Sill | 50 |
| | 56"x9"x5/8" Marble Sill | 50 |
| | 56"x8"x5/8" Marble Sill | 50 |
| | 56"x7"x5/8" Marble Sill | 50 |
| | 56"x6"x5/8" Marble Sill | 100 |
| | 56"x5"x5/8" Marble Sill | 100 |
| | 56"x4 1/2"x5/8" Marble Sill | 100 |
| | 56"x4"x5/8" Marble Sill | 100 |
| 37" Sills | | |
| | 37"x6"x5/8" Marble Sill | 100 |
| | 37"x5"x5/8" Marble Sill | 100 |
| | 37"x4"x5/8" Marble Sill | 100 |