Natural Stone Soap Shelves – Trim Tile Bullnoses
Marble, Travertine and Ceramic Bathroom accessories as we call Corner Shelf – Shelves, are 9″ radius cut natural stone or a ceramic tile with a finished and beveled round edge. Shower Seats are 18″ radius quarter circle with a finished round edge. Product is available in natural stone, agglomerate and ceramic options. We manufacture and carry the below standard colors for immediate shipments, and process your custom orders for all ceramic shelf requests by processing the tile required at time of order. All products are available for custom ordering for immediate production in our US facility through our edge processing and bullnosing machinery .
Below is our current stock for shelves:
Carrara Soap Shelf – Shower Caddy 9" – 100pcs / crate – Sold individually
Ivory Travertine Soap Shelf -Shower Caddy 9" – 100pcs / crate – Sold individually
Walnut Travertine Soap Shelf -Shower Caddy 9" – 100 pcs / crate – Sold individually
Crema Marfil Soap Shelf – Shower Caddy 9" – 100pcs / crate – Sold individually
Pure White Soap Shelf 9" – 50pcs/ crate – Sold individually
Absolute Black Soap Shelf 9" – 50 pcs /crate – Sold individually
Travertine Shower Seat 18" – 50 pcs /crate – Sold individually
For installation instructions , your tile installers will assist you.
TRIM TILE / CUSTOM BULLNOSE
Edge profiling and bullnosing for all your ceramic and stone products is made easy by Stonexchange. Ceramic/ Porcelain and Stone Baseboards with half bullnose are manufactured in USA and standard white colors are kept in stock for immediate delivery. For all other custom colors we require our clients to provide the ceramic or stone tile for edge processing to match your floors 100%. We do have the expertise to provide perfect bullnosed trim to tile of any specifications. Contact us for a quick custom quote for your project.
Standard White Ceramic Baseboard with 1 long edge half bullnosed sizes are:
4″x12″
4″x20″
4″x24″
Standard Stone Baseboards with 1 long edge half bullnosed sizes are: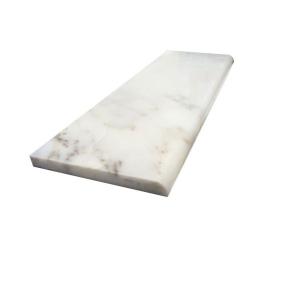 4″x12″
5″x12″
6″x12″
Our Fully Automated Edge processing processing allow top quality edge finishes.
When it's time to redesign your bathroom, look beyond the usual items and go with design elements that will stand out and give the space a more elegant feel. In the past, home designers gave the showers plain walls with a single soap dish. Consumers who needed more storage space for toiletries were required to purchase racks that mounted to the ceiling or hung from the shower hardware.
While some of these can be attractive, they still cannot match the look or feel of stone shelves that are built right into the walls. They're easier to install than you think, and you'll find that the prices are comparable to the less attractive after-market options. As an added bonus, you'll also make your shower easier to care for and clean when you go with this attractive upgrade. Before you decide to stick with flat tile walls, consider these benefits of Nuevo White Carrara corner soap shelves.
Wire? Leave It Behind and Choose Marble Shelves
Most shelves and organizers that you pick up at the store are constructed from wire for easy drainage. The problem is that this wire becomes coated with soap scum that's unsightly and hard to eliminate. It also transfers to your washcloths and other items, and that can make your showering experience less than enjoyable. Cleaning the wire is a major pain in the neck as it's almost impossible to effectively clean between the wires. With stone corner shelves, you can leave the unattractive wire behind and go with something that's far easier to clean.
Corner soap shelves feature a solid surface that's easy to wipe off. Made out of natural stone that's almost impervious to water, the soap scum should remain on the surface where it's easy to eliminate. There's no need to worry about drainage because the shelves feature a slight angle that water will drain off without causing your bottles to tumble over. In addition to loving how the shelves look, you'll also appreciate how easy they are to care for.
Perfect Match to Every Surface, Every Time!
When you buy a hanging organizer, you're settling for something that will always be an eyesore. Regardless of how attractive it may be, it will never be an integrated part of the shower that adds visual appeal.
With built-in shelves, you won't have to worry about the stone matching. And while white marble is a great choice for almost any shower, you can also choose other colors that will coordinate or contrast beautifully with the wall tiles.
The storage area will become an integrated part of the wall that looks amazing and is truly an attractive addition. You'll take some of the guesswork out of your shower design, and you'll never have to worry about going out and buying a replacement because the shelf will easily last as long as the rest of your shower.
Marble Corner Shelves Are Easy to Install
Corner shelves are put into place along with the tiles. Use the adhesive to set it in position at the desired height, and then use tape to keep the hanging edge suspended while the adhesive cures. The end result is a floating shelf that can easily hold your toiletries while making the entire room look great. You'll want to put some thought into the height ahead of time so that you'll know which wall tiles to cut. Most people will try to position it at a seam to simplify the cutting.
Design Options
If you'll have a border in the shower, then keep this in mind when choosing the height for the shelves. Ideally, the protrusion should not interfere with the design in your border. This means that you should put it far enough above or below the highlighted pattern so that your toiletries won't block the design. If the borders are thin, consider putting the shelves directly between them for a balanced look.
While you may be ready to purchase one shelf, it's also wise to get more than one. The corner shelves are extremely functional because they provide storage space in an area that's often overlooked, but they're not very large. You may want to place two or even three in one corner so that more family members can have built-in storage.
You can also place the shelves at identical heights in opposing corners. If the shelves are to be stacked, consider the height of different toiletry bottles so that you can leave enough clearance.
In addition to shower shelves, more homeowners are also using corner shelves near the sink to create an effective and attractive storage spot for hand soap and towels. They can be mounted in any corner to store perfume or cologne. Using this material inside the shower and throughout the bathroom will help you tie the entire area together while ensuring that you have the functional space that you need.
The Price is Amazing
Stone soap shelves are surprisingly affordable. They have a cost that's comparable to most organizers, but they'll last infinitely longer. While wire hanging racks will eventually need to be replaced, your stone shelves will just need to be cleaned regularly and sealed along with the rest of your shower. This makes them an affordable choice today and a cost-effective option in the long run.
Rather than going with after-market organizers that are always an eyesore, see how you can add integrated storage to your luxurious new shower. Contact Stonexchange today for color and size options and competitive wholesale pricing.