Pure White Engineered Window Sills
Pure White Engineered Window Sills
Have you ever thought about installing window sills that look radically different from traditional types of marble? Are you at all concerned with the performance features of the windowsills that you plain on installing in your next major product? If so, then these pieces might very well be for you.
Pure White is an engineered stone. It's a perfect white product made of glass with no veins or spots. This makes it a very unique bright product preferred by high end projects. It has zero water absorbency.
Engineered window sills look very similar to and easily replace projects with Thassos marble window sills. That means you can use it in almost any situation that would call for this type of stone, largely because of the fact that these two types are essentially the same piece of material under two names.
Engineered Stone For Windowsills
Contractors who are looking at windows that currently have gaps and cracks on their sills will want to consider replacing it fully. Performance features, like the ability to absorb water, are a major reason to prefer Pure White stones, which is why they're a great option for those who are trying to swap in something that's going to hold up better than the original material that was once installed there.
Contemporary design proponents will especially like this kind of piece, as well as other monochromatic choices like Absolute Black granite, because they're so flexible and stark in their overall look. Minimalist aesthetics have taken the world by storm, and they rely on types of material that are this solid-looking. This is good news for retailers who sell windowsills directly to consumers on behalf of the wholesale organizations that they're working with.
That being said, they should also look great in areas that are trying to go for a more conventional design ethos in spite of the fact that they have such a futuristic appearance. If you're redoing an existing area that has a long established layout and want it to keep said layout, there's no reason that you shouldn't be able to incorporate a Pure White windowsill into the area.
Due to the fact that it won't absorb water, you might even look at this as a good way to protect your investment in whatever redesign you're making. That's good news for contractors that have to revamp a large number of properties all at once.
Installing Engineered Windowsill Pieces
Since these pure white sills come in the same standard 74″ size that many other pieces do, it's easy enough to install them. Each set of dimensions comes in a set of 50 pieces. You can get them in 5″, 6″, 8″, 10″ and 18″ widths, all of which are ⅝" on one side.
Simply take a few measurements around the window that you were looking to outfit with these. Chances are that you're looking at something that should fit one of these various types of dimensions.
Invest In Natural Stone From StoneXChange
Contractors are looking to save a little cash while still doing their best to only ever work with the finest building materials. They can always count on STONEXCHANGE to deliver these great pieces of engineered stone.
As a result, you shouldn't run into too many issues when it comes time for installation. That being said, you might still have some questions so make sure to contact us online for more information about the best way to deploy these very unique pieces.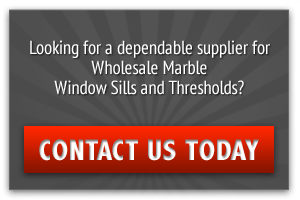 | | |
| --- | --- |
| Product: | Window Sills |
| Material Name: | Pure White Thasoz |
| Material Type: | Engineered Stone |
| Finish: | Polished |
| Color: | White |
| | Stock Dimension | Packing Quantity |
| --- | --- | --- |
| 74" Sills | | |
| | 74"x18"x5/8" Pure White Window Sill | 50 |
| | 74"x10"x5/8" Pure White Marble Sill | 50 |
| | 74"x8"x5/8" Pure White Window Sill | 50 |
| | 74"x6"x5/8" Pure White Window Sill | 50 |
| | 74"X6"x5/8" Pure White Window Curbs* | 50 |
| | 74"x5"x5/8" Pure White Window Sill | 50 |