Marble, Travertine and Granite Thresholds
What is a Marble Threshold?
A marble threshold is a strip of marble used to separate different flooring surfaces from one area to another such as a transition from a bathroom to the bedroom. Marble thresholds are also known as marble saddles or transition thresholds.
There are 2 main reasons to install a marble threshold at a flooring project. For bathrooms or wet areas, marble thresholds are installed as water barriers. Marble thresholds block any water spill to flow to other flooring surfaces by creating a ½" to ¼" high raise at doors. Marble thresholds also provide a safe transition between floors with different levels such as tile to carpet, marble tile to wood flooring and so forth.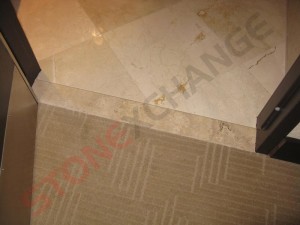 See the complete list of Threshold inventory
How Do I Determine the Design of Marble Threshold I need?
A marble floor threshold will usually have beveled edges to provide a safe edge for foot traffic. The bevel can either have one or two long top edges to provide a safe and polished finish, depending on the project type. If the threshold is used as an end piece to a floor, the threshold should have one long side beveled. However, if the threshold is used as a transition or separation piece, two long sides need to be beveled. There are 2 types of bevels on prefabricated marble floor thresholds.
A standard bevel threshold is a threshold with 1/4" bevel, just to provide an eased edge. See drawings.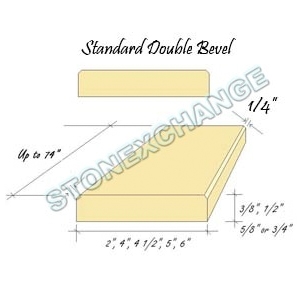 Hollywood bevel threshold (aka handicapped bevel) is a larger bevel (1" – 1 3/8"). The bevel looks like a small ramp. Wheelchair access is made easy with the help of this little ramp which makes them a suitable and common option in commercial and multifamily projects. There are three main types of stone thresholds as standard double bevel, single Hollywood bevel, and double Hollywood bevel.
What Type of Marble Thresholds for What Type of Project
The hospitality industry or multi-family projects such as hotels, restaurants, and resorts usually finish their bathrooms with 4 inch wide thresholds. Therefore, 4″ wide thresholds are also called hotel thresholds.
All residential projects with hard surfaces such as ceramic, porcelain tiles or stone tiles will require a marble threshold, especially for main and bathroom entries.
The Standard Options and Their Drawbacks
The drawback to the aluminum threshold is that over time that fresh reflective finish will fade thanks to the use of foot traffic scuffing up the finish. That's why some builders might prefer the nickel finish with its matte surface that still presents a fresh look of a new build.
Then there's a metal that produces the same look but is more durable than aluminum and nickel because it won't bend. Of course, there's always the old fashioned wood threshold that has been used for centuries. Designers who are looking to produce a rustic feel might want to go with this choice.
Here's the drawback to wood—over a period of time, wood will eventually rot. Insects, termites, and creepy crawlers like to burrow its way through the wood making it unstable and eventually crumbling to dust. So not only will homeowners need to replace their threshold, they may also need an exterminator! As far as aluminum, metal, and nickel-finish thresholds go, while they'll be sure to last longer than vinyl and withstand bugs, they all will eventually need to be replaced over a period of time.
Marble Thresholds is Your Solution!
There's really only one solution that will not only give your new build that fresh and shiny look of modernity, but also provides you with a lifetime of strength and durability. Upgrading your thresholds with marble stone brings a pleasingly aesthetic look to your build. No matter what kind of marble you choose, it tends to stand out simply because of its quality.
The Beauty of Marble Stone
Because of the way marble is made, it has a natural reflective shine to it. This can be attributed to the fossils and other organisms that were embedded during the metamorphic process. Through an immense amount of heat and pressure deep beneath the earth's surface, limestone actually melts along with the fossils and other organisms surrounding it. When it recrystallizes, it becomes the mineral that we have come to know as marble.
Type of Marbles Used for Marble Thresholds
Thresholds are blends of two different materials of different areas. The natural stone used for the threshold will commonly be a matching color to either or both of the flooring materials. We have 5 standard stones we carry in stock for immediate delivery. You can find black marble threshold and white marble threshold choices below:
Travertine, Crema Marfil Sahara (similar and replaces Botticino Marble), White Carrara (similar and replaces Bianco Carrara, Carbonia ,Alabama White, Georgia White Marble), Absolute Black Granite and Pure White Thazoz (similar and replaces Thassos Marble) are the preferred stones of designers and project owners to match flooring items due to their natural and neutral looks. We offer pre-fabricated thresholds for these materials which are ready for shipping. If your project requires a custom natural stone, we will meet your requirements.
Diversity of Marble
Marble comes in many different color variations. Again, this is determined by where the marble is created and what kind of minerals and fossils are nearby. In some cases, not much is nearby. This means that you'll find yourself with Pure White Thazoz or Nuevo White Carrara. Most of you may be familiar with the multi-colored speckled type of marble, but when it comes to choosing a threshold, it's suggested to find colors that are more solid-like.
Dimensions of a Marble Threshold
Doors have different standard sizes in width and length. Therefore, the thresholds need to be matching the door opening. In some US States, 2"x36" is the most common size with a simple 1/4″ bevel.
However, in other states, the standard width is mostly 4" or 4 1/2″, 5″ or 6". Hotel projects mostly use 4″ thresholds. The thicknesses of the thresholds are usually 3/8", 1/2″, 5/8″ or 3/4″ and changes with the width. The standard opening of a door usually is 36". That is why the length of a threshold would be 36″. In some special cases, for larger doors, longer thresholds are available such as 48" or 60".
See complete list of Threshold inventory
Where Can I Find Thresholds if I Only Need a Couple of Pieces?
Stonexchange is a wholesale trade only business. For end users visiting our website, we recommend you to Contact Us so we can direct you to a distributor in your area. We only sell wholesale to tile stores, home improvement stores, building supply stores and contractors. Order must be at a minimum of 1 crate for each individual product (50, 100 or 200 depending on merchandise packaging). We only break crates if the order meets a minimum of 1 pallet requirement.
Things to Consider When Ordering Your Marble Thresholds
If you're looking to buy in bulk, then it most beneficial to find a supplier that sells the marble and natural stone thresholds you're looking for at a wholesale price.
Stonexchange sells marble thresholds in crates of 50, 100, or 200. This all depends on the merchandise packaging as you may want to order two or three different kinds of marble thresholds. The packaging is firmly wrapped, but it's worth noting that approximately 10% of damage is accepted as normal during transportation—even when they are packaged in crates.
So with that in mind, you may want to order a little more to make up for that 10% and possibly a little more once your builders begin handling them for installation, because let's face it, accidents happen.
How are Thresholds Shipped? Is it Safe to Ship?
Common carrier trucking companies are used. We have great pre-negotiated pallet rates to your state. With full crate orders, the thresholds are packed strong enough to make it to your warehouse. Please do not forget that this is a very fragile product and up to 10% damage is accepted as normal during transportation. Therefore, you must order accordingly for your project or stock.
Wholesale Thresholds Packaging
Thresholds are packaged in strong wood crates, durable for stacking and nationwide shipping. A polyurethane sheet separates thresholds individually to prevent them from scratching during handling and transportation. Poly-straps on crates increase the durability of the crates. These standard size stackable pallets result in significant savings on warehouse space and shipping costs. If you have any issues, our customer service is ready to help you any time.