Travertine Window Sills
Travertine Window Sills
Travertine is a natural stone. It is very commonly used for wall and flooring applications as tiles, pavers, and mosaics. Matching travertine window sills and travertine thresholds are important items to complete such surfaces. These ivory medium travertine sills also work for projects specified with Roman Travertine, Iroc Beige, Durango Cream Travertine, and Chiaro Beige.
Any of these projects would essentially use a piece that's identical to a Travertine window sill, so you shouldn't feel concerned about substituting these pieces for any plans that call for such a piece. 
Choosing The Right Travertine Window Sills
Travertine continues to be one of the top windowsill materials in the state of Florida, and it pairs well with the style of decor that's found in many homes in the southern part of the peninsula. Modern homes with a contemporary style will certainly look great with these because their minimalist appearance matches well with pretty much any post-industrial layout. 
That being said, Travertine windowsills are also going to look equally great with classical or neoclassical layouts too. That's because they project a vintage image when they're installed next to other vintage-looking features. There's a certain idea that most people get in their head when the word marble comes up in a conversation, and these windowsills will certainly align with those expectations. 
On top of this, their polished appearance will stay looking sharp for the foreseeable future. It's fairly easy to simply wipe them clean when they get moist, which is a real concern when installing them in south Florida homes where people regularly open the windows. Whenever humidity condenses on a windowsill, it's important to be able to clean it. That fact underscores the utility of the polished finish on these Travertine pieces.
Best of all, they're sized appropriately to serve as drop-in replacements for existing pieces of material. If you have a series of properties that need new windowsills but currently have wood or metal ones, then you can simply get a stack of Travertine window sills that are made to the same size specifications. Remove the original ones and inspect the area for damage. 
As soon as you're sure that it's safe to proceed, the new marble windowsills can actually be installed in place of the original ones with a sufficient amount of cement. This will ensure fitment while also replacing the existing material with something that should prove considerably more durable.
Why Travertine May Work In Your Next Project
Windowsills made from Travertine can ship in a number of different dimensions, which should help them meet the needs of the widest possible group of users. From home improvement warehouse specialists to those who plan on redoing a large group of homes all at once, these windowsills are perfect for a variety of situations. 
A selection of 37″, 56″, and 74″ sills are all offered in boxes that contain from 50 to 100 individual sills. This makes it easy to order them in bulk. Contractors and individuals doing reclamation work are encouraged to invest in a fairly big supply all at once so that they don't end up running out prematurely.
Incorporate Natural Stones With StoneXChange
Here at StoneXChange, we've found a number of situations where the best windowsill for the job might be a simple piece of this material. Our goal is to assist you with choosing the right thresholds for your next project. 
Chances are that you have a variety of places where these might work. For more information about the best kinds of windowsills for your particular use case, make sure to contact us online.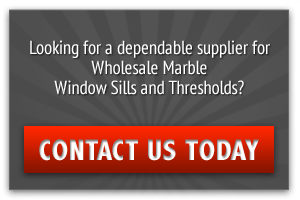 | | |
| --- | --- |
| Product: | Window Sills |
| Material Name: | Travertine Sills |
| Material Type: | Travertine |
| Finish: | Honed / Filled |
| Color: | Ivory Medium |
| | Stock Dimension | Packing Quantity |
| --- | --- | --- |
| 74" Sills | | |
| | 74"x12"x5/8" Travertine Sill | 50 |
| | 74"x11"x5/8" Travertine Sill | 50 |
| | 74"x10"x5/8" Travertine Sill | 50 |
| | 74"x9"x5/8" Travertine Sill | 50 |
| | 74"x8"x5/8" Travertine Sill | 50 |
| | 74"x7"x5/8" Travertine Sill | 100 |
| | 74"x6"x5/8" Travertine Sill | 100 |
| | 74"x5"x5/8" Travertine Sill | 100 |
| | 74"x4"x5/8" Travertine Sill | 100 |
| | 74"x3"x5/8" Travertine Sill | 150 |
| 56" Sills | | |
| | 56"x6"x5/8" Travertine Sill | 100 |
| | 56"x5"x5/8" Travertine Sill | 100 |
| | 56"x4"x5/8" Travertine Sill | 100 |
| | 56"x3"x5/8" Travertine Sill | 100 |
| 37" Sills | | |
| | 37"x6"x5/8" Travertine Sill | 100 |
| | 37"x5"x5/8" Travertine Sill | 100 |
| | 37"x4"x5/8" Travertine Sill | 100 |
| | 37"x3"x5/8" Travertine Sill | 100 |