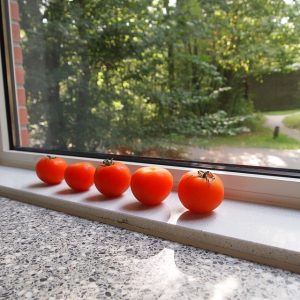 The choice of materials for window sills fits neatly into South Florida's needs for durable window sills that stand up to regional climate.
In the past, wood was the prime material used for window sills. However, as most home and building owners learned, wood window sills have the least durability and warp when exposed to the high humidity in South Florida.
When wood window sills became obsolete, vinyl and aluminum became popular. With vinyl and aluminum, maintenance was relatively low. Vinyl and aluminum window sills are generally fabricated with baked on coatings which tend to dull and fade over time.
The top five materials for window sills are designed from sturdy marble and natural stone. This is an indication resident of South Florida seek materials with permanence, least maintenance and impervious to high humidity, storms and typical South Florida weather.
Top materials for windows in South Florida include:
. White Thazoz: Modern and Pristine
. White Carrara: Classic and Affordable
. Crema Marfil Marble: Affordable and Luxurious
. Absolute Black Granite: A Bold Selection
. Travertine Window Sills: A Perennial Favorite
With five materials to choose from, the only difficulty is choosing from among the five. Some individuals may wish to choose White Thazoz, a solid white stone from its namesake Greek Island for a modern style structure in South Florida.
For homes and buildings in a more classic style, White Carrara is a marble that speaks of timelessness and design coordination.
Another marble material used for window sills is Crema Marfil with its appealing creamy color. Perfect for homes and buildings that want to contrast the structure's interior color scheme.
The choice of Absolute Black Granite adds a dramatic accent to more subdued interior color designs. Absolute Black Granite sends a message of sturdy sill material as part of interior window design.
Travertine Window Sills are always a perennial favorite with its attractive inlaid variations. Like Crema Marfil, Travertine Window Sills provides a solid surface as part of window design.
Miami's Top Choice for Best Materials for Window Sills
Residents of South Florida are quite discerning when it comes to choosing a window sill professional. In the Miami area, STONEXCHANGE is a provider of natural stone flooring and accessories. STONEEXCHANGE specializes in marble window sills, marble thresholds (sometimes referred to as marble saddles.)
STONEXCHANGE offers excellent customer consultations to help choose the best sill material that is easy to clean for all types of windows and window frames in standard sizes at wholesale prices. To get more information please contact us.