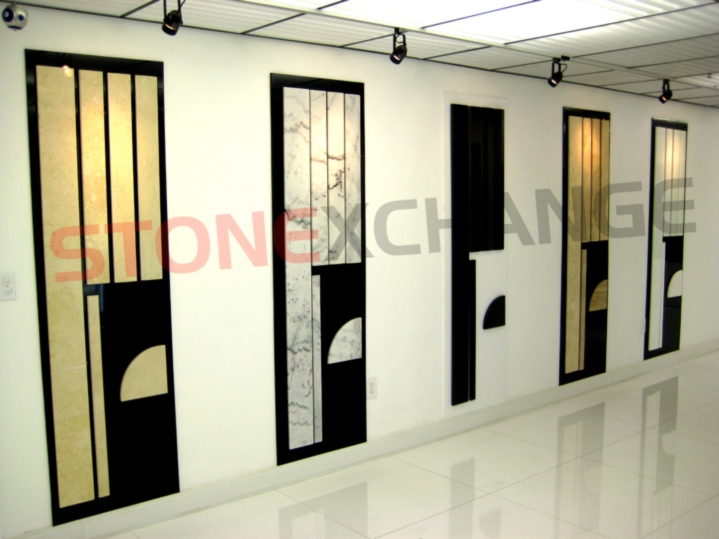 Building developments and renovation projects involve obtaining large quantities of interior accessories. Natural stone thresholds and matching window sills can be ordered from a special merchant. Nevertheless, the cost can be an issue if these products are purchased in smaller amounts. Even the larger orders may require the buyer to be patient if the materials need to be imported as single purchases. 
Stonexchange directly imports and distributes full-crate orders of natural marble stone accessories. We are located in Miami, Florida, but we deliver top-quality marble thresholds and other products throughout the continental United States. We also manufacture our own marble products. Our customers enjoy the lowest prices in the industry because they purchase directly from the material source.
But buying in bulk doesn't always save the customer money. This is because marble is extracted from quarries, sent to a fabrication center, packed and shipped overseas, and often purchased by a domestic broker or reseller. By the time it is in the hands of the end-user, the price is only slightly below small-quantity retail. 
Stonexchange is the place to shop for more affordable marble thresholds in large quantities. We own the product from the time it is cut and shaped.
The Problem Marble Installers Face
A construction company subcontracts specialty installers for the placement of marble thresholds. These installers have the job of finding a suitable material source at a price that is virtually guaranteed. They then have to submit a project bid that is based primarily on how much the required products will cost.
Many of these contractors have accounts with local flooring companies or natural stone suppliers. They tell the merchant what products they need and when they need them. They get a price quote that is almost never guaranteed. This is due to the wild fluctuations in the natural stone product industry.
Quarries specialize in one or two types of marble, and the geological deposits in a specified area are similar. The company that owns the land or has lease rights may only be able to extract raw material related to one single color shade or patterning style.
Sometimes these quarries shut down due to a lack of exposed material. Merchants who purchase from a reseller who in turn buys material from an overseas wholesaler often find their shelves empty at the very moment a contractor needs the product. 
It can be very difficult to predict whether or not a particular supply chain is active at any given time. You won't always know whether or not you can acquire sufficient supplies to complete your project.
Stonexchange owns manufacturing centers and has part ownership in a number of quarrying operations. We import our marble thresholds on a consistent basis. Our system ensures our inventory is replenished at the same rate our products are purchased by clients. 
Because we import in bulk, we save money on freight charges and import tariffs. Our clients enjoy lower prices when they purchase full container loads of material. 
Our Miami Distribution Center consists of an 18,000 square foot warehouse that's big enough to even hold dealer stock requests. In some cases, we've made immediate deliveries to larger projects like those that provide homes for multiple families. At other times, we've provided sufficient marble material for track homes all at the same time as well as hotel projects. 
On average, our inventory usually consists of around 50,000 pieces worth of door thresholds. We also carry 40 containers of marble window sills.
A Solution For Retail Merchants
Even if a job bid is placed by an installer who has a rough idea of what it will cost to obtain material, he or she will still shop around for the best deal in town. The contractor will be impressed with a merchant that guarantees a specific color shade and style of marble. They will be even more impressed if hundreds or thousands of pieces are available.
These merchants and natural stone accessory dealers have located a reliable product source at discounted prices. Most likely, they have formed a business relationship with Stonexchange.
A flooring company showroom will be full of samples. These samples might include cream and beige tones, white and off-white marble, rosy marble, and pure white marble. However, customers needing more than just a few thresholds, sills, or countertop blocks often find that a custom order must be placed months in advance. 
In addition, there is no guarantee that a large order can be filled on or before a certain date. That is because of the fierce competition in the natural stone brokering/reselling industry.
Stonexchange makes it easy for merchants and dealers to develop and maintain a relationship with the people who keep them in business. Namely, we help contractors needing marble products in large quantities. The ability to purchase full container loads of products at any time of year can mean a huge increase in business and repeat customers. 
Imagine you ran a home improvement store and your customers consistently couldn't get the same type of marble. They wouldn't want to finish any of their projects for fear that they'd be eventually working with mismatched stones. 
By getting a large number of matching pieces from our supplier, you'll satisfy the needs of these clients and might very well be able to convert them into regular customers. Best of all, we have a variety of different cuts of stone that should suit a number of different needs and design preferences.
Stonexchange Carries All The Popular Styles
Thresholds are manufactured as flat pieces of marble stone with rounded or beveled sides. The saddle is placed on the subfloor at a junction between two different floor coverings. This is usually in a doorway or at the edge of a foyer. 
The edges are where carpet or hardwood meets a natural stone tile surface. That should help to make the transition between two different areas of flooring a lot more equitable. In many cases, these are seen as extremely important for dividing areas where one would collect moisture and the other wouldn't, such as a bathroom and a hallway.
Standard double bevel thresholds have a sharp slope along both long sides. The bevels are rounded, and the entire piece of stone is polished or honed. The standard thickness of these transition saddles is 5/8-inch, and widths vary from 2-12 inches. Contractors generally agree that this should satisfy a majority of situations. 
With Stonexchange, you can get a box of Ivory Travertine standard double-bevel thresholds that consists of 200 different pieces. You shouldn't have any difficulty getting enough stone to complete any sized project.
Hollywood bevel thresholds have a gentler sloping angle, the bevel being approximately 1 3/8-inch in width. These are manufactured in single- or double-bevel style. The former is generally used when a height discontinuity is connected by the saddle. Alternatively, it is used when a marble floor is to be edged by sloping perimeter pieces. 
Take a look at the existing structure and the specifications of your current project. This should usually be sufficient to help you select the type of stone that you need. Then you can find the cut that would be best for your particular situation.
The latter style is used in high-traffic areas where pedestrian safety is of concern. Double Hollywood bevel thresholds are commonly used in public buildings, resort community developments, condos, and handicap-friendly living units. Double Hollywood bevel thresholds are usually wider and are manufactured in thicknesses of 5/8-inch or more. You might want to consider these if you're in any area that requires an additional level of accessibility. It's an especially good pick for those concerned with compliance. Even better, you shouldn't have any difficulty getting pieces in the color that you like.
Different Shades Available From Stonexchange
The two most commonly used shades of marble are cream/beige and off-white. Medium-shaded marble is popular in residential interiors because it blends so well with other neutral tones. White marble often has gray streaks and looks its best when it is set against lighter or darker shades. This is the type of material that comes to mind for most people when they think of marble. You'll also want to consider a variety of different types of stones.
Our company manufactures and distributes floor thresholds in both of these popular shades. Our Crema Sahara Marfil is a shiny medium tone. That tone is the perfect replacement or substitute for any design specifying Bursa Beige or Botticino. This marble closely resembles the Italian and Sicilian Cream styles so often showcased in retail stores.
Our ever-popular Nuevo White Carrara marble is cut and shaped into wonderful-appearing thresholds. This product is milky-white with an average amount of gray streak veins. Installers needing to obtain a replacement for Cherokee, Georgia White, or Vermont White marble will be quite pleased with our White Carrara marble.
Stonexchange also carries a superb engineered white stone product. Known as Pure White Thazoz, this composite made from glass and resins is becoming one of our bestsellers. Increasingly popular with interior designers of luxury townhomes, condos, and corporate office suites, engineered white stone thresholds are exceptionally dazzling in appearance. They are much more affordable than the rare brilliant white marble products available from few distributors worldwide.
We also carry Absolute Black Granite, very similar to Galaxy style granite stone. This is the same material used to manufacture our beautiful black stone window sills. These tend to be very dramatic. You could easily create a sort of retro-futuristic layout by pairing thresholds made from this material along with windowsills.
Light Emperador Brown marble thresholds might be another good consideration for those who are looking for a splash of color. That being said, Emperador material tends to be a bit more neutral than most. That makes it an attractive option for those who want to include color. They have to consider tiles that have already been installed in a bathroom.
All of our marble and granite thresholds are manufactured in standard double bevel, single Hollywood bevel, and double Hollywood bevel styles. These thresholds are packed in full crates and sold in minimum quantities of 50-100 depending on the width of the material. Stonexchange maintains a full inventory of products at the company's Miami, FL distribution center. We ship products to all corners of the nation.
Custom Size Thresholds Available At The Same Low Prices
Because we own our manufacturing facilities, customers who purchase bulk quantities of marble or granite thresholds can request custom sizes. Certain threshold applications require thicker pieces or ones with much wider bevels. Stonexchange offers immediate price quotes and manufacturing lead time estimates for these orders.
Extremely large orders for standard or custom-sized thresholds will be shipped directly from the manufacturing site to the customer via transatlantic freight and overland truck delivery. Our company does not charge extra fees for these custom orders. This is another advantage of ordering products directly from a manufacturer/importer.
Regardless of the size and shape of the threshold order, all our products are ADA-compliant. When properly installed on the subfloor, our thresholds are safe for pedestrian traffic and wheelchair users. Our thresholds are polished on all sides prior to packing and shipment. They arrive at the customer's address ready for immediate installation.
One of the best reasons to consider Stonexchange is our ability to maintain an inventory of similarly shaded products. Our thresholds are manufactured from the same raw material as our window sills, floor tiles, and shower curbs. We mix-and-match custom orders with ease, and the buyer will be pleased with the pattern continuity between individual pieces.
Buying In Bulk Will Save You Money At Stonexchange
Now you know where to shop for marble thresholds in large quantities. Stonexchange is your one-stop source for the finest quality marble flooring products in the manufacturing industry. 
Contact us today and find out how much you will save on the most beautiful marble thresholds. Remember to ask about our equally amazing discounts on large orders of window sills, floor tiles, and other products manufactured from natural stone.