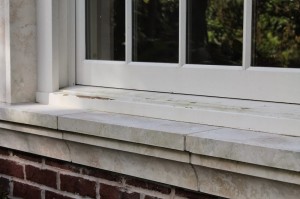 Beautifully crafted natural stone window sills become one of the highlight features of a residential or commercial interior. Building designers love to incorporate stone accents into new construction or remodeling projects, but construction contractors need to stay on budget when ordering this type of product. The best deal on the purchase of natural stone window sills is through a direct importer and distributor that specializes in bulk shipments.
Stonexchange manufactures and imports premium quality sills made from granite, marble, and travertine. We are located in Miami, Florida, and our company ships full-crate or large container orders of stone products throughout the United States and the Caribbean. We are your trusted exporter of natural stone window sills to the Caribbean, and we guarantee the lowest wholesale prices on the most popular styles of stone sills in the entire industry.
We Specialize In Bulk Shipments
Anyone can locate a source of window sills made from granite, marble, or travertine. However, most interior design product retailers carry only minimal amounts of product in inventory, and the lead time for ordering larger amounts can be extremely long. In addition, the dealer may be purchasing from a reseller or broker who does not always have access to a bulk supply of the desired color and shade of natural stone requested by the client.
The best bet for obtaining the exact product required for large-scale installation projects is to go directly to the materials source. This is especially true for clients located in the Caribbean. It is imperative that shipping costs be kept as low as possible because the extreme weight of natural stone can mean inflated freight charges.
Stonexchange helps keep these costs low through a unique bulk shipment system. Our company imports huge amounts of stone window sills that have been fabricated at our own manufacturing centers located in the Mediterranean region. We sell full container loads of material to construction companies, home improvement retailers, and independent installers, and we ship product from our distribution center located in Miami. When our inventory begins to drop, we compensate by ordering new product in amounts equal to what has been recently purchased by our clients.
We therefore have a recurring order schedule of our own that we maintain throughout the calendar year. Very large orders for amounts exceeding several thousand individual pieces can be shipped directly from our manufacturing center to the client's destination address. This saves our Caribbean customers a great deal of money.
Stonexchange also honors requests for non-standard size materials. Since we manufacture the products ourselves, it is fairly easy for us to process custom-size orders for natural stone window sills and have them fabricated overseas for a specific client. These shipments – if large enough – are sent directly by ocean freight to our clients in the Caribbean.
For Large-Scale Development Projects
Natural stone window sills are often used in hotels, government and public buildings, resort complexes, and condominiums. All of these are large development and construction projects that involve the ordering and installation of hundreds or even thousands of window sills. The same is true for renovation projects at a hotel or retirement community.
An accurate project estimate must be figured at the early stages of the project. It is imperative that the construction company choose subcontractor bids that are honest and reasonable. The subcontractor must therefore be able to locate a bulk supply of product that comes with a reliable price quote.
Because Stonexchange does not rely on outside parties to determine product availability or shipping schedules, the client enjoys the advantage of knowing prices and delivery dates well ahead of time. This makes it much easier to place a job bid. It also means the contractor can adjust his or her delivery schedule to meet that of the construction or remodeling project phases.
In the Caribbean, construction continues through the winter months. There is no slowdown in this industry between November and April. Product must therefore be available at any time during the calendar year. Some of the natural stone quarrying operations stage their product availability to match the heavy summer building season, and getting large amounts of material from them during the winter can be difficult.
Stonexchange solves this problem because we manufacture our natural stone products throughout the year. We do not compete with other importers for a limited amount of raw material. We partner with several different quarrying operations and are at the front of the line when it comes to obtaining each type of natural stone we use to manufacture our window sills and other products.
Choose Your Style of Window Sill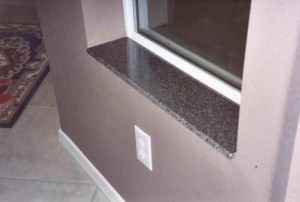 Granite and marble are the two most commonly used natural stones in the construction of window sills. Travertine is also widely used, especially for building interiors where a classical, rustic look is desired. Stonexchange manufactures premium quality window sills using each of these raw materials.
Black or near-black is the preferred shade of granite when it comes to window sills. Our company produces sills made from Absolute Black Granite, a dark color tone that includes little to no splotching or speckling. This product is very shiny, keeps its polish for years, and complements lighter wall shades very nicely. Clients wanting a product that is similar to Galaxy granite will be very pleased with our Absolute Black Granite window sills.
Stonexchange carries both medium- and light-toned marble window sills. Our Crema Sahara Marfil marble sills are cream/beige and closely resemble the popular Botticcino and Bursa tones. Crema Marfil has moderate streaking and veining patterns and complements other neutral tones.
Our Nuevo White Carrara marble sills are extremely popular in the southeast region of the United States and the Caribbean. This off-white shade has a moderate amount of gray streaking and veining. This is the shade often used for marble columns, stone steps, and as a flooring surface in commercial building lobbies. White Carrara is similar to and replaces Alabama, Cherokee, Georgia, or Vermont White marble.
We product a high-quality, brilliant white engineered stone sill. Known as Pure White Thazoz, this material is a combination of powdered glass and specialized resins. These sills are a favorite color choice for luxury resorts, contemporary office interiors, and condominium units. Pure White Thazoz window sills contain no streaking or spotting and are 100 percent waterproof.
Our travertine sills are made from the highest grade of raw product. The shading is ivory-medium, and the sills are manufactured from slabs that have been honed, filled, and sealed. These sills are the perfect complement to other travertine accessories such as shower stall interior walls, backsplashes, and floor thresholds.
All of these varieties of natural stone window sills are manufactured in varying lengths and widths. The standard thickness is 5/8-inch. After the product is cut and shaped, it is given a high-quality polish. The pieces are stacked into sturdy crates and sent via transatlantic freight to our distribution facility in Miami or directly to the customer address.
Large orders for thousands of individual sills are usually shipped from the manufacturing facility to the buyer. These orders take approximately two months to fabricate and deliver. Likewise, custom-sized orders require a special manufacturing schedule and will take one or two months to fabricate and deliver to the client. Stonexchange does not charge extra fees for the manufacturing and delivery of non-standard size product.
Combining Window Sill Orders With Other Products
Stonexchange manufactures thresholds, floor and wall tiles, and shower curbs made from the same raw materials as our window sills. Customers can expect a high degree of color and style match between different products. We make it easy to combine different products into a single order, something that is very important to subcontractors and installers.
Remember that our bulk shipping service means lower overall freight costs and also lower import tariffs. We pass this savings on to our clients in the Caribbean. This is the best method available for the obtaining of top-quality natural stone building materials, and our company recognizes the need for cutting down on freight costs when material is imported from abroad.
Buying from a reseller or international broker can be tricky when it comes to buying separate products with the intention of a good color or style match. It makes good business sense to purchase all of the required materials from a single source, one that can guarantee style and color matching. Dealers and merchants in the Caribbean can likewise rest assured that their wholesale purchase of natural stone window sills from Stonexchange will be perfectly matched to our other products.
Let Us Save You Money
Rather than search around for window sills in bulk quantities from a retailer that specializes in small orders for individual consumers, purchase wholesale from Stonexchange and save big on premium quality natural stone products. We are an exporter of natural stone sills to the Caribbean, and our reliable shipping schedules and discounted prices on full-crate orders is unmatched in the industry. Contact us today and find out how much you will save on the finest stone sills available.