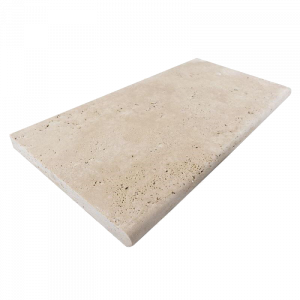 Traditional style homes are those that feature architectural sensibilities developed prior to the 20th century. According to a 2020 survey conducted by Better Home & Gardens magazine, the most popular home styles belong in the traditional category; we are talking about Mediterranean, Spanish Colonial, French Country, West Indies, Tudor, American Craftsman, Victorian, and Cape Cod.
The interior design of traditional homes varies across various styles, but it follows certain principles. The color palette tends to be subdued, elements tend to match instead of providing contrast, and a lot of attention is placed on elegance.
Stonexchange Thresholds for Traditional Homes
Thresholds or door saddles can be made from materials ranging from rubber to fiberglass and from wood to metal. When shopping for thresholds, you should keep in mind that stone is the only material that can truly match the interior design of traditional-style homes. Most traditional homes feature stone, ceramic, and hardwood floors; these are materials that deserve to be complemented with stone thresholds.
The surfaces of our threshold pieces are honed, polished, and sealed to highlight their appearance. Our standard and fancy bevel cuts are fully compliant with the Americans with Disabilities Act in terms of accommodating wheelchairs. The following thresholds are the most suitable for traditional home styles:
Nuevo White Carrara
Carrara marble is one of the most appreciated construction materials around the world, and it looks great when used for thresholds. The unique white coloring and attractive veining of this natural stone make it one of the best choices for any interior design project.
Crema Sahara Marfil
This is another kind of marble that features a soft beige to golden color with veining patterns that are more random than Carrara. As its name suggests, Crema Sahara has an earthy tone that will match rustic and country-style interior designs.
Absolute Black Granite
If your home has dark granite flooring or countertops installed, you may want to install matching thresholds. Our Absolute Black Granite pieces are cut from premium slabs that are more durable than other types of natural stone. Since granite is not as porous as marble, you do not have to worry about applying additional coats of sealant.
Travertine Thresholds
The ancient pyramids of Egypt were once covered with massive slabs of travertine, a sedimentary rock that resembles marble in texture. The naturally tan colors and fibrous patterns of travertine will look great in any home.
Learn More About Door Thresholds from Stonexchange
Located in Miami, Stonexchange is a wholesale distributor of fine natural and engineered stone products such as thresholds and window sills. Should you have any questions about our products or the ordering process, please feel free to contact our office. Although we only sell pieces in wholesale quantities, we will be happy to guide retail customers to contractors and distributors in their areas.