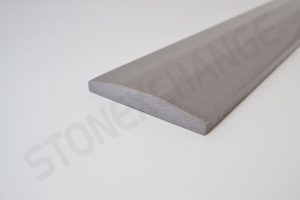 Condo developers are under a great deal of pressure because they have to adhere to certain legal guidelines while also ensuring that their finished projects don't look out of date. Balancing these two concerns along with the overall functionality of the finished space can be surprisingly difficult. Fortunately, modern thresholds can go a long way toward enhancing a space while also helping contractors finish their projects.
How Modern Thresholds are Useful for Condo Developers
Whether you're designing a condo complex that has sprawling suites or small studio spaces, you're going to need to have at least one area that generates moisture. Even the smallest single-unit dwellings generally have a bathroom, and you'll want to separate the flooring inside of it from whatever kind of floor coverings are used throughout the rest of your space.
Installing a modern threshold along the strip where the two edges meet is an excellent way to solve this problem. In fact, doing so can actually speed along the completion of a project.
Thresholds Aid the Completion of Projects
Assume you had to meet a tight deadline. If you couldn't test the fixtures inside of a bathroom for fear that moisture might escape, then you could end up losing a substantial amount of construction time due to the need to wait around. By installing a threshold, you won't have to worry as much about this issue.
Doing so can also help contractors with ADA compliance since the law provides specific requirements regarding the dimensions of passageways underneath doors. When thresholds are installed at a doorway, they can't exceed ¾" in height when dealing with exterior sliding doors. In all other cases, you're only allowed a ½" of height. Rather than taking the time to craft a threshold
for each space individually that meets these metrics you could simply install a modern set that's tailored to ADA specifications.
Best of all, you can buy them in bulk to reduce the risk of running out of material during the interior construction phase of your project.
Acquiring Modern Thresholds
Accidental breakage is one of the leading causes of contracting holdups. There's always the risk that your team might open a box of material only to find that some of it was damaged when bringing it over to the lot you're working on. By buying a huge bulk lot of thresholds, you can be sure you'll have spares if anything happens. You'll also have enough material to finish a project that has a large number of individual condominium dwellings within the same building. These are usually all built to the same specifications, which means you can use the same thresholds throughout the whole structure. This helps to lend a rather uniform professional look to the finished product.
At Stonexchange, we've made it easy to get thresholds and other natural stone products in bulk. For instance, condo developers might also want to stockpile soap shelves when finishing bathroom projects.
No matter what kind of contracting your team does, make sure to contact us online and tell us more about your requirements. Our representatives can help you find the thresholds you need to get the job done.