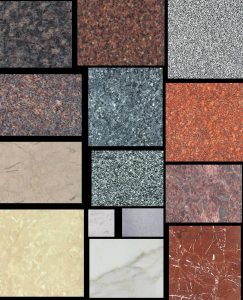 Wooden windowsills can rot away, and metal thresholds eventually corrode. Your projects demand materials that are going to withstand everything that future property managers can throw at them.
If you're doing any kind of restoration work or remodeling, then you're going to want to replace existing structures with materials that are at least as good as what the house currently has. Natural stone fits the bill.
In many cases, it might actually be a good bit better than the existing installation. Since there are any number of options currently on the market, it can be a little difficult to find the best one for your particular use case.
To make things a little easier, we've gathered together a list of the better choices you have in front of you regardless of what kind of project you find yourself working on.
Top 5 Natural Stone Choices
1) Absolute Black Granite: Do you want to make a statement when people walk into bathrooms or kitchens designed by your team? Very few stones have the sense of drama that comes from Absolute Black Granite. While it tends to be a little heavier than many other varieties, it's still every bit as flexible. The shiny finish can also help future owners of a property keep their place clean.
2) Nuevo White Carrara: Due to the white and grey matched pattern inherent to this particular variety of stone, Nuevo White Carrara has attracted quite a following. Even though some designers might call it neutral, nobody would dare refer to it as boring.
3) Travertine: You're probably more used to seeing Travertine in the form of floor tiles or pavers. If you're overseeing the design of a property that features either of these, then you could use Travertine windowsills and thresholds to match the pattern. They can also compliment a plain floor by adding a small splash of colour elsewhere.
4) Carrara: Traditional Carrara stone is popular with members of the general public. This is, in part, because it exhibits the look that many people think of when they hear the word marble. If you're working on any project that simply calls for marble, then you'll probably want to use Carrara since it's such a safe bet.
5) Crema Sahara Marfil: Assume you have to work on a project that calls for dozens of slabs of Botticcino marble or Sicilian Cream. Each of these needs to be cut into a threshold or windowsill. It then needs to be dragged to your construction site and installed. This probably sounds like a huge waste of money! That's exactly why so many contractors are now opting for Crema Sahara Marfil as an option. It can be used anywhere these more expensive stones are, and it comes in conveniently pre-cut pieces.
Considering All Your Alternatives
Even though Pure White Thazoz isn't a natural stone, it has attracted quite a bit of attention as well. This engineered stone has a stark white look that makes it fit in well with nearly any type of higher-end decor. As the name suggests, it features a monolithic appearance that will really turn heads.
Considering how tastes always change, there's sure to be a number of other options soon as well. Contact us online today at STONEXCHANGE and find out more about what kinds of stone windowsills and thresholds are on the market right now.