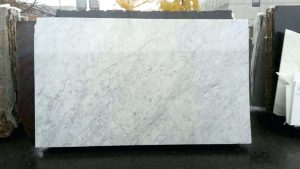 Close your eyes and think of what the word marble brings to mind. There's a good chance that some form of White Carrara is what you're actually thinking of. The gray veins and blended look are so iconic that this has literally become the appearance of marble to countless people around the globe.
In fact, a form of this marble that comes from Italy's Tuscan region was used for assembling many of the most famous Roman monuments. This has all but cemented it in the popular imagination.
Take a few moments to consider some places that you can install.
First, you might want to take a look at an area you might never have thought to see classy Carrara marble used in.
Carrara soap shelves and shower caddies look great, but they're also extremely durable. Property owners often complain about the difficulties involved with cleaning these fixtures once they're installed in their showers. Marble is much easier to keep clean, especially if it has a polished sheen. These come in a standard nine-inch size, which makes installation and use all the more simple. Since they're sold in 100 piece crates, you'll be sure to have plenty left over no matter how many projects you plan on a plan to work on.
2) Edge Profiles & Bullnoses
By using a fully automatic edge processing system, it's possible to create top-quality finishes on bullnose baseboards and other marble trims. You'll be able to find standard stone baseboards made from white marble in several standard sizes:
Perhaps the most common place to find Carrara these days is in the form of thresholds. It's gotten to the point where many designers will explicitly specify this type of marble and will refuse to accept any other alternatives. Fortunately, White Carrara can substitute for Carbonia and Oriental White marble without any problems. Some people might also specify Georgia, Alabama or Vermont White marble. If this ever happens to you, then you can use White Carrara without anyone noticing. In fact, there's a chance it might be deemed a higher-quality material than what you'd otherwise be working with.
Perhaps the other area where you'll often see designers specify a certain type of marble is when planning out windowsills. Marble sills don't wear out very quickly and they're naturally resistant to mold. This makes them particularly attractive to those who are planning properties that have to withstand certain tolerances.
Once again, you'll probably find blueprints that tell you that you need to use Cherokee Marble or something similar. White Carrara works well in these cases without any modifications to the plans.
Finding the Right Piece of Carrara for the Job
One of the best aspects of working with Carrara marble is the fact that it's an extremely flexible material. You can cut it into many different shapes and sizes, which has made it popular with those who have to make wheelchair-accessible beveled thresholds. If you have any sort of special concerns, then make sure to contact us online today and let us know what's on your mind. We'll be able to find solutions that fit all your construction, renovation or warehousing needs so you'll have the right material on hand at any time.