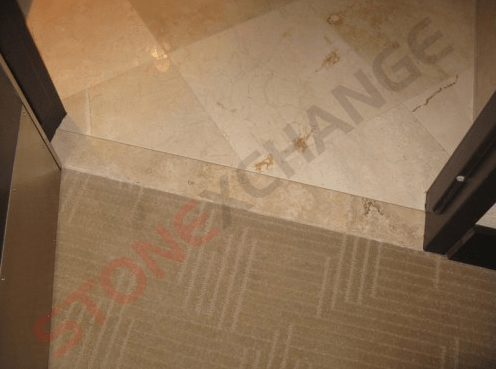 Architects and contractors are constantly looking for a natural stone alternative to marble to minimize costs. Natural stone has become the preferred type of building material and has organically given rise to the use of Travertine. You may find Travertine in kitchen backsplashes, bathroom vanities, flooring tiles, or even near swimming pools. They are also popular as a threshold option, especially for large projects when many will be required.
What is Travertine?
Travertine costs less than its marble counterpart because its excavation process is much less work-intensive. The stone forms by a process of rapid precipitation of calcium carbonate near hot springs and limestone caves and since the stone is formed above the ground it holds a unique texture. Therefore it is cost-effective while still adding a touch of elegance to your space.
Why Travertine Works for Luxury Apartment Building
As mentioned, Travertine forms in natural environments above ground where you might find moss, algae, and other organic matter. For this reason you may come across an array of different colors such as white, tan, light brown, and cream. The natural hue and earthy tones of the Travertine are guaranteed to complement any luxury setting with its unique look while still being an effective way saving cost on big building projects or complete home renovations.
In luxury apartment buildings, part of the incorporated price for residents is the appearance of their building including the facilities and of course, the living quarters. First impressions will inevitably influence the opinion potential buyers, renters, and their guests. Travertine is up to the challenge ibebet of representing a luxury brand as an attractive, elegant stone for construction material.
Travertine Threshold Options and Considerations
For a doorway to remain stable, a threshold must be installed using one of two options:
Standard Double Bevel: to provide safe foot traffic, the standard double beveled threshold consists of a block with beveled edges that can be embedded to the floor or installed with the Travertine.
Hollywood Bevel: The Hollywood bevel is similar to the standard double bevel except this threshold includes an incline for a smooth transition of wheeled objects such as wheelchairs, food or drink carts, luggage carts, etc.
Please take time to carefully consider which is most appropriate for your needs. For more information on these two different kinds of threshold please take a look all our threshold options.
The Importance of Buying Luxury Travertine Thresholds in Bulk

At STONEXCHANGE we offer our customers wholesale prices for large projects such as luxury apartment building renovations. Buying in bulk will save your project a large sum of money without sacrificing quality while keeping you stocked in the event of unprecedented events. The minimum purchasing quantity is 200 for two 2″ x 36″ x 1/2" Travertine thresholds. Differentiate your thresholds and customize your building project by choosing Travertine stone thresholds to bring your vision together.

We offer both manufacturing and distributing to provide our customers with the best materials. Our customers can choose from a myriad of thresholds to make their building stand out. STONEXCHANGE threshold experts are just a call away at 305-731-2400 or use our online Contact Form.