Marble, Granite and other types of stone soap shelves are always in demand. If you're a wholesaler who supplies contractors and developers, then you'll need to keep plenty of bathroom corner shelves on hand for anyone finishing a stall. They're every bit as functional as they are attractive, which is why so many designers have opted to install them when they planned work for showers.
One big issue to keep in mind is the fact that you have more options than the plans that an interior designer handed you might suggest. If you're designing multiple bathrooms at a time, then you probably have messages from a whole host of people stating that you need one color or another.
Material densities are what really matter. We'll show you how you can actually save by substituting high-quality other materials for what might be on your blueprint readouts. Since different types of stone match various tile patterns, you'll want to have as many options available as possible. Here are five corner bathroom shelves from STONEXCHANGE that can go with any modern decor.
5 Stone Corner Bathroom Shelves
1) Travertine Soap Shelf Shower Caddies
Travertine is a type of limestone that has the kind of unique fibrous look interior designers love to work with. You may want to go with 9-inch Ivory or Walnut Travertine soap shelf shower caddies or an 18-inch Travertine shower seat. Walnut-colored stones will add a darker accent while ivory ones are rather neutral. This gives designers some flexibility, so you'll definitely want to keep more than one style on hand for when orders start pouring in. The two don't look the same, but they both compliment many different types of design so you're not going to go wrong with either form of Travertine.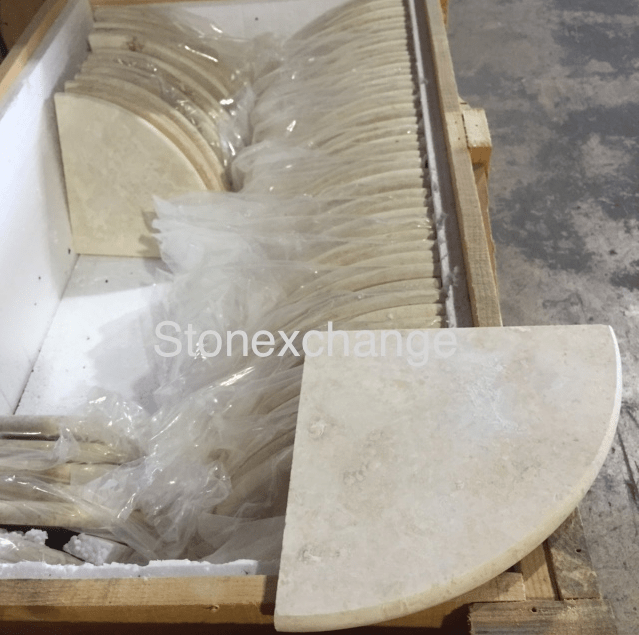 2) Carrara Soap Shelves
White Carrara has a light gray look complete with the kind of darker veins that people usually associate with marble. It's an elegant appearance that gives a sense of class to designs featuring it. Carrara shelves would work well in multifamily and hospitality settings, which mean wholesalers tend to get larger orders for them all at once. Fortunately, STONEXCHANGE makes it easy to stock up on them.
Carrara is a natural marble, which is why it works so well as a substitute in a variety of use cases. Do you have a project that specified Alabama or Georgia White marble? How about Cherokee or Vermont marble? Carbonia and Oriental marble are also popular choices. All of these could be swapped out for White Carrara and nobody would know the difference. That's what makes it such an attractive choice in so many situations.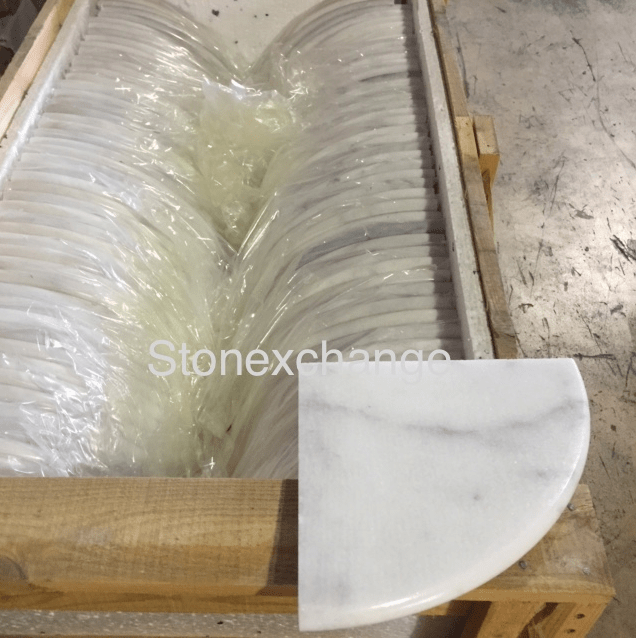 3) CremaMarfil Shower Caddies
Since it has a subdued tan appearance with more delicate veins running throughout, Crema Marfil adds a neutral touch to a bathroom. Interior bathroom designers using restraint when choosing their tile patterns often go with Crema Marfil because it's elegant and durable without being too loud. Just like White Carrara, you can actually use this stone in a wide variety of settings. Projects that call for Botticcino or Bursa Beige marble corner bathroom shelves can substitute CremaMarfil ones without having to redesign anything.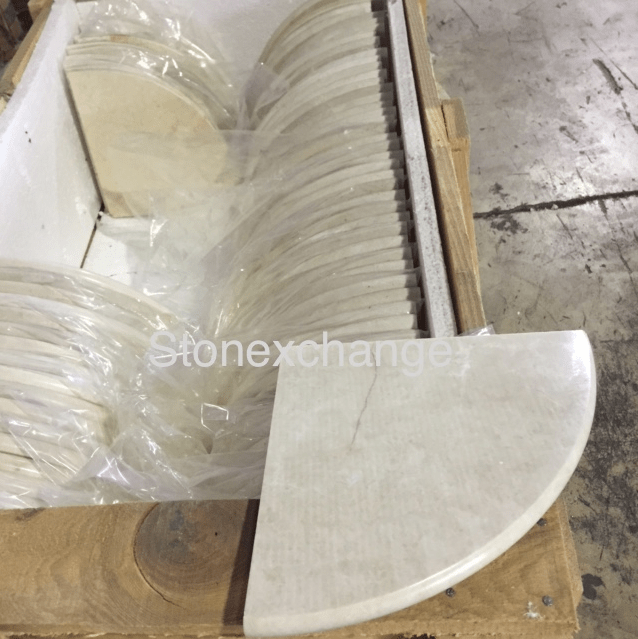 4) Absolute Black Granite Shelves
Those with a flair for the dramatic turn to Absolute Black Granite when designing a bathroom. It's a heavy durable stone that features a deep shadowy color. Designers who tend to skew toward modern stark professional-looking bathrooms love this type of granite because it can help them make a strong statement. While it can match a darker style of decor, it's also ideal for making a sharp contrast with lighter colors of tile. All black granite stones are functionally equivalent to at least some degree. Absolute Black stone works well in any project that calls for China Black or Black Galaxy material.
On top of this flexibility as far as replacement materials are concerned, dark granite stones can fit in a wide variety of locations. Some interior design gurus prefer to focus on vintage designs and traditional marble colors. If you're looking to completely buck that trend, then this is for you.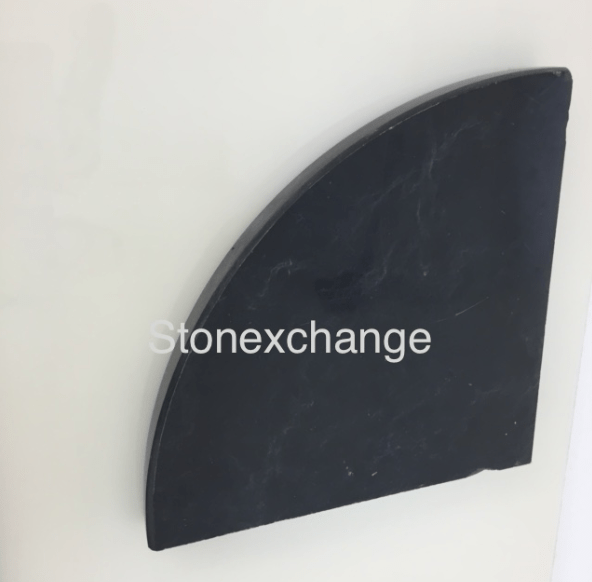 5) Pure White Soap Shelves
Projects that call for any type of bright-engineered stone can go with Pure White corner shelves. These shelves are made from synthetic stone that incorporates glass and resin, and as a result, they don't absorb water at all. It's also quickly becoming a popular option for those who need Thassos marble shelves since it can easily substitute for it. Those who design high-end bathroom fittings often prefer pure White.
Keep in mind that unlike other choices, this is actually a synthetic stone. In many industries, this would be a bad thing. For that matter, you may even have a pretty negative idea about how synthetic materials work. Unlike anything you might have dealt with in the past, this material is actually quite durable. It's not some cheap replacement for good marble. Rather, it's something that's designed from the ground up to be sturdy in almost any situation.
In fact, the way that it holds up to water and wipes clean makes it particularly attractive to those who are designing shower rooms that are going to get a great deal of use over the long-term.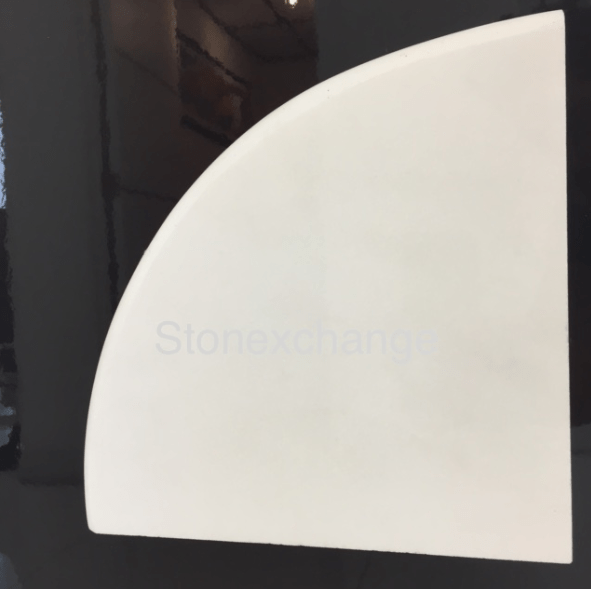 Stock Up on Corner Shelves
Wholesalers and contractors need to have a large supply of these shelves on hand as developers installing new shower stalls have a hungry appetite for them; Don't be left without shelves to help them finish the job. Pretty much every contractor has some sort of horror story about running out of one kind of material and finishing a project with another. For some people, they infamously remember running out of one color of paint. Others, though, have the same feelings about masonry. Just make sure to have enough on hand before you ever start the project and everything should be fine. Contact us online or today to talk with a marble and stone expert about what options you have if you're looking to stock up on corner bathroom shelves.