Review these transition thresholds, 4 options ideal for South Florida homes. Casual elegance is the best way to describe the marvelous South Florida homes we have all around us. As a coastal region, most homeowners look for inspiration from nature and the sea. When looking for thresholds for your luxury South Florida home keep in mind the elegance you want to portray and the stylistic appeals you want to summon with your designs.
Do not overlook the importance of having pristine thresholds. The strip of stone is used to separate different flooring surfaces to provide safe transitions between different flooring surfaces.
Due to the fact that luxury manufactured housing units are put together from more than one module, there's very often a lip between two types of flooring in many southern Florida housing developments. Those who are dealing with a large number of these units will want to invest in marble thresholds from STONEXCHANGE.
Ensure that they'll have enough pieces to get the job done. Depending on your specific development specifications, you might not be sure what kind of design is most appealing. If that's the case, then we invite you to take a look at all of the following choices.
Transition Threshold Options
Accessibly Luxurious: Pure White Thazoz
Accessibly Luxurious: Pure White Thazoz 
Do you live close to the water or are you going for a laid back serene look to your living space? The pure white thazoz standard double bevel threshold may be the threshold for you. This threshold is the most common option used in private homes. It offers a sleek transition from the bathroom to the bedroom.
Give your home a modern sense of luxury while staying within the classical model of thresholds. Experience the natural glow of white thazoz marble in your home while also making your home look brighter and bigger.
While there are a few technical benefits to this type of stone, such as reduced rates of water absorption, you more than likely will find that it's the neutral hue that makes this engineered stone so sought after in many installations.
Dark and Sleek: Absolute Black Granite
Dark and Sleek: Absolute Black Granite 
More and more architects and contractors are looking into incorporating dark colors into their home designs. This new trend is due to the sophistication black offers.
Having an absolute black granite standard double bevel threshold can add a touch of refined taste to any living environment. Consider using this threshold in kitchens if the cabinetry is of dark wood or dark material to keep a consistency with the design elements you have chosen. As a naturally occurring stone, marble brings in the elements of nature. It also gives your home the modern touch you oh so desire.
Since the optically pure design of this natural stone is so flexible, you shouldn't have any trouble fitting it into almost any type of decor. Contemporary and modern design aesthetics are by far the most popular ones for it, however. Turn right away to Absolute Black building material if you plan on doing rooms over in this style. It's more than likely going to be your perfect piece.
Polished Perfection: Crema Sahara Marfil
Polished Perfection: Crema Sahara Marfil 
The neutral color of the crema Sahara Marfil standard double bevel threshold makes it the top choice for contractors. It can easily match with other colored materials in the bathroom, bedroom, or kitchen.
Marble is also a top pick due to the high resistance and durability of the natural stone. It may seem expensive at first but it is an investment you will not regret. Marble is created by nature, made with only the geological processes found in the outside world. This makes marble pieces one of a kind with no predetermined template on how their veins will look.
Perhaps the best part about Crema stone is the fact that you could theoretically use it in any of these circumstances. No matter what two types of rooms are being connected, you shouldn't run into any difficulties when installation time comes. It'll look as dressed up or as casual as you could possibly want.
Vintage Look: White Carrara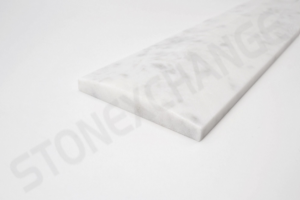 When people think of marble, there's a good chance that this material comes to mind. Nuevo White Carrara double-bevel Hollywood thresholds are just the thing. Use it if you're trying to finish off a project that calls for a traditional sort of marble.
Many interior decorators and designers will use this kind of terminology when what they're looking for is a sleek piece that features this same vintage look. Restoration projects in the southern half of Florida are probably going to call for this if the existing property owners have any wish to keep their developments looking the same way that they always have.
Those who are concerned with this kind of maintenance should take a moment to examine the stone that's currently there. Chances are that it will match White Carrara quite well.
Due to its association with the ancient Mediterranean, marble pieces that look like these thresholds are used all over the world. When it comes to designing something that's made with an ocean-side community in mind.
Like any other piece of polished marble, they're going to be relatively easy to keep clean. Cleanliness is especially important for those who want a transitional threshold installed in a home that's near the beach. These homes will naturally gather a whole bunch of sand. Even if the occupants are very cautious about always cleaning their feet.
Up The Ante Of Your South Florida Home With Marvelous Thresholds
At Stonexchange we are pleased to offer wholesale deals. We will provide you with the information you need to choose the threshold or window sill that fits you. As you prepare the designs and materials for your home renovations, always keep in mind the type of style you want your home to possess.
Contact us online to discuss our value deals available now. Thresholds may be small adjustments to doorways. Even so, a smooth transition from floor space to floor space is needed to keep the flow of the home consistent.