Design instructions for residential or commercial interiors often specify natural stone floor saddles. These transition pieces are generally used to complement other marble, granite, or travertine installed as a flooring surface or window sill. 
Transition thresholds are expensive if purchased in small quantities. This is because a great deal of work is performed by the manufacturer. The work ensures the perfect shaping and finishing of the product.
Construction contractors often need hundreds of marble thresholds for a large residential or commercial building project. Unfortunately, the per-piece price of this product is usually high, even on bulk orders. The exception in the industry is the direct importer and distributor. This is what sets Stonexchange apart from resellers of natural stone materials and accessories. 
Stonexchange operates its own manufacturing facilities located overseas, and we import huge amounts of marble thresholds on a constant schedule. We offer our commercial clients the absolute rock-bottom prices on fabulously crafted floor transition saddles. In addition, we ship our product in full-crate or full-pallet loads to clients located across the entire nation.
Doing Business With A Direct Importer/Distributor
Buying large quantities of natural stone thresholds can be a frustrating procedure. Unless the seller has direct ties to the import company, then the former is stymied. Many of the flooring product retailers advertise their willingness to do business with independent installers and subcontractors. 
These merchants often require their customers to wait an extended period of time for the product to arrive, however. This happens even if the material ordered is of standard size. Purchasing from Stonexchange means immediate order processing and delivery and product availability year-round no matter what might happen.
When it comes to marble flooring, Miami is always the best place to be. As beautiful as South Beach is, it can be hard to find exactly the type of transition pieces you'll looking for. This is especially true for anyone that wants to buy wholesale marble flooring that meets a specific custom requirement.
Naturally, the entire process can get extremely expensive. Then again, that's true of any custom manufacturing process no matter where you are. Fortunately, it's easy to work with our organization. Even if you have extremely specific requirements, we can help you get the pieces that you need.
The Lowest Wholesale Prices On The Best Quality Flooring Product
Our company maintains a large inventory of marble thresholds in our Miami-based warehouse. We know what styles of floor thresholds are popular, and we import large amounts of these products on a regular schedule. This means that our customers can enjoy immediate price quotes, rapid order fulfillment, and reliable overland shipping. Stonexchange operates its own fabrication and finishing plant. 
We are constantly ordering huge amounts of material, manufactured from marble extracted from nearby quarries. The finished thresholds are sent via transatlantic container ship to our distribution headquarters in Miami. Then the pieces are stored in full containers, ready for immediate shipment to commercial clients.
Because we do not involve ourselves with resell merchants but instead import material from our own manufacturing facilities. we can offer commercial retailers, home improvement centers, and commercial subcontractors the lowest per-piece pricing in the industry. This wholesale cost is not a negative reflection on product quality. Our natural marble stone floor thresholds are beautifully crafted, expertly polished or honed, and sized exactly to industry standards.
How do you know what pieces you need specifically, however? That can be tough if you've never looked through wholesale marble flooring listings before. Fortunately, your customer journey shouldn't be a difficult one.
Take a look at the following guide to finding marble pieces for sale online.
Get To Know Our Wholesale Marble Products
Natural stone transition thresholds are much in demand. Until recently, few importers could guarantee their customers a reliable supply of these floor accessories. Thresholds are usually placed in doorways or wherever there is a meeting of two different floor surfaces. The rise in popularity of marble thresholds is due to their increasingly low price if ordered from a bulk supply manufacturer. 
Stonexchange offers top-quality marble thresholds in several popular styles. These include Crema Sahara Marfil, Nuevo White Carrara, and pure white engineered stone. The latter is a glass-and-resin product, often used in high-priced interior design projects. 
Crema Sahara Marfil thresholds are cream-and-beige in appearance, with an average amount of streaking and spotting. This shade of marble is popular in residential interiors, especially when a neutral color is desired. Neutrals complement darker shades used for floor tiles and furniture. Crema Sahara Marfil is suitable for projects specifying Bursa beige, Botticcino beige, or light noche. 
Nuevo White Carrara is the shade of marble usually seen in stone steps and stone columns. Its off-white color and light gray streaks have long been a favorite among designers wishing to create a stately appearance. This shade of marble looks its best when used for the floor thresholds, window sills, and foyer tiles. 
Engineered stone is very expensive to produce. Contractors will not find a reliable source of bulk quantities unless they purchase directly from the manufacturer. These thresholds are beautiful in appearance, with no streaking or spotting. Engineered Pure White Thazoz thresholds available from Stonexchange are affordable because they are sold in full-pallet orders.
Keep in mind that Thazoz pieces aren't actually made from marble in the classical sense. As the name suggests, they're actually created as the result of a special controlled chemical reaction. This produces a stone that's environmentally friendly and has extremely low water absorption levels.
Those who are feeling particularly adventurous and don't mind experimenting with stones that aren't complete marble might want to take a look at Absolute Black Granite Thresholds as well.  These offer a dramatic polished look you can't find from standard marble pieces for sale.
As far as performance goes, however, it should work every bit as well. You'll be able to keep them every bit as clean as any of our other products. They should last just as long if not longer.
When it comes to marble flooring Miami might be viewed as a relatively tough environment. City residents experience high humidity levels. However, granite shouldn't experience any measurable levels of mold growth or corrosion.
This is particularly good news for contractors who are replacing existing metallic or wooden thresholds when redoing a property. You'll be able to find ADA-compliant pieces here. This is important for those doing any sort of work on public commercial properties. ADA compliance also applies to buildings supported by organizations that receive public entity funds.
Are you remodeling a building owned by the City of Miami? Then you want to keep ADA regulations in mind at all times. Best of all, you can find numerous styles that still fit everything these rules stipulate.
We Sell All Three Popular Designs of Marble Pieces
Depending on the design instructions, one of three different types of floor saddles will be required. Some larger projects specify the use of two or more styles, placed in different types of doorways. 
Stonexchange can supply a commercial client with each of the three varieties. We can also produce a mix-and-match order for the customer at no extra charge. Stonexchange manufactures,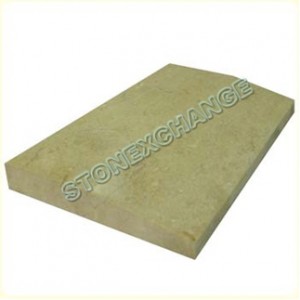 imports, and distributes:
Standard double bevel marble thresholds
Single Hollywood bevel thresholds
Double Hollywood bevel thresholds.
Our standard double bevel thresholds have a 1/4-inch smoothed bevel along both long sides. These floor saddles are given high-quality polish after being cut and shaped. The standard length is 36 inches, and the product is available in widths ranging from 2-6 inches. 
Our single Hollywood bevel thresholds have a wider, 1 3/8-inch bevel along one long side. They are also available in widths from 2-6 inches. 
These thresholds are commonly used as transition saddles where a meeting of two different floor surfaces coincides with a doorway. Our double Hollywood bevel thresholds have a 1 3/8-inch bevel on both long sides. They are popular for use as a floor transition saddle in areas of high traffic. 
All of our thresholds are sold in the standard 36-inch length, and the standard thickness is 5/8-inch. Customers who purchase bulk quantities of thresholds will save money when doing business with Stonexchange. We sell only to commercial clients such as flooring product companies and construction contractors. This means we can offer lower than the average retail price on minimum piece delivery. 
Depending on the style and width chosen, our minimum order ranges from 50-200 pieces. We also provide non-standard sized marble transition pieces upon request. These longer or wider pieces must be specially cut and shaped at our overseas fabrication center. Even so, we do not charge extra for this service. 
Clients can expect a lead time of six weeks for these orders. As a benefit, they will receive an immediate price quote and estimated delivery date.
How The Customer Benefits
Large orders for marble thresholds are placed by retailers because of a request made by a contractor. This is usually a large-scale residential or commercial development project. The contractor needs not only an affordable source of material but also a reliable delivery schedule. Unless the retail merchant or dealer contacts an importer and distributor directly, neither of the above requirements will be met.
Flooring companies will retain a larger number of commercial contractors as customers. They need to ensure the requested product is available year-round. It also needs to be delivered in just a matter of days and priced well below the industry norm. 
Your business will also increase if the retailer keeps a reasonable amount of product in inventory. This is because marble thresholds are part of the final interior design. The eventual purchaser of the property often makes last-minute changes involving the flooring products. 
Contractors and independent installers benefit from doing business with Stonexchange. Their projects often specify two or three different styles or sizes of material. 
Being able to procure each and every type of transition saddle in a single, mix-and-match order is quite a relief to those subcontractors. They can stay within their budget. Our company does not charge extra for a large order consisting of different marble types or several different material widths.
Most importantly, Stonexchange guarantees minimum breakage during product shipping and delivery. We carefully pack our product in crates or on pallets using a specially designed cushioning pack. We figure in minimal breakage when we produce a price quote, and we contract with reliable overland shippers. They are experienced in handling delicate products such as natural stone.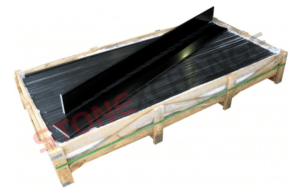 Our Customer Base Is Growing
More buyers of natural stone materials are looking to direct importers and distributors as their source for a high-quality product. The importing of marble products such as thresholds, window sills, and floor tiles is a specialized business. It cannot make a profit for the distributor unless direct sales operations are involved. 
Stonexchange offers commercial clients the opportunity to deal directly with the manufacturer, cutting out the middle-level reseller. The inflated prices that come with product changing hands before reaching the buyer. 
Marble thresholds and flooring tiles are an excellent investment in residential or commercial property. As the initial cost is affordable then you are in good hands. Marble retains its value well because it is low-maintenance and quite durable. 
Nonetheless, special consideration must be given to the actual cost of the material. Unless the installer can find the required product in bulk supply and at reasonable wholesale prices, the entire industry suffers.
That's why it's always so important to look for a great price without sacrificing anything in the way of quality. Some suppliers might cut corners, but we don't in spite of offering such an excellent deal.
Contact Us For Pricing Details
Expect the finest quality natural marble stone thresholds and other marble products at exceptionally low wholesale prices. This is what customers experience when dealing with Stonexchange. 
We invite all interested merchants, subcontractors, and independent floor product installers to contact us. Get the latest information on prices, shipping policies, and product specifications. We operate on the principle of excellent quality at an affordable price and look forward to supplying you. Find the finest marble flooring transition pieces available anywhere.