Windowsills provide you with the widest selection of colored stone options. If you are building your home or business from scratch you could save money by purchasing window sills in bulk. Our distribution center is located in the world's biggest hub, Miami, Florida in order to deliver marble window sills across the United States in fast shipments. 
Painting window sills a different color will make the quality and aesthetics of your window frames diminish. At Stonexchange, we distribute natural stone sills in beautiful tones that will make your infrastructure look elegant and polished. Explore our different stone window sill colors below. 
Window Sills Wholesale 
Absolute Black Granite is a black granite stone that is granular and has micro crystals in its texture resembling a night sky. The benefit of this stone utilized as a window sill is that it is not porous, unlike limestone or thin veneer sills made out of natural wood which absorbs water. No need for a drip edge! If a storm comes, your absolute black granite window sill will have a water-resistant and weatherproof effect protecting your interiors from the damaging effects of liquid. 
Absolute Black Granite is as popular as white marble in kitchens. Interior decorators love this stone because if grease or foods with strong pigmentation fall onto the kitchen countertop or onto your sill, the stone will remain unaffected due to its consistent dark color. It is more economical to get this stone than pure white marble for example, because you won't have to invest in cleaning products to maintain it. 
Nuevo White Carrara Marble is a tasteful and sophisticated option to consider in your interior design plan and strategy. The heat comes in from our windows and white and light colors tend to reflect heat, so if you live in a tropical climate this natural stone as a window sill is a great solution to maintain your house cool. 
No need for paint color or to paint the trim, this slab is durable and it won't chip. It comes in full color and has a beautiful marble pattern on its surface. 
Subtle tones like Crema Sahara is highly versatile and adaptable with any style of interior decoration. Our designers really love this sandy color because you can start building the infrastructure of your home, or business with the comfort that any furniture, carpets, and drapes will match your window sills effortlessly.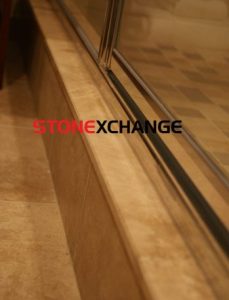 Travertino or Travertine has a fibrous texture and is formed in mineral springs and hot springs. 
The use of Travertine has been traced back to the Middle Ages in which it was utilized as elementary building material. You can implement this into your home as an exterior stone window sill or place it on the interior, either way, this monochromatic color will look impressive and give your home a finished look. 
A Window Sills Supplier You Can Trust 
If you need window sills or thresholds our distribution facility is located in Miami, Florida stocked with a wide selection of stone inventory including Travertine, Marble, and Granite all ready to become part of your next project. 
If you are a distributor and would like to collaborate with us, contact us to request a brochure and become a dealer today. If you have any questions or comments don't hesitate to reach out to us on our online platform.