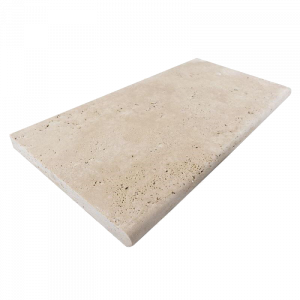 Travertine is one of the most interesting natural stones used for interior design and finishing. This sedimentary rock is often found near hot springs and other geothermal features such as geysers; in some regions of the world, travertine forms natural terraces that inspired ancient builders to create structures such as steps and raise platforms. The name of this stone refers to an old district of Rome where quarries have operated for centuries.
Ivory Travertine
For the most part, travertine extracted from the Tivoli quarries of Italy resembled white and tan limestone. Ivory travertine is mostly quarried in Turkey and Africa; it is a very attractive and durable stone that happens to be perfect for thresholds and door saddles. At Stonexchange, ivory travertine has become one of the most popular choices among interior designers, contractors and property owners, and it is easy to understand what makes this stone an ideal threshold material. You would think that living spaces with marble flooring should be separated with marble thresholds, but it is actually more common to choose different materials and colors for various reasons.
The Logic Behind Choosing Ivory Travertine Thresholds
In essence, a threshold is installed at the bottom of a doorway for the purpose of separating flooring surfaces; the idea is to provide a smooth transition from one space to the other, but thresholds can also serve as water and dust barriers. In the past, you may have seen aluminum saddles in commercial properties such as office buildings where a carpeted space transitions into tiled flooring; these days, ivory travertine thresholds are a better option in terms of aesthetics.
Ivory Travertine Threshold Designs
You always want your ivory travertine threshold pieces to feature beveled edges; this makes them suitable for wheelchairs to roll over them, thus ensuring that your project is compliant with the American with Disabilities Act. The look and functionality of double-beveled thresholds are often preferable to their single bevel counterparts. We offer two bevel designs: Standard and Hollywood. If you are concerned about ADA compliance, we suggest that you look at the double Hollywood design with a four-inch width, which is also known as the "hotel-style" threshold.
Should your project call for thresholds with an appearance different from ivory travertine, our catalog includes other stones such as White Carrara Marble, Crema Marfil Sahara, and Absolute Black Granite. The standard finish of our pieces is honed and polished; you can always treat the surface with a natural stone sealant to prevent thresholds from staining.
Ivory Travertine Thresholds From Stonexchange
Located in Miami, Stoneexchange specializes in thresholds and window sills made of natural and engineered stone. Although our products are offered on a wholesale basis, our customer service representatives will be happy to recommend contractors or authorized distributors and authorized dealers in your area. We ship thresholds in carefully packaged crates; each piece is wrapped in a polyurethane sheet to avoid nicks and scratches. Contact us today to learn more about our thresholds and window sills.