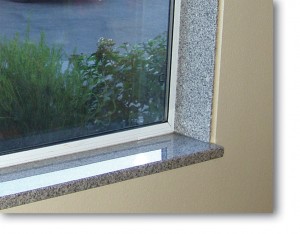 As a building contractor, you want to to buy low and sell high to boost your business. Buying low means getting your building materials at the best price possible. Selling high means you install for a reasonable price, within an efficient window of time, and in a manner to maximize your profits. You sell sills based on how well you can install them to go with the window frames.
Now, there's a fine line between getting a really good price on goods and getting cheap products. You don't want the latter, especially when building residential homes, commercial properties, or industrial dwellings. Cheap supplies mean flimsier buildings that break down at a faster rate.
Customers will know better, especially as they buy and resell, and they will resent the cost of replacement. All it takes is some negative word of mouth and all the jobs dry up over time. This is the industry where you absolutely don't want to get the generic stuff!
You need high-quality parts that convey luxury and you need to acquire them at prices within your budget. Cheap asbestos walls will not cut it in this day and age, no matter how much fire it prevents. Consumers want only the best amenities for their house or business building.
Different Regions Require Different Building Materials
When you're constructing anything, it needs to have structure. If not, your project will collapse and you will be wasting money and risking lives. You do not want to be known as a house of cards contractor. Know your structure and the supplies needed for a foundation, plinth, and damp proof course so that the roof and walls will stay upright.
Depending on the region you're in, you'll have to adhere to building codes and zoning regulations. Some cities do not allow for residential apartments in business areas, or vice-versa. The codes are available on government websites or for purchase; they have detailed language that you'll need to break down and understand. Otherwise, you will face heavy fines and other penalties.
Let's look at some examples. For instance, if your company has secured a contract in California, it's your responsibility to build according to that state's laws and environmental regulations. The "Green" code has already updated for 2019. You want to prove that you can make energy and water-efficient buildings when signing a contract.
If you've secured a contract in the South Florida area, then you'll not only have to adhere to the building codes there, but you will also need to invest in building material strong enough to stand against hurricanes, flooding, and strong winds. Customers will want to know that their outdoor marble windowsills can withstand a Category 5 gust, or if water damage will mess with their foundation. They have long memories of arguing with insurance about what to replace.
So while you need to buy quality material for your building projects, you still have the option of buying the standard material and be well within the coding requirements. Just because you can, doesn't really mean you should. It will go against your branding and potentially strain consumer trust. It is also important to keep in mind that a
What If You Have Somewhere to Buy Window Sill Online…
If you have the opportunity to upgrade your builds with quality products at a discount price, chances are you'll probably take advantage, right? Luxury building supplies by default are not cheap. But if you can get them for less, then you can deliver better products to homeowners and superintendents.
The thing is, many builders aren't even aware that such opportunities exist. They use familiar retailers and manufacturers, rather than seeking new ones. This is understandable because you have built relationships over time and trust your distributors.
For instance, let's just say that you want to install marble window sills into your current build, as there are several advantages of installing marble over wood windowsills. You already have a marble floor distributor that you can call, so quite naturally, it's convenient to place the order with them because you already have a working relationship with the supplier. However, that might not be the case.
Considering the Number of Marble Pieces
You see, even wholesale distributors can only afford to cut their prices so low. This is because it costs to obtain inventory. Just like homeowners seek lower prices when adding windowsills in order to boost home value, marble tile distributors seek lower prices as well.
You have to consider all of your options when looking for the best price on marble window sills. While the most obvious choice is to place an order with a marble flooring distributor, the best thing you can do for your construction business is to find a distributor that specializes in selling window sills only.
Why Should You Buy Online?
When you find a business that specifically caters to a certain niche, it means that most likely, they're able to obtain their product for a lesser cost. This means that they can afford to drop the retail cost a little lower than their competitors.
A niche business is also more open to negotiating prices in the long term. They will have several specialists on call to assist.
Stonexchange: A Marble Window Sill Wholesaler
Stonexchange, a natural stone window sill distributor located in Miami, Florida, has direct access to its own quarry in Turkey as well as 10 other countries. By offering marble window sills only, we are able to ship more products from overseas at a cost that's affordable to us and your budget. We practice constant quality control to ensure that our customers get only the best marble models.
Also at Stonexchange, we sell our marble window sills at wholesale prices that rival most other natural stone distributors. With Stonexchange, the more you purchase, the less expensive the cost will be for you. Furthermore, we only carry the most sought after marble window sills.
Selecting the Right Kind of Marble Window Sills
Marble window sills come in a variety of different color variations and patterns. Some are not always well received by buyers. As a building contractor, you want to stock the kind of marble window sills that will appeal to a wide range of buyers.
You have to remember that you're not building for yourself. The customer will get the window sill installed and the selection will be made based on their decorative ideas. You're building for them, an outside party. And while everyone's tastes vary, it's still up to you to choose the type of marble window sill that's not going make buyers run out of the building in disgust or horror.
What Kind of Marble Window Sills Builders Should Stock?
Stonexchange supplies building contractors all over the country with our quality natural stone window sills. We've been in the natural stone distributing business long enough to know what contractors like you prefer. That's why we only stock the best and the kind that is in high demand. According to what our buyers prefer, this is the kind of marble that seems to be well received:
Crema Sahara Marfil

Emperador Brown

Bardiglio Gray

Black Granite

White Carrara

Pure White Thazoz
Note: Stonexchange also offers natural stone window sills in Travertine. You can view our full online inventory of natural stone window sills here.
Consider How Much You'll Save Cutting Removing the Third Party
While you can easily go to your local home improvement store to pick up a generous supply of marble window sills, it's smart to keep in mind that you'll also pay more, because it's likely that your home improvement store purchased their supply of marble window sills from a wholesale distributor like us. They don't have access to the raw materials in a company-owned quarry. So in order for them to make their money back, they have to increase the price of their products.
Why would you want to do that to your budget? You would either have to spike prices to match the cost or accept a potential loss on a contract. Neither option is appealing to you or your customers. And what's more, why do you want to risk the middleman when you can come directly to the distributor?  
You can cut the third party costs by going directly to the distributor yourself. Distributors will be happy to avoid a middleman. With Stonexchange, you'll reduce costs even further because we can afford to offer our quality natural stone window sills at a competitive price to you.
How Stonexchange Packs Our Window Sills
Stonexchange's marble window sills are easy to ship. You won't have to worry about over-paying for shipping cost because our products are stocked in a securable crate that can hold anywhere from 50 – 100 marble window sills. This is a small product that can offer you a great return on investment. The fact is, marble is a highly coveted building material and being able to stock marble window sills at a wholesale cost is only reflecting your original plan of buying low and selling high!
Contact Stonexchange today for pricing on our different types of marble and other additional products.