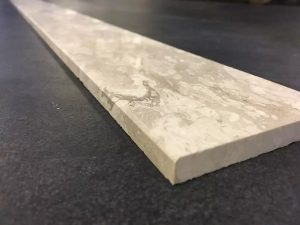 Not all doorways have thresholds, but there are various reasons why they should always be installed in commercial or residential spaces. Many people think of thresholds, which are also referred to as door saddles, in terms of protection against certain weather conditions and pests. In South Florida, for example, doors that face exteriors require thresholds to keep out insects, centipedes, lizards, and other crawlers from entering homes; at the same time, they serve as weather-stripping materials to improve indoor climate control. Marble thresholds provide more than just functionality; they look pretty sharp and can enhance interior design when they are of a certain width. Door transitions can extend a few inches beyond the frame. Here are three places where you can install wider marble thresholds.
Extra Wide Marble Thresholds
The minimum width for marble thresholds measures two inches, which means that they are virtually flush with doors. You can add between one and two inches to each end of the saddle piece, which means that the threshold can measure four, five, or six inches. With stylish pieces such as the double Hollywood bevel threshold, you have a wider marble trim that provides and elegant transitions.
Extra Wide Marble Thresholds for Outdoor Spaces
Covered lanais are one of the most interesting features of South Florida homes; in these outdoor spaces, which are also called Florida rooms, thresholds are mandatory when they are at the same level as interior living spaces, particularly if the master suite connects to the lanai. If you have French doors that lead to the lanai or directly to the swimming pool area, you will definitely want to install extra wide marble thresholds.
Extra Wide Marble Thresholds for Hallways
Lucky homeowners whose properties have hallways connecting the great room to dens or bedrooms will certainly benefit from extra wide marble thresholds. If the great room is carpeted and the hallway flooring is laminate or hardwood, you really want to provide an attractive visual transition.
Extra Wide Marble Thresholds in Bedrooms
This is the most common living space where thresholds are installed. You always want softer floor surfaces in the bedroom; carpeting, floating laminate, and bamboo come to mind, and this is when you need a transition from ceramic, porcelain, or natural stone tiles. Bedrooms that have their own bathrooms will benefit from wider marble thresholds because that last thing you want is water splashing under the door or moisture seeping through and into the bedroom.
Marble Thresholds from Stonexchange
Want to learn more about doorway thresholds? Stonexchange sources marble thresholds from fabricators in the Mediterranean, the world's richest region in terms of natural stone quarries. We are a wholesale distributor of marble thresholds as well as other products such as window sills made of both natural and engineered stone. If you are a homeowner, we can help you find a supplier near you; our offices and warehouse are located in Miami, but we ship across the United States. Contact our office today to learn more about our products.