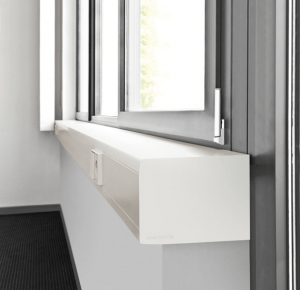 When you are looking to design a building structure, there are many different design features that need to be taken into consideration. One of those features is window sills. A window sill is a small ledge that will sit below a window. There are a wide range of materials that can be used and a variety of decorative ideas that can help make a window look even nicer.
Window Sill Options
The first decision that you will have to make when installing a window sill is to choose whether or not you want to upgrade materials. If you choose to upgrade, consider Stonexchange, a marble and window sill manufacturer company that provides beautiful and natural window sills. Some of the top marble window sill options to consider include:
Travertine

Nuevo White Carrara

Absolute Black Granite

Crema Marfil
All of these sills will provide you with the durability that natural stone provides. The option you choose should be based on your style preferences. Here are three ways you can decorate your natural stone window sills.
1. Plant Life
Once you have chosen the right window sill for your project, determining how to decorate the sills for staging is very important. One great way that you could decorate your sills would be utilizing plant life. There are a variety of simple plants that could be placed on the sills. Depending on the size of the sill, you could place a plant that comes in a vase or planter that has a diameter of up to six inches.
2. Lighting
Another great way to decorate your window sills is to add some nice lighting. Some of the best lighting options would be to add some small battery-operated LED candles all over the sills. This can provide any room in a build with a more elegant lighting theme. If you have a power outlet nearby, you may also be able to fit a stylish small lamp on the sill.
3. Artwork
When looking to decorate a space, another great option is to give window sills a more personalized look. One great way to do this is by having artwork placed on the sill. Choosing some of your favorite national and local artist with artwork that comes in a variety of sizes and frame styles could add a unique look to any space. This will also make a room inviting.
Buy Stonexchange Marble Window Sills in Miami, Florida
If you are looking for quality natural stone window sills, a great place to start your search is through the Stonexchange. We are based in Miami, FL and specialize in providing a wide variety of natural stone window wills, door thresholds, and shower caddies. We provide material to customers who are looking to purchase in bulk including developers, interior designers, contractors, and architects.
If you are interested in learning more about what Stonexchange has to offer, then visit our facility that is located at 9605 NW 13th Street in Miami, FL. You can also contact one of our representatives by calling 305-731-2400 or by visiting the company website.