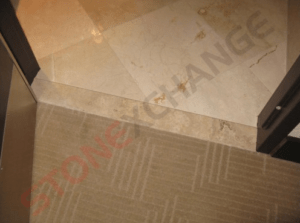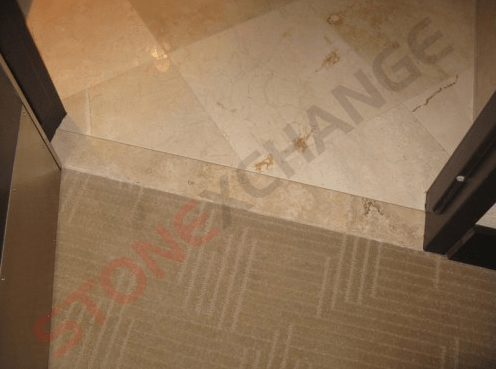 Custom door thresholds are an excellent way to protect your investment in a particular property while also adding to its aesthetic appeal. Developers and contractors who put up a number of buildings with similar rooms may want to add a unique touch. They can use their own custom door thresholds. 
Retail firms might want to offer their clients something they wouldn't be able to find anywhere else. Some may even manage large home improvement warehouses,
At Stonexchange, we are manufacturers and wholesale distributors of marble window sills and thresholds. We give our clients the option to personalize their thresholds so that they get exactly what they have envisioned. Renovators and developers alike are welcome to share whatever specifications they'd like. Our team will work to the best of their ability to put together a set of thresholds that meets their requirements.
Thresholds play a key role in the construction of residential buildings. Otherwise known as door saddles, they prevent dirt and water from coming into your home. 
Since each residence is different and door jambs tend to have different widths and lengths, at Stonexchange, you can have custom thresholds for interior doors. The same goes for custom exterior door thresholds.
The Placement Of Custom Door Thresholds
Thresholds are placed below the door, usually, when transitioning down to a lower floor. This gives you the ability to safely cross without tripping or falling over. Thresholds also give you the liberty to change the type of flooring between the door saddle. 
By utilizing different flooring materials between the threshold you minimize the risk of your guests tripping. For example, you can implement tiled floors for the kitchen, have a white oak threshold below the door, and transition into a room with marble floors.
The beauty of the threshold is that they serve as a sign that you are transitioning into a different space. This allows you to perceive the different energies in each room. Thresholds also prevent heat or the cool of the a/c from escaping beneath the door. This can help you cut down on heating and cooling bills.
Renovators and flippers may find that some form of threshold already exists. Natural stone pieces could easily replace these existing thresholds with little difficulty in most cases. They should be able to hold up to the elements and foot traffic considerably better than the wood or metal thresholds that are found in a majority of existing properties.
The Benefits Of Door Thresholds:
Research has shown that thresholds are an important part of any door installation. They can increase the lifespan and functionality of exterior doors, as well as improve indoor air quality. With custom threshold options from Stonexchange, you will always have a high-quality product for flooring companies.
Buying custom thresholds is a great way to improve the quality of your flooring. We have many different types, including exterior door thresholds and interior threshold options. Stonexchange provides high-quality products that will meet all requirements for building contractors or property managers looking for commercial threshold installations in their buildings.
We have the following lengths for thresholds available:
32 Inch Exterior Door Threshold

36 Inch Exterior Door Threshold

42 Inch Exterior Door Threshold

60 Inch Exterior Door Threshold

72 Inch Exterior Door Threshold
A wide variety of exterior door threshold choices helps contractors to find the best options for their projects. They can reduce expense and increase profit. Investing in a custom exterior door threshold package might prove beneficial for individuals who represent a wide variety of industries. This reason is why a number of exterior door threshold types have come on the market.
Types Of Exterior Door Thresholds
The basis of all exterior door thresholds is the same, regardless of type. Exterior door thresholds are the most important part of exterior installations. They provide a surface to seal off your home from outside air and water. 
These thresholds also provide an attractive finish for any building's exterior design. The exterior threshold is not just about sealing up doors. It also seals down walls below where they attach to the flooring.
Seamless and groutless thresholds are going to be the first place you should turn when looking through exterior door threshold types. These consist of a single piece of natural stone, which is usually either marble or granite. Said stone is cute in either a standard, single or double bevel, much like any interior threshold. 
Due to accessibility considerations, double bevel thresholds are normally requested by those operating public commercial retail concerns. Standard bevels are often a good choice for a door in, say, a detached garage or an outside workshop.
Though natural stone is usually preferred, there are other types of custom thresholds as well that should still hold up against the elements fairly well. Several types of engineered stone exist, which might be suitable for some kinds of exterior thresholds. 
Pure White Thazoz should be of special interest due to the fact that it doesn't absorb water the way that nearly every other type of threshold material would. Those interested in using engineered stones will want to consider the impact that temperature might have on them. Otherwise, they may be used nearly anywhere that other custom exterior door thresholds would be.
Designing And Ordering Custom Door Thresholds
If you're reading this right now, then you're probably already in the market for some special door thresholds. That means you more than likely have at least some idea of what kind of customizations you're looking for and you may even know the dimensions of the thresholds. 
First off, though, we invite you to check out our product showcase because there are a number of existing options you can order off the shelf. These come cut to standard dimensions. We can ship these to distributors with a minimum amount of lead time.
Optimize Your Interior And Exterior With StoneXChange
At Stonexchange, we are experts when it comes to thresholds and marble window sills. If you would like to learn more about the natural stones we have available don't hesitate to reach out.
Feel free to contact us if you have a different length in mind, we can always accommodate you! If you would like to have a fluted top, contact our customer service representatives and they will assist you.