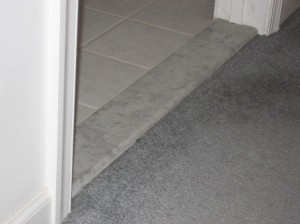 When it's time to install new exterior doors in your home, look beyond the standard plastic or wood threshold and go with something a little different. While most manufacturers are offering basic thresholds in rubber or plastic, you can take the entire door to a higher level by changing this out for beautiful marble.
Specially crafted marble thresholds require no grouting, and they're very easy to maintain. You'll love the look, and you'll appreciate how easy they are to clean over the years. Before you decide on the finishing touches in your home, consider the benefits of going with attractive, durable marble thresholds.
Forged by Nature And Ready for Use
Unlike some materials, marble is created through the powerful forces of nature. One of the great features of marble is that it can withstand the steady foot traffic that a threshold has to endure. We responsibly source our materials and provide our customers with only the best cuts of each marble. 
Marble has a timeless quality both in aesthetics and permanence. Since it is sourced from nature it is highly durable and immune to any external factors that could potentially affect it. While other materials will become nicked and damaged over time, marble can take regular use and maintain its incredible finish. You would need to refinish or replace other materials, but this isn't a concern with granite marble because it won't be damaged by high heels, pets, or constant use.
Opt for exterior door marble thresholds or granite door thresholds. Created through time and pressure, it also won't be dulled by the sun or damaged by the weather. When you want a durable product that will last, seamless marble thresholds are the top choice. 
Easy Maintenance of Marble
The thresholds around your home are often overlooked, but they are essential in making a home complete down to the last detail and can help you make a great first impression. When these transitional areas are in top shape, they give your property an attractive look that you're sure to appreciate.
Wood needs to be refinished after a few years, or you may even wind up having to replace it. Unlike natural stone, wood is very susceptible to humidity and can expand, rot and decay over time. Plastic can crack, and vinyl tends to fade with exposure to the sun and weather. With marble, you'll find the maintenance requirements are quite simple.
Installing doors can be a complicated task, and having to remove them to continue in order to replace thresholds made from vulnerable materials can be tedious. When you have all your saddle threshold made from the marble you will not have to change them due to damage or deterioration.  
If you would like to implement a white door threshold between your door jambs, you can easily keep the tiles shining and looking great by simply applying a sealer about once a year. This quick and affordable step will keep the tile shining and help you avoid damage like stains.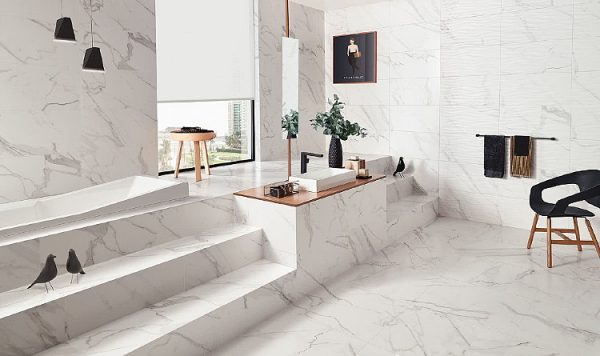 Neutral Threshold Colors For Every Décor
You don't want to replace the thresholds every few years, but durability isn't the only consideration. In addition to choosing a material that will hold up to the extreme demands, you also need to choose a product that will work with most interior decors and exterior styles.
Marble has a timeless appeal that will never fade, and you can choose one of five neutral colors that will work with any decorative styles. Our stones come in classic styles that will match well with a wide array of flooring materials, complimenting any patterns or colors within the rest of your home.
Whether you're planning on an ultra-modern home or want a more traditional look, the marble thresholds offered by Stonexchange will work out beautifully. The neutral and uniform color will give a luxurious feel to any home or business. 
Even if you change your interior finishes in a few years, the thresholds will still blend nicely and add a luxurious touch to space.
No Seams For Smooth Finish
You could go with a ceramic tile threshold, but you'll wind up with seams that need to be grouted and cared for. Over time, the seams of tiles may start to wear down and catch at fabrics. When you eliminate the seams, you avoid this potential problem.
By working with marble thresholds, you can install a threshold that fits perfectly without the need for any seams. The transition will be easier to keep clean without any gaps in the finished area.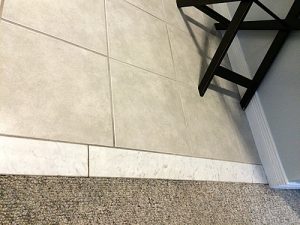 Without grout lines, maintenance is easier and the threshold will have a smoother look. It will become the perfect accompaniment to the door without taking away from the overall look.
We're able to provide you with most standard sizes, but we also offer custom orders where you can specify the dimensions that are required. We require a few weeks to fill a special order, but you can rest assured that the delivered transition strip will look incredible and be of the same high quality as our in-stock options.
Faster Installation
One of the benefits of skipping the seams is that you'll simplify the installation. Rather than having to wait days for the mastic to cure on the marble and then waiting a few additional days for the grout to dry, you can start using the doorway as soon as the marble is securely installed. Without the need to cut, polish, and install multiple pieces, you can shorten the entire process.
You can work with our professionals to order all the appropriate sizes for your project. We'll deliver them directly to your address so that you can start the installation immediately. You'll also save money on your installation supplies and labor by making this smart change.
Choosing The Right Supplier
Marble thresholds are typically sold by granite companies, but retail prices can be extremely high. Rather than taking your chances with a local supplier, you may find that the rates are far more attractive when you trim down the supply chain and go straight to a wholesaler.
By purchasing in bulk and stones at wholesale prices you save time, money, and energy. Plus, it has a lower impact on the environment making it the most sustainable purchasing option. 
Our loyal customers love our marble thresholds and are extremely happy with our products. Whether you are searching for door saddles or window sills, our products are made with top of the line materials, are highly durable and of the purest quality. Best of all? You can get them at wholesale prices!
We are based in one of the largest hubs in the world in order to deliver shipments quickly to our customers. We fill orders out of our distribution center in Miami, and we're able to ship stones throughout the country. We specialize in a few key colors that come from reliable sources overseas.
We don't have to spend time searching for new suppliers because we maintain consistent stock levels, and that helps us keep our costs down. The result is lower prices for you for all the high-quality thresholds that you need.
We strive to send our shipments out promptly so that you won't lose any time waiting on a delivery, and we aim for excellent customer service every step of the way.
When you're ready to make the investment in seamless marble thresholds, or if you have any questions or comments, contact us and our friendly support team will assist you with anything you might need.