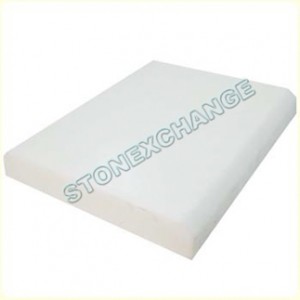 When you're looking for pristine accents in your home or business, few things fit the bill like Thazoz marble tile. This pure white, engineered stone from Stonexchange looks exquisite in homes, spas, and other interiors where instilling a sense of peace and balance adds to the ambiance. Since white lends a neutral tone, it can be incorporated into any decor.
Thazoz Thresholds: The Purest, Brightest White
Because Pure White Thazoz is an engineered stone, it offers a durability and stain-resistance that's nearly unparalleled in other threshold materials. This makes them an especially attractive option for high-traffic areas that take a lot of abuse. They're quite easy to care for as well. Simply mop them clean with a mild solution of detergent and warm water.
Where to Use Standard Double Bevel Thresholds
Due to the way they're cut, standard double bevel thresholds offer a smooth transition from room to room or from indoors to out. They also work well when placed as a water barrier at the entrance to shower enclosures, especially in homes and facilities inhabited by those with mobility issues. Although they differ from ADA-compliant Hollywood thresholds in the width and slope of the bevel, they still provide a safer, precision edge.
These are a standard finishing accent in homes and commercial establishments with hard surface flooring like stone or marble tiles. Specifications for hotels usually require a 4″ wide threshold, but the piece should always fall in line with the width and dimensions of the interior. Stonexchange manufactures thresholds with widths ranging from 2 – 6", in lengths of 36, 48, or 60", and thicknesses of 3/8, 1/2, 5/8, or 3/4 of an inch to better conform to the unique needs of our customers.
Where Can You Find Them?
As with all of our beautifully finished products, our Thazoz white thresholds are custom-crafted in Stonexchange's own manufacturing facility. Our 18,000 square-foot warehousing and distribution facility in Miami stocks enough inventory to supply distributors from all over the country. We sell wholesale to builders, interior designers, and architects who are searching for a finely honed building and decorating accents at competitive rates. We invite you to download out online catalog and view our selection for yourself.
The Advantages of Working With Stonexchange
Because we engineer and import all of our stone and ceramic tiles, we're able to control quality at every level of the supply chain. This not only allows us hands-on oversight, we're also able to pass the savings on to our customers. We offer secure shipping in quantities of up to 50,000 pieces, and the minimum order is one crate. Thresholds come in lots of 50, 100, or 200 per crate, depending on the size of the pieces in your order.
Contact Us!
When you're ready to place an order, simply contact us. You can also call us at 305-731-2400 to speak with a knowledgeable stone threshold expert. We're located at 9605 NW 13th St. in Miami, Florida, and our showroom is open Monday – Friday, 9:00 am – 5:00 pm. Warehouse hours of operation are Monday – Friday, 9:00 am – 4:30 pm, and all requests received by 4:00 pm EST will be addressed the same day.