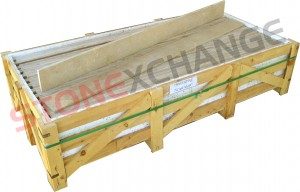 Even if you don't live in Southern Florida, you can bring a little of its sunny warmth to your interior spaces with travertine window sills from Stonexchange. We're a favorite source among wholesalers around the country and in our native Miami. This creamy beige material is one of our top sellers. You'll also appreciate our fast delivery, competitive rates, and a range of knowledge from our stone experts that you can't put a price on. We can talk about tiles all day.
How to Use Travertine Window Sills
The versatility of travertine is one of the reasons it's so sought after by builders and interior designers. It can add warmth to a stark white decor or pair wonderfully with other natural stone selections on the earth-tone end of the spectrum. Imagine a travertine window sill installed as a contrast in a kitchen with Emperador Brown counter tops or in a sitting room tiled in Crema Marfil. Your customers can use it in builds specifying Chiaro Beige, Iroc Beige, Roman travertine, or any other tile along that spectrum.
Whatever Type of Stone Window Sill Your Project Calls for, We've Got Your Covered!
We craft our travertine window sills right in our overseas manufacturing plant and import it directly to our warehouse in Miami. You can also have it shipped from overseas directly to your warehouse. Each sill has a 1/4″ bevel on one of the long sides, and are available in lengths of 78″ so they can be cut to order. Each piece is honed to a polished finish and a standard thickness of 5/8 of an inch. You can also order custom thicknesses of 3/4″.
Widths range from 2 to 18". Making them ideal for use in other areas of residential or commercial building or interior decorating projects. Innovative placements include wall caps, stair toppers, and shelving. This materiel also looks amazing as a mantle piece. The richness of color and variations in tone, patterns, and veining really tie a decor together.
How to Order Your Supply of Travertine Window Sills
One of the best things about ordering from us is the simplicity and ease of service. We have an online showcase where you can see the product in detail, even if you're in another state. Once you've made a selection, simply contact us using our online form. Any messages we receive by 4:00pm EST will be answered the same day.
Our warehousing and distribution center has the capacity to hold up 50,000 window sills, thresholds, and shower caddies in travertine and marble. That means that there is no waiting for your order to be filled. The only exceptions are large recurring or custom orders. This may take 8 – 10 weeks to be manufactured and shipped from our overseas facility.
We require a minimum order of one crate of 50 – 100 pieces, and ship to wholesalers throughout the continental U.S. If you're local and picking you want to pick up your shipment at our warehouse, our hours are Monday – Friday, 9:00am – 4:30pm. Stonexchange is located at 9605 NW 13th St. in Miami, Florida, and our showroom is open Monday – Friday, 9:00am – 5:00pm. Call us at 305-731-2400 or stop by today!