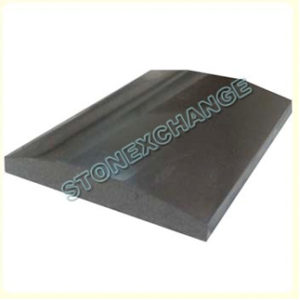 Whether you're a builder, an architect, or a wholesale building supplier, your success depends on anticipating trends and fulfilling your customers' needs. Industry professionals in Miami and beyond know that they can get the finest quality and best prices when they purchase bulk Absolute Black Granite from Stonexchange. As a premier manufacturer, importer, and supplier of premium tiles and accessories in Southern Florida, we've worked hard to build a reputation for quality.
The Beauty of Absolute Black Granite
Absolute Black Granite is one material that has transcended trendiness to become one of the top choices for flooring and trim. Black is not only elegant and timeless, it also adds a neutral tone that enhances any decor. It can cool warm tones a bit or lend an air of majesty as part of a monochromatic color scheme.
Our black granite window sills and thresholds are cut to conform to current construction specifications and finished to a mirror-like sheen. The Stonexchange warehouse has 18,000 square feet of stone tiles packed and ready to go out on-demand. We also supply custom cuts and orders, but you should place those orders at least eight weeks in advance to account for manufacturing and shipping time from our overseas facility. You can check out a sample from our selection of Absolute Black Granite pieces and other tiles through our online product showcase.
Why Choose Stonexchange for Building Tiles?
There are many reasons to choose Stonexchange as your source for natural stone and engineered tiling. As we've mentioned, we carry a large selection to fulfill the needs of builders and wholesalers throughout North America, even if you have a large, recurring need. But, there's more to Stonexchange than just bulk purchasing power, including:
We Offer Full ADA Compliance
For every type of material we manufacture, you can order a shipment that fully meets ADA standards for accessibility. This is an important sales point for commercial builders. Just take a look at our black granite Hollywood bevel thresholds to learn more.
Controlling the Supply Chain Means Controlling Quality
Every piece we sell is manufactured by us and comes straight from the source. This provides us with complete control over what we sell our customers, whether the material was mined or crafted by us. You even have the choice of purchasing from our warehouse or having your order custom-cut and shipped straight to you from our factory.
We're Tops for Dependability and Customer Service
Since we don't answer to anyone but our customers, we offer a level of accountability that's difficult to beat. It also means that we feel duty-bound to go above and beyond to make sure we have the materials you want in-stock at all times. You'll also appreciate our superior customer service. Our staff is not just comprised of sales associates. We're tile and flooring experts who will give you the kind of personal attention you deserve with every interaction. Want to know the best material for window sills? We've got answers. Got a problem with your order? We'll take care of it at the earliest available opportunity.
If you're ready to place an order, or you just want to know more about our products and services, contact us or call 305-731-2400 today. All inquiries received by 4:30pm EDT will get a same-day response.