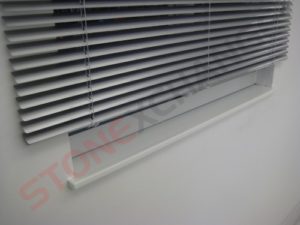 Let the sun shine in with elegant Pure White Thassos window sills from Stonexchange. These manufactured stone sills are a durable alternative to high-end marble. Best of all, the aesthetics will add a note of luxury without making you pay a premium. We manufacture all of our home and commercial flooring tiles and accents at our own facility so you can count on consistent quality with every shipment.
Using Pure White Thassos Window Sills
Thassos pure white window sills are manufactured by combining glass and resin. This engineering lends these window sills with superior heat and water resistance while mimicking the look of high-end Thassos marble. In fact, this product offers 0% water absorbency for more comprehensive protection of interior walls around your windows. They're completely free of blemishes and natural defects common in marble and other stone, and they stand up to wear for years of function without sacrificing style.
Due to the superior aesthetic appeal and budget-friendly pricing, you'll find that these are ideal for high-occupancy builds like hospitals and hotels. Our sills come in lengths of 78" so your customers can cut them to order on any project. They're also available in a range of widths up to 18″, giving you the flexibility to market as wall caps, shower curbs, stairs, and shelving. Thicknesses are all manufactured to the industry standard of 5/8″.
Installing Engineered Stone Window Sills
Even with the superior water-resistance, these sills will only do their job if they're installed properly. The window casing should be level and uniform to ensure a tight fit and seal. This is less of an issue with new construction, but replacing sills in an existing structure might require some adjustment. If the foundation for the sill is off, it can be built-up with layers of mortar until it's perfectly even
All of Your Building and Interior Decor Tiling Needs Are Right Here
We're pleased to be a premier supplier for wholesale natural and manufactured building materials in the Miami Beach area. Not only do you get a wide selection of tiling, our sales associates are experts who can provide you with tips on care, storage, and installation that you can pass on to your own customers.
How to Order Your Supply of Pure White Thassos Window Sills
We make ordering your building supplies easy. Simply contact us through our online form. All requests received by 4:00pm EST will be addressed the same day. We require a minimum order of one crate, which contain 50 – 100 pieces, depending on order packaging and contents.
Our warehousing and distribution center holds up 50,000 pieces of merchandise at any given time, so immediate order fulfillment is no problem, even for large builders or wholesalers. Custom orders are available from our overseas manufacturing plant, but you should allow 8 – 10 weeks for delivery. We ship all over the continental U.S.
Stonexchange is located at 9605 NW 13th St. in Miami, Florida, and our showroom is open Monday – Friday, 9:00am – 5:00pm, so call us at 305-731-2400 or stop by today. If you're picking you shipment up locally, our warehouse hours are Monday – Friday, 9:00am – 4:30pm.