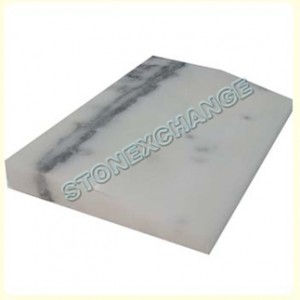 As a contractor or architect, you appreciate the value of natural stone as a building material. You're trying to accommodate the demands of discerning customers by providing them with these premium materials. You're already using stone thresholds in the kitchens bathrooms, showers, and your customers are responding well to the upgrade. It's no surprise that homeowners are drawn to this type of upgrade. Marble is durable and attractive. It's a beautiful stone that adds visual appeal to any space. It can handle the high humidity levels in the bathroom without rotting or warping. However, you may not have realized that there are many other ways to use these thresholds throughout the entire home.
A Beautiful Border
Save on labor costs and impress potential customers by using thin thresholds around the edge of a room. It creates an eye-catching border that helps your floor pattern stand out, and it highlights the perimeter of a room to make it look larger. The great benefit of using thresholds for this project is their longer length. You won't have to install as many individual pieces. Seams are minimized, and that helps you lower the final labor cost. The border isn't limited to the bathroom, either. This border method can also be used in the living room as a beautiful finish against a wood floor. Speaking of wood floors, most bathroom vanity models feature wood cabinetry with stone countertops, thus making them ideal for door mounts made of stone.
Quality Stone Materials
Whether you are looking for threshold or window sill solutions, you can always trust in the quality of the materials sourced by Stonexchange. Our White Carrara stone is similar to Bianco Carrara extracted from the legendary quarries of Tuscany. We deal with providers who deliver stone from the Mediterranean and Adriatic regions; moreover, the standard finishing process involves honing, polishing, and sealing the surface so that you do not have to worry about staining.
If your project involves a wheelchair-accessible bathroom, you will be pleased to know that our thresholds are cut to compliance in accordance with the guidelines promulgated by the Americans with Disabilities Act. In essence, ADA compliance for thresholds indicates that thresholds should have the proper height and sloping needed for a wheelchair to comfortably rollover. In the case of sliding doors, the maximum height is 3/4 of an inch; all other doors should be equipped with thresholds that do not exceed a height of 1/2 inch. Our Hollywood bevel cut pieces are ideal for commercial bathrooms not only because they look great but also because they exceed ADA compliance.
Finishing the Curb Exterior
Use shower thresholds for the elevated rise on your shower curb. The monochromatic finish on the curb will be attractive, and the exterior row of tile will be easier to clean and care for than a narrow strip of wood or sheetrock. Consider using contrasting colors for the curb top and sides to help the height level stand out more. StonExchange carries thresholds in five different colors, so it's easy to pick the perfect combination for your design. We offer classic travertine and Crema Sahara Marfil in shades of tan. Nuevo White Carrara and Pure White Thazoz are the best choice for anyone who wants basic white tiles to highlight the patterns in the floor. We also carry sleek black granite for greater contrast and a fantastic, modern finish. Whether the bathroom floor tiles are made of stone, ceramic, or porcelain materials, you will find that our thresholds are the best complement.
Fewer Seams for Greater Water Resistance
Shower curbs must be waterproof, and your customers expect them to remain waterproof for many years to come. One problem with using the same tiles in the shower as you have on the walls or floor is that they're usually smaller. Rather than having one solid piece that fills the threshold and eliminates seams, several smaller tiles are fitted together like a puzzle. The result is a row of seams that must be grouted. The risk of future failure increases with more seams and grout lines, but you can make the curb more waterproof by using solid thresholds. Your customers will appreciate the attention to detail today, and they'll love having less to clean tomorrow. Marble thresholds are also a fine choice for transitions throughout the home. They're perfect for exterior doors, window sills and even the door from the bathroom to the hallway. Minimizing the seams in all of these areas helps prevent moisture damage in the future.
Top Off Wainscoting
Do your clients love the look of wainscoting? Traditionally, this product is finished off with a special chair rail that curves over the top edge, but tile is also an attractive option. Place the thin shower curbs directly above the wainscoting and then finish off the connecting seam with some appropriate caulk. It creates a surface that's just a little different and very easy to care for. This is also appropriate for wainscoting that's installed in kitchens, bathrooms and laundry areas.
From Tile to Sheetrock
Low-profile shower thresholds are an appropriate choice for any transition area where you're going from tile to sheetrock. The solid colors make a lovely visual break, and the long lines make the overall pattern visually appealing. It marks a clear end from the lower wall of tile to the painted wall above, and this allows you to easily add different colors, textures or patterns to the upper area.
Backsplash Solutions
When you add marble to the bathroom vanity, your customers are sure to be impressed. Rather than cutting down marble or special ordering pieces for the narrow backsplash, simplify the project by going with thresholds. The same thin thresholds used in your shower stall can be installed at the rear edge of your countertops. Match the narrow tiles to your counters or the walls for a seamless look that flows beautifully. Simplifying the material orders allows you to save money by buying in bulk. Storage on the job site will also be easier when you're tracking fewer supplies, and the installation will go faster because there are fewer seas to work with.
Recess a Shelf
Customers are looking for smart options that stand out, and one of these is recessed shelves. With this design feature, homeowners don't have to buy special racks to store their toiletries in the shower. This is also a popular design feature with hotel chains that want to make a great impression on clients. Most walls have roughly 3.5 inches of open space between them. Open up the wall and build the recessed cubby in the space. Use matching tiles on the back of the cubby, but finish off the edges with a thin shower threshold to minimize seams and make it look more impressive. In addition to adding this elegant touch to the shower, you can also add recessed shelves to the foyer, living room and even hallways. Customers will love the finished look, and they'll appreciate the extra storage for their little collectibles or pictures.
Learn More About Stone Thresholds and Window Sills from Stonexchange
There are countless ways to use marble shower thresholds throughout your projects. Stonexchange offers basic colors and styles that are in high demand among builders, architects and designers alike. Stone thresholds are meant to be accent pieces throughout the home, and our basic colors ensure that they match most other finishes. This allows you to stock up on these basic building supplies while customizing other supplies to suit your customers' individual needs.
We take pride in offering our clients low prices on high-quality products. By working with top shippers around the nation, we're able to offer you faster delivery at reasonable rates. We're dedicated to customer service, so we work hard to fill orders quickly. Custom orders are also available through our privately-held overseas manufacturing facilities.
Whether you're using marble just for the shower curbs or for other uses throughout your job sites, we're happy to provide you with all of the thin stone thresholds you need. Contact us today to speak with our friendly customer service representatives and see how we can help you.