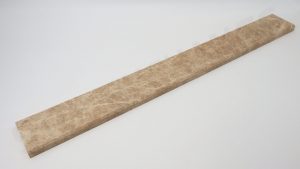 Chances are that you've been told at some point that metal thresholds are the most durable around. They're certainly common and, in theory, they're inexpensive. More than likely you've probably been in countless buildings that include them, due in no small part to their ubiquity. After all, they're sold in countless hardware stores so people have made sure to occasionally cut some money off of the bill of a project by opting for the most common part.
That being said, we're getting ready to throw you for something of a loop. Metal naturally corrodes over time, and metals that oxidize have a tendency to do so more readily in the presence of moisture. As a result, there's a good chance that metal thresholds installed near or inside of bathrooms will have a tendency to eventually start to revert and lose their sheen. After a while, they're going to need to be replaced as a result.
Marble thresholds can hold up to much more of this, which has made them an attractive option for those who don't mind a slightly higher initial cost in order to drastically reduce the overall cost of ownership. Nevertheless, you might be surprised to learn that they often won't cost nearly as much as you'd expect them to.
Durable Thresholds are Shipped in Bulk
Ordering in bulk has long been a way for property developers and contractors to save money. Those who need a large number of thresholds can order marble ones in this way and then not need to have them replaced in the near future. This ensures a nearly minuscule cost of ownership compared to most other options.
Several other stones have been promoted besides simply marble over the years, and many of these have some unique properties that have helped to promote them to those who really care about durability. For instance, Absolute Black Granite technically isn't marble, but it will hold onto its luster for quite some time. This is especially true if future property owners don't use acidic cleaners on them.
Architects and interior designers who prefer metal thresholds would probably be quick to say that this is an area where metal ones are more durable, but most metallic objects aren't going to hold up to this kind of abuse either. In fact, while the wrong type of cleaner might hurt the look of a marble object, the damage is reversible. You could have them re-polished or buffed out to look like they once did. When you've stripped the topcoat off of a metal threshold, there really isn't anything that you could do to reverse the damage.
You might also consider a few other stone options, which again will outlast metal ones in most cases.
Stone Thresholds Hold Up Against Usage
For instance, Pure White Thazoz absorbs nearly no water, which has made it a perfect option for use around bathrooms and other areas where you're going to end up soaking up quite a bit of moisture. In fact, some people have elected to use engineered stone in other situations as well, which is why they've opted for windowsills and the like made from this dynamic material.
When you're ready to learn more about the durability of your various options, contact Stonexchange online.