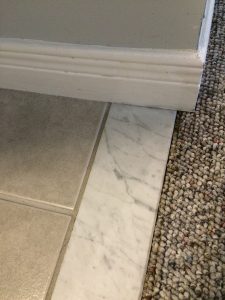 Tastes are always changing, and interior design changes with them. That's precisely why the developers of multi-unit dwellings have to swap out the thresholds they've been working with in the past.
Fortunately, modern doorway thresholds can stay in condos and apartment buildings for quite some time. That's because the natural stone has come into vogue all over again, which in turn has increased the overall adoption of sturdy materials that last for a long period of time. Natural stone is able to outlast most of the popular metal and composite thresholds on the market, and it doesn't even require that much in the way of maintenance.
Natural Stone Doorway Thresholds that Look Modern
Modern marble floor thresholds generally have beveled edges that offer apartment dwellers a safe edge for foot traffic. Depending on the project you're tackling, you might want either one or two long top-edges that offer a safe and polished finished.
Those pieces that provide a transition or separation between two different types of flooring typically have two long beveled sides. You'll see two different types of bevels on prefabricated marble floor thresholds.
Standard options use a ¼" bevel, which offers an eased edge. Hollywood bevels act like a small ramp, which is good news for those that have to adhere to certain guidelines set out by the ADA. If your project receives any sort of public money, then you'll more than likely want to opt for doorway thresholds that offer ADA compliance features.
Five different standard stones are used in the making of these modern thresholds, which should provide more than enough choices for those who are building a project from the ground up. If you're following any sort of preexisting plans, then you might be surprised to learn that you don't have to purchase exactly the same-named stones provided in the plans to get the right impact. Take a few moments to jot down the names used in any specifications because they might be able to be switched out.
Substituting Modern Doorway Thresholds
For instance, Crema Marfil is functionally the same stone as Botticcino and even Bursa Beige Marble. If you've gotten sticker shock as the result of the cost of either of these stones, then you can substitute Crema Marfil Sahara. That's true even if you need to install windowsills that are designed to match a specific threshold being laid out on the floor.
At Stonexchange, we've made sure to put together a great collection of different options that should suit the needs of anybody building modern condo or apartment complexes. Make sure to contact us online today and ask our experienced team of representatives more about what kinds of options would work best in your latest project.