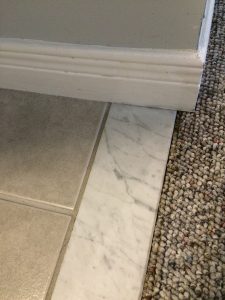 Concrete and marble have a few similarities and quite a few differences. Which is better for what project? Which is better overall? If you separate the dining room with hardwood flooring and a kitchen with ceramic tile, would you go with concrete or marble thresholds? Let's take a look at the similarities and differences together:
Marble vs Concrete
When designing a home or any kind of construction project, flooring is one of the most important aspects that must be considered. There is a large variety of different flooring materials to utilize. Wood, linoleum, carpet, marble, and concrete are just a few of the options available. Thresholds are generally needed to assist the transition of flooring from one section to another.
For example, if the flooring is transitioning from a bathroom to a living space, a threshold can be used to help ease that flow from one room to another. These thresholds can also differ in material compared to the flooring and many have additional benefits that they offer over others.
When choosing a tile floor, concrete thresholds should be the last on your mind. If the tiles are porcelain or ceramic, cutting them into thresholds does not make too much sense because they will not be durable enough, particularly in spaces with high foot traffic.
In terms of marble versus concrete, both have qualities that are admirable in the use for creating thresholds. However, one has just a few more advantages over the other.
Concrete Threshold
Concrete is often used to make concrete countertops, concrete counter, flooring, thresholds, and even walls. While concrete can be incredibly durable, it's also quite porous. It absorbs things easily into it. In order to protect it, the concrete has to be sprayed with protective coatings. Otherwise, they can be prone to stains and wear down quickly.
One advantage that concrete has over marble is that it can take a lot of heat. This makes it a good choice for rooms like the furnace area where it may be subjected to a lot of heat. However, a disadvantage with concrete is that it is more costly. It also requires more maintenance than marble because it absorbs things faster. Protective coatings have to be applied to concrete more often than to marble.
Concrete does not have to be dull and gray like a sidewalk; it can be polished, painted, and sealed, but it will not always match the rest of the interior design unless we are talking about a converted loft with rustic concrete floors. Imagine a bathroom marble installation with concrete thresholds; the contrast will not be very aesthetic.
There is an additional problem with concrete door saddles, and it has to do with regions prone to high seismic activity. A concrete threshold is more likely to crack and break in a strong earthquake; moreover, they are trickier to repair. Replacing damaged marble threshold pieces is a lot easier.
Marble Threshold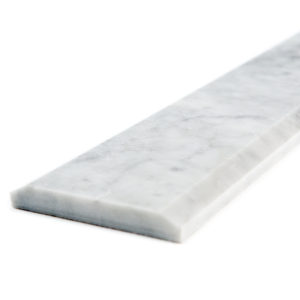 This is where marble outshines concrete as a threshold for the rest of the house. Marble can be cheaper than concrete when you deal with a wholesaler such as Stonexchange, and thus you can use it throughout the house. It's also considered a higher quality of natural stone. It adds value to the home rather than looking unfinished like concrete. Marble countertops can also be made to match the thresholds so there's a uniform aesthetic running through the building.
You can never go wrong when choosing a marble tile for a flooring project. Marble kitchen floors can always be complemented with marble or granite countertops and backsplashes. Bathroom designers will tell you that a marble bathroom vanity wall has the potential of catching the attention of a property appraiser, thus increasing the value of the home.
Marble can also be finished to be water-resistant, possess heat resistance qualities, and stain-resistant. The installation of marble thresholds is also typically easier than concrete because it does not require forming or shaping. When you have a tiled bathroom featuring marble or some other natural stone, marble door thresholds are the obvious choice. Since bathroom flooring typically involves ceramic, porcelain, quartz, or natural stone, you really don't want door saddles made of concrete; even when concrete is polished or painted, it does not match well with the rest of the home decor. As for the shower door, a stone threshold is the only option that makes sense.
One more thing about door saddles, and it has to do with building code compliance: Stonexchange threshold pieces are fabricated in accordance with the guidelines promulgated by the Americans with Disabilities Act.
Learn More About Marble Thresholds from Stonexchange
At Stonexchange, you can choose marble thresholds in various shades. To learn more about why marble outshines concrete, contact our office today. You can also find out more information about natural and engineered stone thresholds as well as window sills throughout our site.
Summary
Article Name
Marble Vs. Concrete Thresholds: Which is Better?
Description
Marble vs. concrete thresholds. Learn which one is better by reading our blog now. It will be easier to compare these types of thresholds after reading our article.
Author