How many times have you found yourself going back to the same types of marble when managing a building site? Construction projects often call for at least similar pieces to be used on multiple occasions, which tends to ensure that different sites all adopt the same general look. Each bathroom or kitchen project you finish ends up looking the same as a result.
On one hand, this isn't necessarily a bad thing. Almost any natural stone is going to look great and have all the benefits that come with the use of genuine marble.
However, these pieces also might end up appearing monotonous over time. You might want to consider Bardiglio Graystone thresholds as a result.
If you've never seen this particular building material in the past, then you're in for a real treat. Bardiglio is quarried in Italy and has a darker gray tone that, for years, made it one of the most attractive options for those who were planning to lay floor mosaics and other art installations underfoot.
Over time, it's attracted a number of other uses as well and bathroom design is quickly becoming one of them.
Using Bardiglio Gray Marble in Your Next Construction Project
Since Bardiglio Gray marble features swirls and prominent patterns of light and dark gray clouds, it's often treated as a sort of mirror image of Carrara Blanco. The flow and sense of motion that comes from the patterns of this tile make for a really dramatic appearance in almost any setting regardless of what you're using it for.
Whether you're tiling a showroom floor or just want to install a gorgeous bathroom threshold, this is one of the better options you have to pick from and word got out about it quickly.
Contemporary interior decorators have begun using it as a wall cap and a border tile as well. You might even see this particular type of gray marble threshold used as a backsplash in upscale kitchens. No matter where it's installed, it tends to add a sense of class that's often missing from some types of modern internal designs.
Nevertheless, the best place to employ these thresholds is along the edges of rooms where carpeting ends and tile begins.
Picking the Right Piece of Bardiglio Gray for the Job
Some artists and architects have claimed that the best cuts of Bardiglio Gray resemble a cosmic dust storm. It has an extremely intricate look that makes it attractive in almost any cut. Provided that a piece is made correctly, there's almost no wrong way to cut it.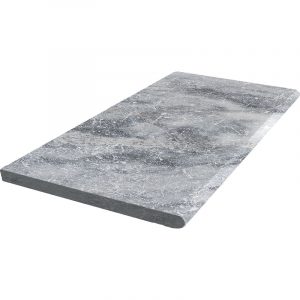 Interior decorators love the variety it provides them, and they also appreciate that it's so easy to design around since you find permanent fixtures that match the stone with nearly no effort. Engineers designing a home from scratch might actually visit a product showcase and look at different cuts of Bardiglio Gray before they ever think about the details of interior decoration. Future bathroom fittings will always match it, so there's no reason to be overly concerned if they're not sure of all the details right away.
Finding Bardiglio Gray Marble for Your Next Project
STONEXCHANGE works to find excellent pieces of stone from around the world and then brings them to a convenient location in Miami so you don't have to worry about where your next project will have to go looking when it comes to finding building materials. You'll be able to find the threshold you need just by visiting us online. 
Contact us online today and our experienced representatives will help you find all of the marble cuts you need. Redoing a bathroom with new marble thresholds was never so easy.