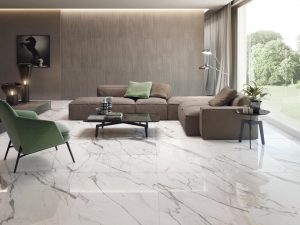 Marble is a construction and interior design material that has been used for centuries. This metamorphic rock is extracted from quarries located around the world, but the most renowned geographical sources are located near the Mediterranean, which is why marble was extensively used by builders during the Greek, Roman, and Ottoman periods. Marble is often considered to be the king of natural stone; even though onyx and obsidian are more exotic choices, they have not attained the prestige of marble.
The Flooring Materials
Square tiles are the most common marble flooring materials. The most common dimensions are 12 x 12 inches; these tiles are usually found in residential construction. Commercial spaces are more likely to install 16 x 16 and 24 x 24 tiles. Larger tiles would almost qualify as slabs, and their added weight calls for special handling during installation. The unique veining and dramatic patterns of marble require installers to carefully match tiles for the purpose of creating a look that is a close as Mother Nature intended. The surface finish of tiles can be honed and polished, brushed, sandblasted, or simply cut, but the glossy look is the most popular.
Pros of Flooring With Marble
The greatest advantage of marble flooring is its timeless look. As much as engineered stone fabrication has advanced, it simply cannot match the capricious colors, patterns, and veining of marble; there is also the surface texture, which is always cool to the touch even during the warmest days. Unlike ceramic and laminate floors, marble tiles simply feel great under bare feet. Marble flooring is one of the most common strategies applied by builders and homeowners who wish to boost the values of their properties; both appraisers and prospective buyers with deeper pockets will notice marble floors. In terms of matching, marble is an ideal accent for any natural stone; if you already have marble window sills, for example, you might as well go with marble floor tiles.
Cons of Flooring With Marble
There is only one disadvantage with regard to marble flooring, and it is related to maintenance. Marble tiles need to be periodically sealed; failure to keep a fresh surface seal will result in staining or worse. Quite a few substances will stain marble, and once they penetrate improperly sealed floors, you may end up with an etching situation. Having to resurface marble floors to remove etching can be laborious and expensive; furthermore, it may not end up looking as good as new.
Examples Of Marble Flooring
White Carrara marble from the renowned quarries of Tuscany is the most sought-after type of marble; it ranges from a resplendent white to a slightly pink beige with soft veining that is extremely attractive. The patterns of marble tiles follow the blocks they are cut from, and every block is unique. Just about every palazzo in Italy has marble flooring, and the same goes for the magnificent Taj Mahal in India.
To learn more about marble flooring, contact Stonexchange today.