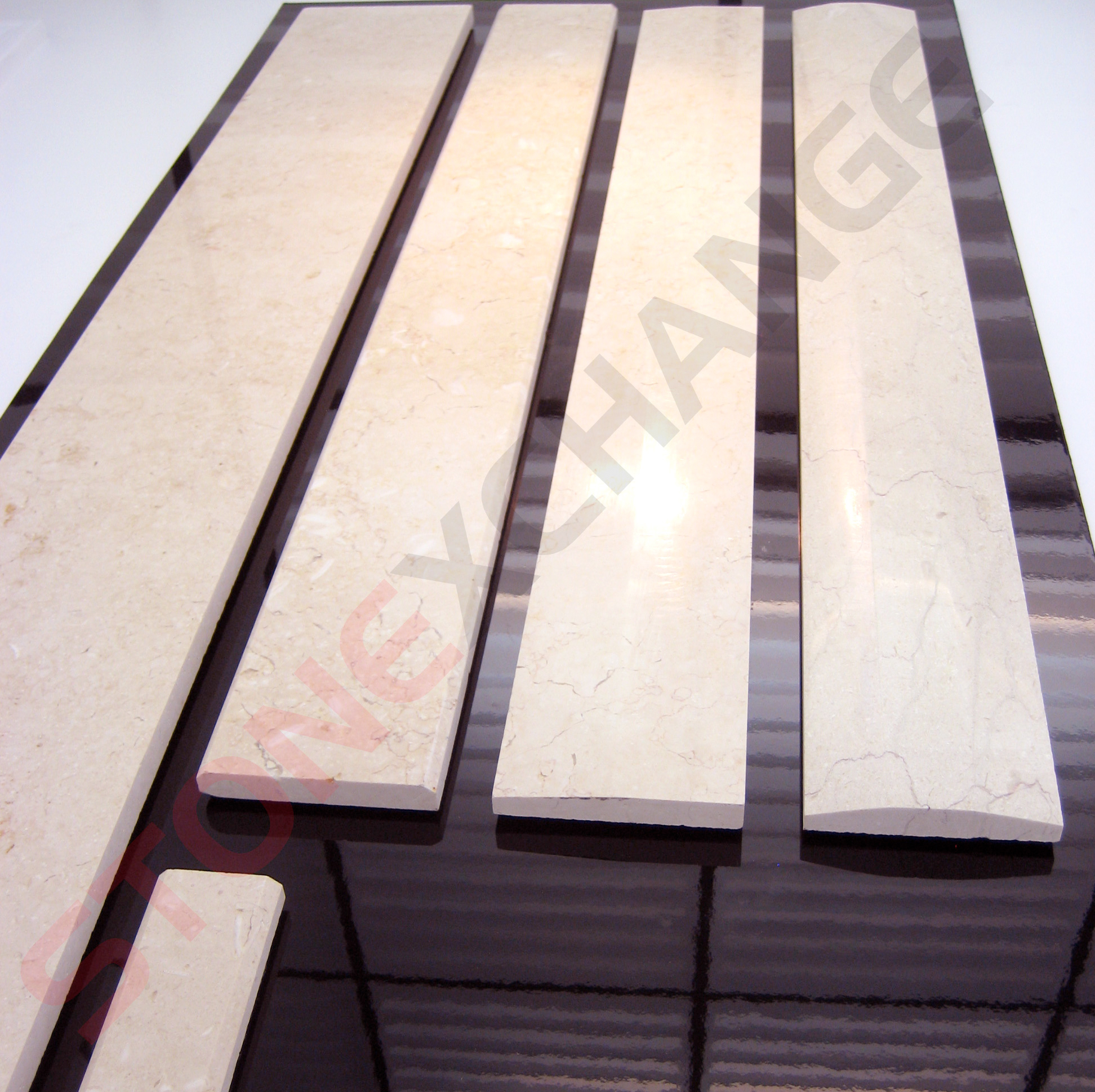 Transition saddles are an integral part of a commercial or residential design, especially in structures that include several different flooring surfaces. The joining of hardwood, carpet, and stone tile is usually accented with a natural stone threshold. This junction becomes part of the overall interior design concept, and natural marble stone is the perfect material for use as a floor saddle.
The problem for construction companies and flooring product retailers is one of product availability. Many of the top-quality marble flooring products are imported in small quantities, and locating a bulk source of material at any price can be a time-consuming process. Thanks to Stonexchange, finding a suitable product at a truly wholesale price is as easy as picking up the phone.
At Stonexchange, the mission is a simple one. Our goal is to provide retailers, home improvement chains, and construction contractors with the best possible natural stone product at the lowest price in the industry. We offer the lowest prices on premium quality marble flooring products, and we deliver direct to the customer. One of our most popular marble products is Crema Sahara Marfil, a beautiful cream/beige stone that is specially fabricated into elegant floor transition thresholds.
The Popularity of Beige Marble
A neutral shade of marble or other natural stone is favored by interior designers because it blends well with other medium colors. This shade offers property owners the widest range of redecoration choices in the future because it works well with white/off-white secondary accents, darker colors of furniture, and cream shades for the walls and upholstery.
What Makes It Popular
Crema Sahara Marfil is an excellent color choice for natural marble stone. Beige and cream shades of marble have a rather soft appearance in terms of color, but the high polished finish makes for a beautiful stone surface. This product has an average amount of spotting, and the veins are moderately thin with small striations. When exposed to direct light, Crema Sahara Marfil gives off a moderate gleam that creates a sense of cleanliness and opulence.
This is a very popular shade of marble for use as a floor threshold. The color is a good complement to medium or dark hardwood floors, light or medium shades of carpet, and dark shades of natural stone tile. The most common placement of this type of threshold is in a doorway, usually the entrance to a bathroom or dressing area.
Crema Sahara Marfil is an excellent replacement for Botticcino or Bursa Shaded marble. Botticcino and Bursa are two shades of marble with which installers and interior designers are quite familiar. These are industrial terms that refer to cream and beige tones most commonly specified in building plans. The Crema Sahara Marfil thresholds we distribute from our Stonexchange warehouse is a perfect match to both of these popular color tones.
Chances are you've seen photographs of a few old monuments, and any of the marble areas of said buildings are still looking good. That's a testament to the strength and durability of these natural stones.
Stonexchange Carries All Three Styles of Thresholds
Depending on the intended use of the floor saddle and the location where it is to be placed, building plans will usually specify a particular cut and shape of threshold. Stonexchange manufactures and distributes each of the three major threshold designs. We maintain a large inventory of products in our Miami, Florida warehouse, and we deliver full-crate or full-pallet orders to all continental United States destinations. Each of the following styles of thresholds are available for purchase throughout the calendar year.
Standart Double Bevel Threshold
Standard double bevel thresholds have a 1/4-inch bevel along both long sides, and the bevel itself has been carefully smoothed. The standard thickness of the saddle is 5/8-inch. The smaller 2-inch wide saddles are 3/8-inch in thickness, and the product is available in wider styles up to 6-inch.
Single Hollywood Bevel Threshold
Single Hollywood bevel thresholds have a wider, 1 3/8-inch bevel along one of the long sides and are available in 4-inch and 6-inch widths. These saddles are also popular for use as a sloping perimeter for marble floors. Our single Hollywood bevel thresholds are also manufactured in a standard 5/8-inch thickness.
Double Hollywood Bevel Threshold
Double Hollywood bevel thresholds have a 1 3/8-inch bevel along both long sides. These transition saddles are most commonly used in doorways where heavy traffic is experienced. They are also specified in building plans where wheelchair access is common. Double Hollywood bevel thresholds distributed by Stonexchange are available in widths ranging from 4-6 inches, are 5/8-inch in thickness, and are cut to the standard 36-inch length.
All of our products can be ordered in custom sizes. Stonexchange does not charge extra for this service, although a lead time for product fabrication and overseas shipment can be expected. The minimum piece count varies depending on the size of the threshold and ranges between 100-200 pieces.
Each of the styles of thresholds imported and sold by Stonexchange meets ADA requirements for safety. When properly installed, these floor saddles will sit beneath the top surface of the carpet, stone tiling, or hardwood. The entire saddle acts as an efficient water barrier, creating a tight seal that keeps moisture from reaching the subfloor.
High-Quality Marble Products From Stonexchange

Stonexchange is a unique source for premium quality natural stone products. Our company partners directly with the quarrying operations where the stone is extracted, and we maintain our own fabrication plant. When customers choose to do business with Stonexchange, they are working directly with the manufacturer, importer, and distributor.
The Reason Behind The Quality
This is why our company can offer such amazing prices on top-quality Crema Sahara Marfil marble. There is no middle-level reseller involved, and we perform our own quality assurance and delivery processing. Our company imports vast quantities of material throughout the year, and our commercial clients have come to rely on us as a dependable source for superior quality natural stone.
Our products are specially fabricated overseas, packed into large containers, and sent via transatlantic freight to our Florida-based distribution center. Orders placed by clients are processed immediately and sent via overland freight to any deliverable address. We service the needs of construction contractors, home improvement centers, and retail flooring product merchants.
The Order Experience That We Provide
We require a minimum piece count on all orders. Our wholesale prices are the lowest in the industry because we do not purchase from a third-party importer. However, we can offer these rock-bottom prices only because we import in such large quantities. We pass the savings on to customers who order full-crate or full-pallet shipments of marble thresholds.
Flooring companies can expect timely shipments with minimal breakage. Contractors, especially licensed floor product installers, work up bids for jobs based on the likely cost of materials. They will prefer to do business with a merchant that can guarantee a shipment of hundreds of similar thresholds, available when the contractor actually needs it. Knowing the price ahead of time and being given a guaranteed delivery schedule is what keeps commercial customers coming back for subsequent orders.
Check Out the Full Product Line
Stonexchange is proud to offer not only top-quality Crema Sahara Marfil thresholds at unbeatable wholesale prices, we can guarantee color and style match between different products. Each of our natural stone products are manufactured from the same raw materials. We carry window sills, flooring tiles, and countertop tiles fabricated from the same quarried rock, and we guarantee satisfaction on the part of our customers regarding color and patterning match.
Interior design instructions call for specific matching of primary and secondary accents. However, the person who purchases the property has the last say. Large development projects such as a condominium complex or luxury home tract come with numerous options available to the buyer, mostly in the areas of flooring, fixtures, and cabinetry. Depending on what the buyer chooses, the installer of floor tiles, thresholds, and window sills needs a reliable source of a specific style and color of natural stone.
Stonexchange makes the job of finding the proper materials simple. Bulk orders can be mixed-and-matched, and the deliveries can be split to meet the installer's deadlines. This is one of the best selling points for retail merchants who want to promise their commercial customers a guaranteed delivery date.
Our import and distribution operation is geared specifically around the construction industry. We do not sell products directly to the public. Rather, we make our natural stone products available to commercial clients who need large quantities of marble, granite, travertine, and mosaics.
It is therefore in our best interest to attract those customers who require a substantial amount of natural stone. We offer the most popular styles of thresholds, tiles, and window sills including the beautiful, dazzlingly polished Crema Sahara Marfil. Best of all, we address the need for custom-size, non-standard products by offering specially cut materials at no extra charge.
Perhaps most importantly, our marble thresholds can sub in for other more expensive types.
Saving Money On Marble Thresholds With Stonexchange
Remember those crema Sahara Marfil thresholds that were so popular? One of the biggest reasons that they are is the fact that crema stone can be used on projects that specify Botticino marble thresholds in the instructions. The stone is virtually the same, and the crema pieces are going to prove to be every bit as durable as the other original specifications provided. Keep in mind that this is no way a chance to get a cut-rate stone, because these are still high-quality pieces that offer all of the benefits of the initial specifications.
You're simply not paying for the name. The same goes for projects that are specified with Sicilian cream marble, since the thresholds are once again virtually the same as far as the stone is concerned. These names have more to do with geography than anything else. You may find that this sort of purchasing power goes far beyond even the confines of traditional beige marble, since other stones like granite are sold in the same fashion.
Assume that you're working on a project that specifies china black stone and you take a look at the catalog of one of the bespoke manufacturers that put out this stone. You'd probably expect to pay quite a bit for the privilege of using it. You wouldn't want to spend money like that, so you could instead opt for absolute black window sills.
In the same breath, you might want to try these if you're working on a project that calls for black galaxy granite window sills since the stones are once more the same.
Depending on your needs, you might even be able to save more by buying in large bulk. If nothing else, then you'd certainly be able to prepare for whatever your next project throws at you by taking the time to get enough stone to tackle it.
Even those who want to use engineered stone alongside their traditional natural beige marble will want to ensure that they have enough of whatever kind of material their next project calls for
Get Ready To Start Saving Money
Natural stone materials are expensive, but this industry is all about relative costs. Our top-quality Crema Sahara Marfil floor thresholds are truly wholesale in terms of per-piece cost, and our delivery service is as dependable as our product inventory. Contact us today to find out how much money YOU can save on the finest beige marble products.