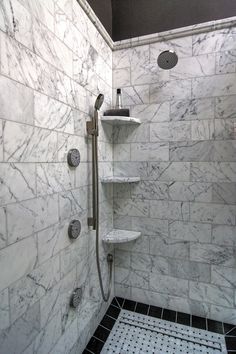 Few architects and interior designers would leave the shower stall in a hotel bathroom without a corner shelf. While these were once somewhat uncommon in private residences, they've always been a big part of the hospitality industry. They're going to be an even bigger part as various hotels work to differentiate themselves from one another, which makes attractive and functional bathroom fittings all the more important.
A few key differences make trim tile bullnose shelves a must for nearly any property. These are shaped just the right way to fit into formal situations just as easily as they could more casual ones. Hotels and even motels might want to invest in them, hence their appeal to contractors is extremely broad.
Marble Corner Shelf
There are several reasons, outside of merely a preference, that designers would always opt for marble and stone corner shelves. You might be surprised to learn this, but the price is certainly one of them. These pieces aren't anywhere near as expensive as many people would lead you to believe. On top of this, they look absolutely stunning.
Their polished finish doesn't just look good, either. It's actually quite functional since it makes it easy to wipe clean after usage. Hospitality staff has to regularly clean shower stalls, and many jurisdictions have set specific cleanliness guidelines they need to abide by. Having a finished piece of stone in the shower will speed up this process considerably.
If you're a contractor that's working under specific rules, then you'll also want to consider the benefits that the overall look of a marble corner shelf would impart on your next project
Luxurious Appearance
Though you might think that a corner shelf is a small touch, nothing can beat the look of one. They can really dress up any shower or bathroom stall they're positioned in, which is a huge benefit for those who manage higher-end properties where every detail matters.
Imagine a luxury boutique hotel project with 60 rooms that require two corner shelves in each shower stall. Cutting all these pieces from slabs and coating them with impregnating sealant will take quite a bit of work in addition to trial-and-error. At StoneXchange, we use precision cutting tools and automated processes to ensure that each piece is shaped to aesthetic uniformity.
You won't have to worry about inconsistencies when you order a large number of pieces all at once. Project managers who have to ensure that each and every bathroom they redo looks identical can dramatically reduce the risk of any perceived quality control issues simply by taking this extra step.
Durable
Due to the underlying material that these shelves are made out of, they're going to hold up. Ceramic, marble, and travertine stone soap shelves are stocked by Stonexchange because of the fact that these designs hold up to a healthy amount of usage.
Soap dishes, shampoo shelves, and shower caddies are not normally made of stone, at least not on a wholesale basis. Homeowners usually ask contractors to cut leftover remnants from flooring or countertop projects to make small pieces such as ashtrays, decorative ledges, or soap dishes. We are one of the providers of marble bathroom accessories in the United States, and we also offer these items made from engineered stone as well as granite and travertine.
Durability is a major consideration for anyone who manages commercial properties. Hotel bathrooms are going to face a ton of usage because they're essentially playing host to whole groups. Contractors can't ever be sure who's going to end up using a bathroom or what they're going to do to it. 
Since people can be rough, it's important that you pick a durable material if you plan on doing any sort of work for various hotel organizations around the country. Natural stone is one of the best choices you can make. Keep in mind that countless old monuments are still standing, which is a true testament to just how much usage this kind of material can take.
Easy To Use After Installment
Future property owners and hotel guests will find these soap shelves to be extremely convenient. They can place shampoo, soap, or anything else they need for a shower in a single location.
In the last few years, high-end hotel properties have started to provide more natural cleaning products for their customers as a comp. Natural soaps can leave a sort of film that's difficult to get off most synthetic surfaces. Once you have natural soap shelves in place, you'll be able to clean up after this kind of usage just as easily as well.
High-end tourism operators look for these kinds of features in hotels, so you'll want to keep this in mind even if you're doing work on behalf of some other operator and won't ever be directly managing the property in question.
Best Corner Shelves For Hotel Projects
Few hotel designers would ever want to use synthetic materials when installing shelves. Take a look at these natural stone shelves for your next project.
Different colors are better for certain surroundings. By providing our clients with these three options, we've worked to ensure that there's something out there for nearly any style of bathroom.
Interior decorators who are going with a mold theme might want to experiment with these light brown colors, which should certainly prove far less neutral than most other options. That can give a shower a pop of color you might not otherwise see.
Those looking for something a little more traditional and neutral might want to use Botticino, especially if they're working with a starkly designed shower stall. In those cases, this particular corner shelf should work perfectly. Minimalism is coming back into fashion, which has increased the number of designers who want to work with this type of stone.
Projects that just call for marble with no other classification might be best done with Carrara because it's probably the type of stone that comes to mind for most people when they think of marble. Its classic gray and white appearance is ideal for an overwhelming majority of circumstances regardless of the type and size of the hotel or other building project in question.
Ordering Corner Shelves In Bulk
No matter what kind of project you might be tackling, the rule of thumb is always to have more material than you originally need because it can be difficult to foresee any complications that you might run into. That's why it's so important to buy in bulk. Suppliers who offer corner shelves to contractors that do work in hotels will also want to stock up because it's quite possible that people will want to come to them in order to stock up.
Renovate A Hotel Bathroom Shelf And More With StoneXChange
At Stonexchange, we understand that designers want access to gorgeous marble, travertine, and ceramic accessories. The right marble can make a living room or storage space pop. 
Contact us today for more information about current stocks of corner shelves so you can finish off your next hotel construction or remodeling project. At Stonexchange, we make sure to keep supplies of enough stone for contractors and warehousing operations to get as much as they need.