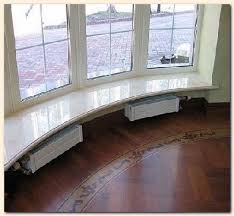 Window sills are the finishing touches to any interior space. Using the right kind of materials can make all the difference in making a space look 'blah', uniquely posh, or outright bold and daring. If you want is 'blah', then go ahead and purchase a bulk load of vinyl, and maybe even aluminum for edging. These materials will definitely get the job done, but keep in mind when you're purchasing these standardized window sills, be sure to add a few more to your order because some of your past builds may require a replacement in a couple of years or so, especially when you own an apartment and/or condominium complex.
Importance of Replacing Condominium Window Sills
It's not only rental units that can undergo abuse. Condominiums or condos can also suffer at the hands of their tenants. While most people may be quick to think flooring and countertops are the first to go, window sills are another interior finish that can quickly diminish. This is not necessarily because of the tenant or owner either.
Because of where window sills are located, they are more exposed to the elements, which means they might suffer just as much abuse as if they were an exterior building material. Although exterior window sill building materials exist, we'll continue to discuss the interior window sills that might benefit you as a contractor and/or building owner.
How Window Sills Can Easily Be Neglected
It can be said the window sills are part of the interior that gets tended to as much as the windows themselves! Those who don't do windows' probably don't 'do' window sills either. They're the place that's usually overlooked and serves as a nice platform to collect dust. Depending on what region you live in, your window sills can collect dust over the winter months, or possibly throughout the entire year in warmer climates baking in the sun and into the window sill itself.
The Effect of the Weather on Window Sills
Weather-beaten window sills are a problem that many property owners face in tropical climate regions such as south Florida. Traditional window sills made with materials that match the framing will start showing signs of deterioration in just a few years. Sills made of wood will be impacted by humidity, temperature changes, and the rays of the sun. As for aluminum window sill pieces, not all of them are as stainless as they claim to be; many will start to blacken and rust if they are rained on when the windows are open.
Window Sill Renovation
If you've ever rented an older apartment or condo unit before, you may have noticed how the owners have tried to spruce up an old window sill with an excessive amount of paint. Some owners don't even take the extra step of scrapping the existing paint, or baked-in grime off the window sill before painting it. What's worse, they sometimes paint the window sill shut! Don't be that kind of owner!
Durable Window Sills
With that kind of upkeep, you're not going to earn the maximum potential your investment can render. So, if you don't feel like taking the time to scrap paint from a window sill every time a tenant moves out, then stop using standard window sill material. Invest in something that's durable and can withstand the most punishing conditions.
In terms of material integrity, concrete window sills tend to fare better than their metal and wooden counterparts, but they still need to be painted and sealed. Concrete sills can handle humidity and extreme temperatures, but this will depend on the quality of the material mix. In some cases, concrete window sills are known to crack when temperatures fluctuate drastically.
Surviving the Elements
When you think of window sills, you may not think that something like that would undergo 'punishing' conditions. However, many of us underestimate the natural elements. Have you seen a stop sign that has endured the UV rays of the sun 24 hours of the day, seven days a week? It's brutal. It can lose its red coloring, fading out the wording altogether. This should give you a basic idea of how much stress a finished product can take when exposed to the elements.
Depending on the positioning of a build, window sills can endure just as much abuse as that faded stop sign. The results of course, will render a different effect though, but it usually always ends up the same—replacing an old window sill with a new one.
Marble Is The Perfect and Permanent Window Sill For Apartments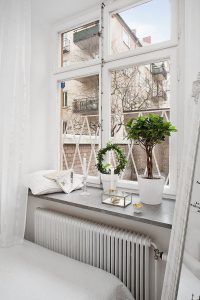 To avoid all of the inconvenience of chipping, painting, and replacing, consider stocking your warehouse with marble window sills for your next building project and for future repairs to older properties you might own.
There is no limit to what you can do with marble window sills. First of all, if you stock a variety of the right kind, there's no build that can't benefit from your inventory.
Marble Is a Versatile Design Material
Forget about needing to match marble window sills with marble flooring. Marble is a versatile building material that can complement any décor. It pairs well with carpet and wood flooring offering a sleek looking high-end finish that can bring in a higher dollar amount of monthly rent, and even better possibly add on to the resale value.
Natural and engineered stone window sills are very classy; homeowners love them because they look great, and there is also their durability to consider. Even a porous stone such as travertine will endure rain, temperature changes, and continuous exposure to the rays of the sun better than other materials. In the case of engineered stone such as our pure white thazoz pieces, the window sills will last for many decades without staining or becoming damaged; plus, they never need to be resealed because of their advanced surface finish.
Where to Find a Good Marble Window Sill Distributor For Apartment Projects?
At Stonexchange, a marble window sill distributor in South Florida, you have the option of 6 different color choices to stock your warehouse with.
By stocking a variety of color styles, you give your interior designer the freedom to get creative with your inventory. For instance, if you stock Pure White Thazoz, you can use this type as a subtle replacement to the off-white or cream-toned vinyl window sill. It's also the preferred choice for Miami and Miami Beach décor that complements the famous art deco style.
For a warmer tone that's typically preferred in the northern regions, the Emperador Brown might be the preferred choice. Modern builds may want to go bold with Black Granite or Bardiglio Gray, and professional establishments like doctor's offices, veterinarian clinics, or retail stores and boutiques may go for a softer touch like the Nuevo White Carrara.
Outside Window Sills
As aforementioned, window sills can also be applied for outside use. While marble is certainly a choice, travertine is another option because of its textured and rustic finish. Read more about travertine window sills and how they are beneficial in the South Florida area here.
As can be expected, exterior window sills are constantly exposed to weather conditions, which means that they should be made of the most resilient materials. Natural stone is a great choice for window sills installed outdoors; the honed and polished surface of marble, travertine, and granite sill pieces gets an impregnating sealant treatment at the factory, and this makes results in a water-resistant stone. A sealant can be reapplied in order to keep a high level of protection. in case of severe etching, stone window sills can be resurfaced instead of being replaced.
Marble Thresholds and Windowsills at Stonexchange
If you really want to get the most out of each unit you rent out, install a custom marble window sill that can serve as a multifunctional purpose. A standard marble window sill measures about 3"-12" wide and ¾" thick, but you can customize this to fit your specific design. Read about the different ways marble window sills can be used here.
If you need help determining which kind of marble window sills to stock for your apartment or condominium complex, contact Stonexchange's representatives today to discuss your options.