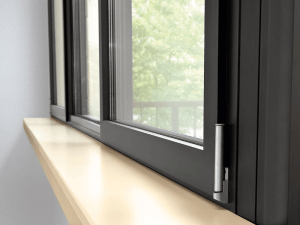 An authentic, natural, and rustic look applied to interior accents has become very popular in recent years. Travertine is one of the most commonly used natural stone materials in the creation of window sills, bathroom walls, and transition saddles. Although it has a brittle appearance, travertine is actually very scuff-resistant and repels moisture if properly treated.
Installers looking to purchase travertine window sills in bulk can save a great deal of money if the product can be obtained from a direct importer and distributor. Stonexchange is a Florida-based manufacturer and wholesale distributor of premium quality travertine sills, and we offer our commercial clients significant price discounts on full-pallet orders.
Importing Travertine in Bulk Quantities
Features of Travertine
Travertine is a natural limestone compound, found in various parts of the world. Some of the largest deposits are located in Southern Europe. These quarries produce huge amounts of raw material through a process of cutting the blocks into slates, thinning them down, and shaping them into suitable building products. This is a very refined, multi-step operation.
Its History
The history of travertine as a building product dates back to ancient Greece, but roman builders turned this sedimentary rock into an industry when they came across massive deposits in Tivoli, a region that used to be known as travertino. When you visit the magnificent ruins of Rome these days, you will notice that quite a few structures feature travertine blocks, panels, columns, and pathways; this can be explained by the proximity of Tivoli to Rome. the ribbed dome of st. peter's basilica in the Vatican features a travertine framework.
Bulk Order Option For Travertin Window Sills
Stonexchange partners with quarrying operations in the Mediterranean region. We take raw products from the quarries and use high-tech machinery to fabricate top-quality window sills and other interior accent products. Not only do we import full-container loads of travertine sills on a constant basis, but we also produce custom-size window sill products and ship them directly to our clients.
In the united states, travertine flooring is not as popular as marble or granite, which are two other natural stones we also work with; nonetheless, it is an excellent choice for many design applications such as window sills, door thresholds, and backsplash panels.
Travertine sills are certainly breakable, and this is why we go the extra mile in preparing our materials for overland shipment. Because we sell natural stone products in bulk quantities, our sills are packed tightly into specially manufactured crates. These crates are constructed with a pallet base, making it quite easy for the product to be loaded and unloaded using lift trucks.
The products are cushioned to protect them from damage, and when the order arrives at the customer's location, it is simply a matter of unpacking the pieces and installing them. Our company oversees an inventory control program that ensures good color and style matching between each piece contained in the full-pallet order.
Benefits Of Full-Pallet Orders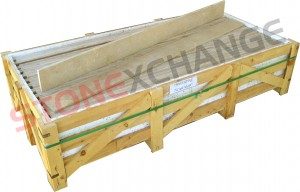 Anyone can offer a slight price discount when a product is ordered in large quantities. The amount of packaging material per pound of product is reduced, and freight charges are also lower when the product is shipped in full container loads. However, StonExchange can offer further discounts because we are the producer of the natural stone materials as well as the importer and distributor.
Our import method reduces overseas freight charges and product tariffs. Our travertine sills are packed into pallet-sized crates and then loaded together into huge transatlantic shipping containers. These are placed on a freight vessel and sent from the manufacturing center to our distribution warehouse located in Miami.
Our Shipping Process
We order our product about once a month, basing our order size on the amount of material being sold and shipped from our warehouse to our clients. In this way, pricing becomes easy because full pallets of travertine sills are coming into our distribution center, and full pallets of material are on their way to the customer. The advantage here is in the price break we receive from our transatlantic shipping partners. We pass this savings on to our clients.
If a customer is in need of window sills that are thicker than average or are designed with a gentler front bevel, we can accommodate these requests with ease. We do not manufacture customized sills locally. Instead, we generate the order for special fabrication at our overseas manufacturing center. The customer can expect direct delivery in approximately eight weeks.
Travertine Window Sills Delivery Throughout The Country
We ship our travertine window sills to customers throughout the continental United States. Our company uses nationwide freight companies for this purpose, and we have negotiated low shipping rates with them because we deliver product on a constant basis. Most orders specifying several hundred individual sills – three or four pallets – can be processed and shipped from our distribution center in one or two business days.
Our customers include home improvement store chains, building contractors and installers, and flooring product retailers. Our merchant partners in turn sell travertine sills – along with other bulk-quantity products – to construction companies. These retailers enjoy rapid order delivery, meaning that their promise of in-store product for their own commercial clients is a sound one indeed.
No Extra Charges
No middle-level sales brokers are involved in our import business. Therefore, we do not pay fees to any outside parties for the purpose of locating the best prices on quality materials. We are the manufacturer, and our customers greatly enjoy working directly with the source of the raw materials. Our business model gives us an edge over third-party suppliers. Our clients are contractors who can realize great savings that ultimately benefit their own clients. Whereas some contractors are limited to wood, laminate, and concrete materials for window sills, our clients are able to offer the beauty and durability of natural stone, thus making them more attractive and competitive.
We Produce All Sizes and Widths Of Travertine Window Sills
Travertine sills are used extensively in residential homes, luxury resorts, and office suites. The popular shade is ivory-medium, with a moderate amount of pock-marking and tone variance. The flat window sills produced by Stonexchange come in a standard 5/8-inch thickness and are manufactured in widths ranging from 3-12 inches.
Most window frames are 34-inch, 52-inch, and 70-inch. The actual frame size varies according to the thickness of the covering material. Our travertine sills are manufactured in sizes slightly longer, meaning that the ends of the sill will extend past the edge of the window glass.
Our sills come in lengths of 37-inch, 56-inch, and 74-inch. The number of individual pieces per pallet varies according to the width ordered by the client. For example, our longer, 74-inch sills are available in widths up to 12 inches, and these-extra-wide sills are packed 50 to a pallet.
All of our standard-size travertine sills are cut with a very small, 1/8-inch bevel on the top front edge. The sills have been honed and filled, with only a slight amount of rippling and texturing remaining on the top and bottom sides. They are easily attached to the substrate material using specialized cement or glue.
The final step in the fabrication of natural stone window sills consists of honing and polishing the surface; this is done for the purpose of maximizing its looks. A coat of impregnating sealant is applied to all pieces so that they can be protected against potential staining and etching.
A Better Investment than Wood Sills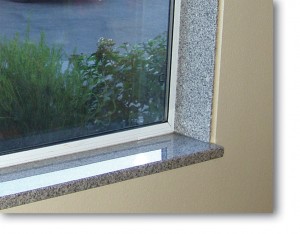 Window sills made from natural stone are not only beautiful, they also help to protect the entire window frame from moisture intrusion. Water damage to a window frame can cause the weakening of the interior support wood. This results in buckling, sagging of the window glass, and even greater moisture intrusion. Eventually, the sheetrock becomes fragile, vertical cracks develop along the interior walls, and the frame begins to become unfastened from the window glass. When this happens, the repair costs can be enormous. It makes better financial sense to install sills made from travertine. The stone acts as an efficient barrier against water percolation, and the entire frame will have a much longer lifespan.
Travertine absorbs moisture to some degree, but the material can be coated to protect it against water percolation and fading. So long as the sill is kept clean and given an occasional resealing, the travertine will maintain its beautiful appearance for decades. With the coat of impregnating sealant that we apply to travertine window sills, moisture and staining are not things to worry about. Spray-and-wipe solutions formulated for natural stone are all you need to keep travertine pieces clean. We recommend that you reseal natural stone twice a year, and you can do so with sealants that can be found on the shelves of your local supermarket.
Part of the Overall Design
Travertine window sills look their best when set against a lighter color. White walls are a good complementary color for travertine sills, and the accent created by the stone is highlighted if the same material is used either for floor tiles or for transition saddles.
If your client has travertine, limestone, or hardwood flooring, decorating window sills with travertine is highly recommended. Keep in mind that travertine has an earthier coloring and texture when compared to marble, so it is perfect as an accent stone.
Stonexchange carries travertine thresholds, shower curbs, and even large tiles for bathroom wall coverings. We also produce and distribute half-circle shower stall seats and soap shelves. All of these products are manufactured from the same raw material used to fabricate our line of window sills.
Tone and Texture
Customers can therefore rest assured that the entire assembly of materials will have the same overall tone and texture. This is extremely important to the installation contractor as well. It becomes quite frustrating to search about trying to locate similarly shaded products from different suppliers.
Stonexchange can easily fill a mixed-and-matched order containing different products made from travertine. Our other products are also sold in bulk, meaning that the purchaser enjoys the same price discount for the entire order. Many existing structures undergoing a full renovation and upgrade will require the installation of travertine sills, floor covering saddles, and shower accessories.
For large projects completed in phases, a dependable supply of products is needed. Our company can set up a recurring order schedule and have the materials sent directly to a job site, commercial storage facility, or warehouse. Retail merchants have an opportunity to become a dealer of our travertine sills and other products, giving them the edge on the competition because of our rapid order fulfillment.
Enjoy Lower Prices Today
Instead of relying on a broker who may not be able to procure the desired product at any time of year, consider doing business with the manufacturer. Stonexchange produces travertine pieces of the highest quality, and there is never a shortage of material. Our low wholesale prices on travertine window sills sold by the pallet cannot be beaten.
Contact us today and find out how much you can save. Our company operates on a very simple principle: We produce the product you want at a fair price.