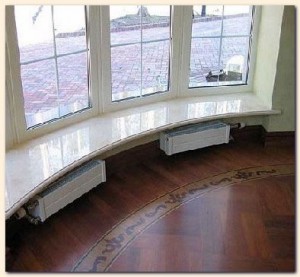 If you are a builder, contractor, architect, or even a designer and usually purchase your marble window sills and thresholds from a local home improvement store on an as-needed basis, it might be time to consider buying your product from a wholesale distributor. Being able to buy your material at the lowest price possible is a smart way to stock your window sills and thresholds and purchasing in bulk at a discount price may reward your business with a higher return on investment. As the saying usually goes: "Buy low, sell high!"
For those who are considering buying marble window sills and thresholds at a wholesale price for the first time, the process is not too different from ordering from the local home improvement store. The difference is with wholesale, you will most likely pay less for your material because you are buying a bulk amount and wholesalers tend to give their customers a reduced price for buying in large quantities.
Marble Is The Most Beneficial Window Sill For The Architectures
Established home builders will tell you that having a certain signature style is one of the keys to success. In South Florida, for example, the most renowned developers of gated communities do not copy the models and floor plans that most builders are using; instead of sticking to the mediterranean revival style used from palm beach to key west and from naples all the way to tampa, builders that wish to stand out will borrow elements from other architectural styles for the purpose of avoiding a cookie-cutter look.
As a contractor, you will certainly stand out if you always install stone window sills and thresholds; other contractors prefer wood, aluminum, concrete, and even laminate materials for sills and door saddles because they are generally more affordable than natural and engineered stone pieces. When you negotiate a wholesale purchase agreement with Stonexchange, you will be able to make natural stone your signature detail, and you will not be spending significantly less than if you were buying on a retail basis.
So why don't all builders, contractors, architects, and designers buy their marble window sills and thresholds in bulk amounts? The answer is quite simple. One must be able to house the materials. Remember, 'bulk' means goods or cargo that is typically transported in large volumes. Some businesses are small and simply do not have the room to store a large amount of inventory.
Benefits to Buying Window Sills in Bulk
Buying a large quantity of window sills and thresholds does not mean that you have to run a big business either. As it is obvious that big building corporations would do well to order their materials in bulk, there are also some small businesses that find it financially beneficial to their bank account to buy their window sills and thresholds in bulk. Because they purchased their product in bulk, they most likely paid a reduced amount per unit for their materials and by ordering a standard size and color in stock, that business will be able to expedite their order in a timely manner allowing their customers or even their own project to be completed on their set deadline and even better, possibly ahead of schedule.
Whether you are a builder or renovation contractor, you can surely benefit from having a nice stock of stone window sill pieces and door thresholds. We invite you to browse our online catalog of natural and engineered stone materials; you can choose a single material such as nuevo carrara marble for all your projects, or you can also build a stock of pieces in various colors, patterns, and textures that your clients can choose from.
The Purchase Agreement Process
First, if you are going to buy your marble window sills and threshold in bulk, it is recommended to do your research and determine which stone colors are the most requested. It doesn't make sense to hoard 100 pallets of window sills and thresholds that people don't want to buy. Additionally, window sills come in different sizes; and thresholds have 3 different bevel options.
Here are some things to consider when purchasing in your marble thresholds and window sills in bulk:
Be sure that the length and design options you are ordering are consistent to the previous projects you've completed. Door sizes come in different standard lengths and width.
For window sills, there are different size thicknesses to choose from. As there are standard door sizes for standard homes, there are also special projects that may require a custom design. This is something that each wholesale buyer needs to determine whether or not keeping a bulk amount of specialty product on-hand is necessary. For a designer, it might be the perfect solution!
If you are a builder or designer and know that you have future projects to complete, be proactive and incorporate your supply within that particular bulk order.
Once you have determined the design and size of your marble thresholds and window sills. Keep in mind that with Stonexchange Window Sills, we ship our materials out in pallets of 100. Each pallet must contain the same product and size. You will not be able to order 50 units of thresholds and 50 units of window sills. So it is important to do the math, determine the square footage of any known project and estimate probable square footage of those unknown projects. This way, you will at least be able to keep enough inventory on-hand to supply the project with enough material to get started allowing enough time to order more if and when needed.
Once you have decided on which materials, design, and size you need, it is now time to contact your wholesale supplier to place your order. Make sure you have your billing and shipping address on hand. Your supplier will then issue you an invoice that needs to be paid in full. The payment can be wired or paid by credit card. Once we have received the payment for that invoice, the order is then shipped out.
The following are descriptions of our stone materials:
*Travertine: The great pyramids of Egypt used to be covered in large slabs of this stone, which features earthy tones and veining patterns that are finer than limestone.
*Nuevo White Carrara: This is the world's most popular natural stone for flooring, counter tops, and decorative panels. When clients inquire about italian marble, they mean carrara.
*Crema Marfil: This type of marble looks like a more attractive version of travertine.
*Absolute Black Granite: When you have spaces painted in eggshell white, you may want to call attention to the windows and doors with dark sills and thresholds. The texture of our black granite stone pieces resembles a starry night.
*Euro beige: This is yet another marble variant with the unique coloring of salmon. This is an excellent choice for bathrooms and living spaces where the interior decor features a feminine touch.
*Pure White Thazoz: The dazzling white surface of this engineered stone looks otherworldly, and it can be explained because of its high quartz content. This is our most durable material.
* Bardiglio Gray: This stone looks similar to the statuario marble selected by sculptors from the renaissance period. It is softer than carrara marble but still very resilient.
*Emperador Brown: The veining and texture of this marble variant can be described as a cross between gold, limestone, and travertine.
Shipment Process Of Marble Window Sills
Stonexchange Window Sills is located in Miami, Florida. Shipping and handling costs are determined by weight and will be added to the final cost of your invoice. Your new marble window sills and thresholds will be shipped in an 18-wheeler box truck. This means that your warehouse or wherever you decided to stock your inventory must have enough room for the 18-wheeler truck to drive in and deliver.
Marble is heavy, especially in pallets of 100 units. So it is absolutely imperative that you have a forklift in your warehouse so that you or your staff can transport the pallets of dense marble window sills and thresholds from the truck to your warehouse. Stonexchange only delivers to warehouses that have a forklift.
Being Prepared
Buying in bulk is not difficult to do. It is a simple matter of just being prepared. Of course, the proper amount of research needs to be done in order to determine how many pallets are needed, which stones and what sizes to order, approximately when you'll use or sell the material, and how much it is all going to cost? After that, your new marble window sills and thresholds are just a phone call away.
Our friendly staff of customer service representatives is available and ready to help walk you through the Purchase Agreement process. Contact us today to place your wholesale order and save money.