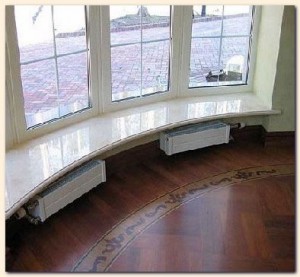 If you are a builder, contractor, architect, or even a designer and usually purchase your marble window sills and thresholds from a local home improvement store on an as-needed basis, it might be time to consider buying your product from a wholesale distributor. Being able to buy your material at the lowest price possible is a smart way to stock your window sills and thresholds and purchasing in bulk at a discount price may reward your business with a higher return on investment. As the saying usually goes: "Buy low, sell high!"
For those who are considering buying marble window sills and thresholds at a wholesale price for the first time, the process is not too different from ordering from the local home improvement store. The difference is with wholesale, you will most likely pay less for your material because you are buying a bulk amount and wholesalers tend to give their customers a reduced price for buying in large quantities.
So why don't all builders, contractors, architects, and designers buy their marble window sills and thresholds in bulk amounts? The answer is quite simple. One must be able to house the materials. Remember, 'bulk' means goods or cargo that is typically transported in large volumes. Some business are small and simply do not have the room to store a large amount of inventory.
Benefits to Buying in Bulk
Buying a large quantity of window sills and thresholds does not mean that you have to run a big business either. As it is obvious that big building corporations would do well to order their materials in bulk, there are also some small businesses that find it financially beneficial to their bank account to buy their window sills and thresholds in bulk. Because they purchased their product in bulk, they most likely paid a reduced amount per unit for their materials and by ordering a standard size and color in stock, that business will be able to expedite their order in a timely manner allowing their customers or even their own project to be completed on their set deadline and even better, possibly ahead of schedule.
The Purchase Agreement Process
1. First, if you are going to buy your marble window sills and threshold in bulk, it is recommended to do your research and determine which stone colors are the most requested. It doesn't make sense to hoard 100 palates of window sills and thresholds that people don't want to buy. Additionally, window sills come in different sizes; and thresholds have 3 different bevel options.
Here are some things to consider when purchasing in your marble thresholds and window sills in bulk:

a. Be sure that the length and design options you are ordering is consistent to the previous projects you've completed. Door sizes come in different standard lengths and width.

b. For window sills, there are different size thicknesses to choose from. As there are standard door sizes for standard homes, there are also special projects that may require a custom design. This is something that each wholesale buyer needs to determine whether or not keeping a bulk amount of specialty product on-hand is necessary. For a designer, it might be the perfect solution!

c. If you are a builder or designer and know that you have future projects to complete, be proactive and incorporate your supply within that particular bulk order.
2. Once you have determined the design and size of your marble thresholds and window sills. Keep in mind that with Stonexchange Window Sills, we ship our materials out in palates of 100. Each palate must contain the same product and size. You will not be able to order 50 units of thresholds and 50 units of window sills. So it is important to do the math, determining the square footage of any known project and estimate a probable square footage of those unknown projects. This way, you will at least be able to keep enough inventory on-hand to supply the project with enough material to get started allowing enough time to order more if and when needed.
3. Once you have decided on which materials, design, and size you need, it is now time to contact your wholesale supplier to place your order. Make sure you have your billing and shipping address on hand. Your supplier will then issue you an invoice that needs to be paid in full. The payment can be wired or paid by credit card. Once we have received the payment for that invoice, the order is then shipped out.
Shipment Process
Stonexchange Window Sills is located in Miami, Florida. Shipping and handling costs are determined by weight and will be added to the final cost of your invoice. Your new marble window sills and thresholds will be shipped in an 18-wheeler box truck. This means that your warehouse or wherever you decided to stock your inventory must have enough room for the 18-wheeler truck to drive in and deliver.
Marble is heavy, especially in palates of 100 units. So it is absolutely imperative that you have a forklift in your warehouse so that you or your staff can transport the palates of dense marble window sills and thresholds from the truck to your warehouse. Stonexchange only delivers to warehouses that have a forklift.
Being Prepared
Buying in bulk is not difficult to do. It is a simple matter of just being prepared. Of course, the proper amount of research needs to be done in order to determine how many palates are needed, which stones and what sizes to order, approximately when you'll use or sell the material, and how much it is all going to cost? After that, your new marble window sills and thresholds is just a phone call away.
Our friendly staff of customer service representatives is available and ready to help walk you through the Purchase Agreement process. Contact us today at (305) 731-2400 to place your wholesale order and save money.