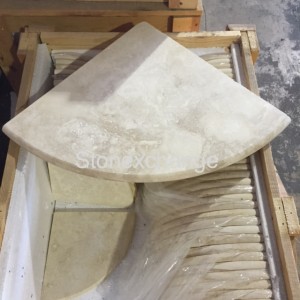 Yes, the look of metal against stone has a certain elegant, yet masculine modern feel to it, appealing to all design preferences making it one of the most preferable choices. Designers certainly deserve credit for pairing the two materials together as a decorative feature within a space. However, some designers do not always consider the functionality of such designs. Metal is a material that can and will rust. When placed in humid conditions like a bathroom, that is exactly what is going to happen. Suddenly, that beautifully decorated space has become a damp corroded place you wouldn't want to wash your dog in!
That's why we've long promoted stable Travertine and other stone shelves at Stonexchange.
Disadvantages of Metal Corner Shelves
Metal is a great building material. Its durability is uncontested. Yet, when using this material as a decorative feature, certain measures must be taken. Depending on where metal is being installed—in this case, the bathroom—the material must be pre-treated. It must be properly coated to withstand the water and humidity, just as if metal were being conditioned to outside elements.
The issue with pre-treating any type of building material is that it will most likely need to be treated again. If metal doesn't receive consistent treatment, it will start to rust. With metal, once it starts rusting and corroding away, there's nothing more that can be done to save the material.
Consequences of Neglecting Metal
Take the Golden Gate Bridge in San Francisco, for example. Although this monstrosity of construction is not pure metal, but steel, it is a type of building material that will deteriorate if not properly maintained. According to the Golden Gate Bridge Highway & Transportation District, "Painting the Bridge is an ongoing task and a primary maintenance job" to protect it from the high salt content in the air that can cause the steel to erode.
Your metal soap shelf is no Golden Gate Bridge, but the same concept applies. You may not need to paint your metal soap shelf, but trust that in time, it will start to corrode. Because these little features are relatively inexpensive, the best thing to do is just replace them, but that will cost money and the holes drilled in your bathroom wall can only take so much tampering. Those holes will eventually loosen; rendering instability to the overall area that will eliminate the purpose of the soap shelf, storage.
This is important to consider because there's plenty of places where you might want to install one of these shelves.
Where to Use Corner Shelf
Primarily, corner shelves are used directly in the edge areas of shower stalls and bathing rooms. If you have a dedicated bathtub space, then a soap shelf could be used to compliment an overhead shower that's conjoined to it. Freestanding showers, like those that are found in many residential areas, are also perfect places to put in a soap shelf. Any bathroom area that has some sort of stone or ceramic material on the walls will be ideal for these shelves.
What is Expected From a Corner Shelf?
End-users of a property usually expect them to be large enough and strong enough to hold all of the things that they need to get cleaned up. These are extremely versatile pieces of hardware. While they're sometimes called soap shelves, many interior designers have taken to calling them corner caddies because they hold so many different types of material in addition to soap. Depending on your particular preferences, you could consider installing soap shelves made of several different materials.
Travertine vs Metal Corner Shelf
While there are also glass, ceramic and plastic alternatives, metal and Travertine corner shelves are among the most durable. As you go over this list, however, don't forget that you could opt for caddies made from materials like Crema Marfil and Carrara, which might match your shower curbs.
Pros and Cons of Metal Corner Shelf
Ease of cleaning is probably the biggest advantage of metal corner shelves since they can be cleaned off with almost any type of solvent as long as they aren't corroded. Price is an issue as well, but buying in bulk from an organization like Stonexchange can help to dramatically shift the argument toward Travertine. One of the biggest reasons that people use metal corner shelves is because they're specified by certain property construction plans. At times, a particular designer will try to make a bathroom look like it incorporates a somewhat unified chromed theme. This can admittedly look gorgeous, though corrosion will eventually take its toll.
Pros and Cons of Travertine Shelf
For the longest time, the price was the biggest drawback to using Travertine soap shelving, but the fact that they can now be purchased directly in bulk has helped assuage this to a large degree. On top of that, they're great for those who want to design around marble and they're extremely durable. Unlike metal, Travertine isn't going to end up corroding over time, so you can normally trust that it'll be around as long as the remainder of the shower stall under most conditions. Perhaps most importantly, they're strong enough, once they're cemented in place, to hold quite a number of different things. End-users might want to put soap, shampoo or conditioner on them so that it's always an arm's reach away.
Consider Stone Soap Shelving
With stone soap shelving, all of the above-mentioned issues disappear. There's no excessive maintenance other than the routine cleaning a tub/shower requires. Also, you will never have to worry about replacement costs nor drilling holes into your beautiful tile walls.
Stone soap shelving is durable enough to hold more than soap. It is cemented securely against the wall. They are perfect for holding shampoos, large body wash containers, shaving creams, razors, and other accessories.
Just because stone soap shelving can easily blend in with any existing stone doesn't mean that the space will no longer 'pop' like metal soap shelves can. You can have the durable quality that a soap shelf brings and still present that wow factor that can appeal to clients who prefer the unisex décor.
Travertine Corner Soap Shelves
Travertine is a type of stone that can be seamlessly installed as a shelving feature. It is a type of limestone developed from mineral springs—mostly hot springs. It is a stone that can be quite porous depending on the temperature of the heat from the springs. So it is perfect for draining and wouldn't hold pools of water like a metal soap dish can.
About Travertine
Travertine has a fibrous look to it, similar to the rings of a tree trunk, giving it a rustic texture that will bring another layer of dimension into space. This sedimentary stone comes in colors of ivory, creams, tans, and select shades of rust.
Other Uses for Travertine Corner Soap Shelves
It's called a Travertine Corner Soap Shelf, but it not just for soap—or the bathroom either.
Travertine is a beautiful stone. It can be shown off as a shelving feature by the vanity to store perfumes, toothbrushes, and other toiletries that you'd rather not stuff away in a drawer. These stone soap shelves are also perfect for featuring awards, plaques, heirlooms, and trinkets in an office setting or in a living or dining space.
Buying Travertine Corner Soap Shelves in Bulk
For builders and contractors, stocking Travertine Corner Soap Shelves would be a profitable investment. This feature would be an easy add-on and doesn't take up much space in a warehouse.
Stonexchange offers Travertine Corner Soap Shelves in crates of 100. They measure 9" in radius with a beveled edge for safety. We also offer stone soap shelves in Carrara, Ivory, Walnut, Crema Marfil, Pure White, and Absolute Black. In addition to the stone soap shelf, we also offer Travertine Shower Seats.
If you are looking for a wholesale company where you can find Travertine Corner Soap Shelves at a decent price, get in touch with Stonexchange today to discuss how far your dollar can go with us. Our unit prices are fair and affordable. So get started on increasing your sales by stocking Travertine Corner Soap Shelves. Our customer service department is ready and available to answer any questions you might have. You can also view our online catalog and contact us online.