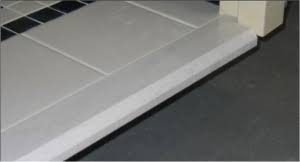 Top designers understand that it's the little details in a home that take it from simple to luxurious. While you may not be interested in covering an entire floor with travertine, you can still give a space an elegant look and sophisticated style by adding this natural stone to key areas.
One overlooked spot is the thresholds in your bathroom. From the main door to the storage closet and even the shower itself, travertine will give your room a smart look and upgrade the finish. Here are the top benefits of going with travertine tile as opposed to metal, wood, or other materials.
High Traffic Requires the Greatest Durability
Have you ever taken a good look at a metal threshold after a few years of use? These simple surfaces see an incredible amount of traffic, and they're subjected to a great deal of abuse. High heels leave little marks in the metal, and the constant wear can destroy the finish on wood thresholds. Over time, this transition strip will appear dingy, worn and dated.
However, you can prevent these problems by going with a more durable material from the first moment of installation. Travertine is a durable stone that can handle most high-traffic situations, including commercial applications.
Whether you need an attractive threshold along the main shower or just in the main doorway, you can rely on travertine for a durable material that will look impressive for years to come.
Attractive Finishing Touch
One of the downfalls of metal and wood transition strips is that they simply aren't very attractive. In many applications, they're treated as a necessary evil and minimized as much as possible, but you don't have to adopt this policy.
A better solution is to choose attractive materials that are worthy of being installed in any space. You can then go with wider, slightly bolder thresholds and allow them to become a decorative border in their own right.
You'll give any bathroom a great finishing touch without going overboard, and your family and guests alike will love the look.
Speaking of Borders
When you go with travertine transitions, you can work them into the overall design scheme by making them part of a border pattern. This plan is particularly effective when you're installing the threshold along the edge of your shower or bathtub area.
The neutral colors of travertine are impressive against most shades of marble and even granite, so you can easily work this elegant natural stone into almost any décor.
The travertine will serve a functional purpose while also enhancing the overall look of your space.
Moisture is Not a Problem
Wood eventually disintegrates with regular exposure to water and metal will rust. There are ways to protect these surfaces, but the damage can still happen with regular use.
In the case of zero-threshold showers and the raised lips for traditional shower thresholds, wood and metal are poor choices because of the constant water exposure.
While you may build up a raised ledge with wood, it must be covered with tiles and grout to keep the wood dry and structurally stable. However, you can simplify the installation process by going with luxurious travertine.
It's not harmed by water, so it can be used as the transition strip along a zero-threshold shower entry.
Available in custom sizes, you can use this to minimize the seams and grout lines in any raised threshold.
If you just want a slight lip to keep water in a large shower area, a simple travertine threshold is the perfect choice, and you can have the edges finished off with 90-degree or beveled angles.
Easy Care
Busy homeowners are surprisingly aware of the maintenance requirements of different materials. Construction options that look great but require constant care are falling out of favor as people turn to materials that look great with very little additional work.
It's highly recommended that travertine be sealed annually to help prevent staining, but this is an easy process that only takes a few minutes, and we have very reasonable rates on the specially formulated sealers.
Once the stone is sealed, it can easily be cleaned with a damp cloth. This makes it easy to keep your travertine looking great for years to come, and you won't have to waste any of your valuable time trying to scrub and maintain a wood threshold or other material.
The Best Protection
Another problem with other materials is that they can start to break down without you realizing how serious the damage is. Water can slip in unnoticed and start to erode the wood subfloor and other structures.
Travertine is a more waterproof material, so this won't be an issue. All you have to do is check the caulk along the stone once every couple of years to prevent water from seeping through this seam.
However, you can be confident that the stone itself will keep the water away from your home's structure throughout its life.
When you're ready to make this type of upgrade to your home, start by contacting Stonexchange for answers to your questions and for pricing information.
We're one of the most trusted names for builders and designers around the nation because of our excellent customer service and commitment to excellence.
Our company owns the quarries and manufacturing centers overseas, so you won't have to deal with any middleman markups. This means that you can take advantage of wholesale pricing on premium stones.
We carry thresholds in the most common sizes, and we're also happy to fill special orders if you want a wider or thicker threshold.
We ask that you allow a few weeks for special orders to be filled, but you can expect to receive the same excellent quality stones that we carry in our Miami distribution center.