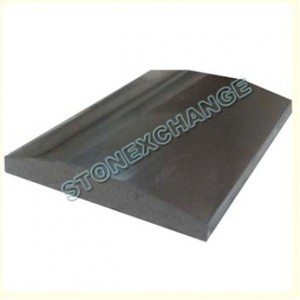 When it comes to new home construction and renovations, there are several different building materials to consider. In addition to choosing between vinyl and wood windows, you'll also get to decide if your want carpet, hardwood or tile floors. One option you may not have considered is marble or granite thresholds and windowsills. While these surfaces are typically constructed of wood, there are key benefits to going with beveled granite.
Greater Durability 
Nothing is more durable than natural stone. Used in Green and Roman architecture of bygone years, it's still a very durable and attractive choice. With our global economy and the ability to have it shipped anywhere in the world, it's also more affordable than ever before. Wood gradually wears down from traffic and sun exposure, but granite won't have this problem. Metal transitions are commonly used in some areas, but these thin strips dent and become discolored with time and regular use. Only natural stone will continue looking beautiful for years to come. The one risk that you face with a granite transition is that it may crack along the edges, but even this is minimized by going with beveled options. The angled sides are easier to navigate and less likely to be damaged by foot traffic or something being dropped.
Neutral Finish that Never Needs Changing
Another great benefit of stone windowsills and transitions is that they're a neutral choice that will go with anything. You can butt carpet up to the stone today and then change it out tomorrow without having to replace the transition strip. Whether you go with luxurious drapes or simple Roman shades, your granite windowsill will match beautifully and still look amazing. You can change the décor throughout your home time and again without having to give the sills and transitions a second thought. In addition to making it easier to decorate your home now, you'll also increase the visual appeal when you're ready to sell it years from now. Potential buyers will appreciate this finishing touch, and they'll love knowing that they can make the home their own without needing to change any of these surfaces.
Easier on the Feet
Any time you put a raised surface into a traffic area, you create a tripping hazard. Most people naturally expect to find some type of transition going through a doorway, but it becomes more of a hazard with open arches and open floor plans. Ideally, the transition should sit flush with the floor to eliminate any raised surface, but this isn't always a problem. Some engineered floors have a lower profile than granite thresholds, and many ceramic tiles will only be about half the thickness. You also want the higher transition in bathrooms to help hold water in just in case there's an accidental flood. In these situations, beveled strips are the best choice. They have a gradual incline on one or both sides so that you won't have to worry about people hitting their feet or tripping. It's better for your family, and it also makes the strips more durable by minimizing the risk of cracking.
Water, Sunlight and Traffic – No Problem
Nothing feels better than letting the sun stream in on a warm day, but that sun can be damaging your wood windowsills. With natural stone, you don't have to worry about fading colors, splitting wood or cracking plastic. Granite won't discolor the way some man-made materials will, and the stone won't degrade and rot like wood. This means that you won't have to worry about the sun damaging it.
Moisture can be a problem in certain weather conditions when it's colder outside than it is inside. With wood windowsills, you can run into mold problems if condensation is not cleaned up properly. This isn't an issue with granite. Even if the caulk eventually becomes discolored, that's easily replaced without disrupting your granite windowsills.
Regular use can wear down wood and thin metal, but it's no problem for your granite and natural stones. The granite can withstand regular foot traffic in even the most active households, and that makes it a top choice for yours.
Accent, Blend and Highlight
When designing your dream home, it's important to look at the little details that are often forgotten. With traditional windowsills, the wood is painted to match the trim. It disappears into the background to be forgotten unless there's a problem with it. Granite, however, refuses to simply vanish into the background. Use it in large windows to highlight the size, or create an accent along the edge of a room by installing a granite transition. You can clearly mark boundaries while adding visual appeal. If you're installing any kind of natural stone floor, granite thresholds are the best way to blend the look with another space and maintain the high-end look throughout the open area.
Maintenance Considerations
Go with wood and you can plan on repainting it in a few years. Metal strips are routinely replaced along with the flooring or even more frequently. Plastic and manmade options are maintenance-free, but they must be replaced when they start to discolor. The easier material to care for is by far natural stone. It's attractive and elegant, but it also won't take much extra time on your part. Spills and water are easily cleaned up, and a little gentle soap is all you need to address most stains. It is important to use the right cleaners to avoid clouding, but you can restore the shine over the years with just a little polish.
Take Property Value in the Right Direction
You want to use materials that look great, but you should also consider the future value of the property. You don't know what the future holds, so it's wise to go with materials that will appeal to a wide range of people. The average home buyer will see the marble in the window and be impressed with your choice of durable building materials. They'll love the luxurious look, and it helps put the entire home in a more attractive light. In the end, you'll move your home value in the right direction, and that's always a benefit.
When you're designing your dream home, don't settle for wood windowsills and metal transition strips. Take it to the next level by using marble or granite in these areas. You'll love the durability and low maintenance. You can also save on the initial purchase by working with StonExchange. We offer wholesale pricing along with amazing customer service, and our friendly staff works hard to fill orders quickly. We ship throughout the United States, so contact us today to place your order.