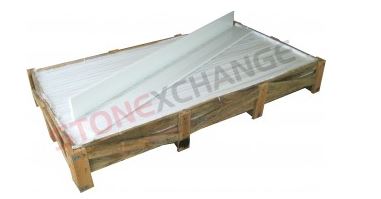 What home builders know about natural stone that most people don't is it's the perfect material for windowsills, especially in climates that receive a lot of humidity. They love the material, not only due to its enchanting beauty that increases the value of their properties, but because it holds up much better in these conditions, requiring less maintenance. Surely you've noticed how quickly wood warps and wears away.
It's a great sign when a construction company invests in marble or other natural stone materials in the structures they build because it shows they are thinking long-term value, luxury and offering their clients the best.
Note that natural (meaning: not synthetic) stone does not:
rot
stain
deteriorate
get ants, termites, etc.
The exciting thing about natural stone windowsills is that you can choose your look. You can add a classic, period look to your home, or, using the most popular tones, go super modern.
And even more exciting: as a wholesaler, you can get top-quality, natural stone imported directly from Windowsills.com Stonexchange at excellent wholesale pricing.
Windowsills for Modern Living Rooms
The hottest trending color right now is white. Mostly used in living rooms in décor, it is also extending into other parts of the home. Clients who prefer this are seeking the clean, crisp, airy feel that an all-white spaces offer.
Our Pure White Thazoz is a perfect compliment for the person who strictly wants a white look. However, this is made of glass and resin, it's not natural stone, but it is relisient and does not absorb any water. Zero. This is an excellent option for the client who desires and insists on an all-white look.
Marble, Veined Windowsills for Modern Kitchens and Bathrooms
Our White Carrara windowsills natural, is exquisitely veined in a light grey, can turn an already attractive, modern bathroom or kitchen and turn up the fire on the "wow factor."
Marble is instantly recognizable, and in a space where everything is within reach and tactile, such as in a home, it is also noticable to touch. You can trace the veins and immediately confirm that it's real marble.
With most appliances in a wildly popular and practical stainless steel these days, white marble only sets off that look.
Likewise, in bathrooms, where whites, grays, blue-grays and teals are featuring, the White Carrara marble is an obvious choice.
Call for our special wholesale pricing for your project or to resell. Stonexchange imports directly and passes on our cost savings 305-731-2400!
Natural, Tan Colors for Bathrooms
A trend in bathrooms for some time now has been a masculine play between tan, natural khaki colors, offset by grays, and highlighted with pale teals. Here we have several choices that play perfectly into this color scheme.
Our Bardiglio gray is squarely in the middle in the range of shades from black to white, so it is an easy choice for any bathroom. It works well with other greys because of it's neutrality, but the marble itself is of excellent quality, offering an exquisite detail in an otherwise muted color scheme.
Crema Marfil is such an attractive, light cream color, that adds a lighter touch to the color scheme. This plays off beautifully right up against the teals, creating an eye-catching contrast.
If you're looking for the tan or brown color to be darker and have a lower profile to allow other colors to take center stage, our Emperador Brown is the perfect choice. However, just because it is a darker color doesn't mean it doesn't have charm. Again, marble never ceases to impress. The unique veining that is born of natural processes of creating stone has forever been loved.
Getting Wholesale Pricing to Add Beloved Marble to Your Home Project
If you're considering natural stone or manufactured stone for your projects, don't hesitate to contact us. Consider the increase in value of your property, the likelihood that your clients will be ecstatic with the marble look and feel and what you will save down the line. There's a reason why homebuilders love our products at Stonexchange and we are a lead importer. Tell us about your project! 305-731-2400.