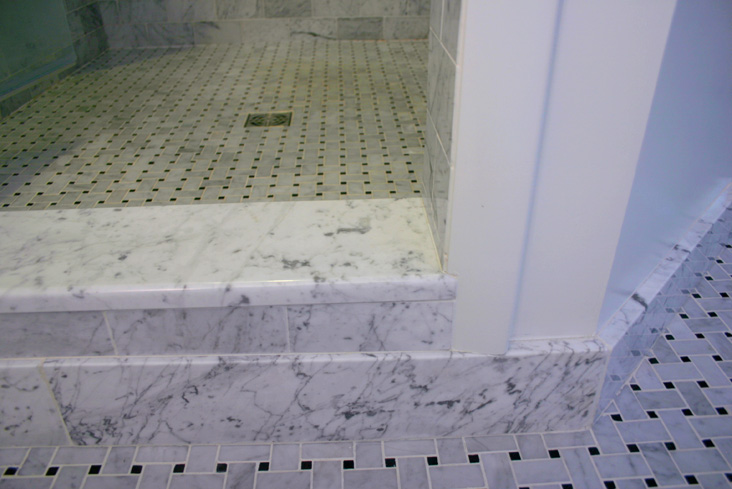 Designing a new bathroom requires choosing the right elements for any given space, and shower thresholds are a big important part of that process. Shower curbs work as thresholds barriers limiting the water to flow into other spaces. However, their practical function does not have to mean that aesthetics will not play an important role in their selection.
Why Use Marble?
Marble is the ideal choice for building a luxurious bathroom because it is water resistant. We have seen shower curbs decorated with small tile pieces to the point where we might accept them as the only possible choice, but it isn't. One solid piece of marble will not only do the job of preventing water from reaching other spaces, it also looks incredible.
Marble shower curbs will withstand heavy traffic without it suffering any damage. This means that it will look as it did on the day of its installation and, if taken care of properly, which is not hard due to its natural resistance and beauty, it will retain it's lustrous surface keeping your vanity top free of stains.
Choosing Marble Means Saving Money
Installing one solid piece of marble does not only represent the right choice in terms of functionality, it also means saving money. Marble is the top choice for wholesalers due to its low price and high-quality and unmistakable beauty. Here at Stonexchange, designers, architects, and contractors can find our marble shower curbs at discount prices.
Shower Thresholds are the Right Choice
More interior designers are opting to finish their bathrooms with marble thresholds. The space will look larger. Installing a one-piece marble threshold is a guaranteed improvement in terms of function. Furthermore, if the material complements the rest of the bathrooms floors, it will not affect the room's aesthetics.
The use of marble shower curbs is useful for a person with a disability. Another choice is going for single or double Hollywood beveled thresholds. They are designed as a small ramp, which makes them ideal for wheelchairs while still working as a solid barrier. It really depends on your design preference and how you choose to install the marble threshold. Stonexchange has all of the industry-standard size marble thresholds in stock to ship out to your site at a moment's notice, but if you require a custom size, please allow a few months so that we can cut them at our quarry in Turkey and import them from overseas.
Designing a New Bathroom? Call Stonexchange!
If you are looking to re-stock your shower curbs supply, you came to the right place. At Stonexchange we offer a select style of shower curbs that will complement almost any flooring type at wholesale prices. Whether it is neutral Travertine or bold black granite, we have a wide selection to offer. Contact us online or call us at (305) 731-2400. If you want to see our products for yourself, visit our warehouse. We are open Monday through Friday, from 9:00 a.m. to 4:30 p.m.